June 17, 2011
2011 Season - 2011 VOLLEYBALL PREVIEW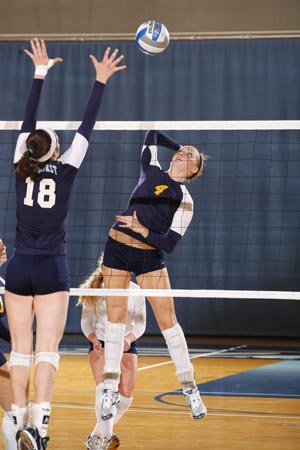 Senior Brianna Skeens will serve as a tri-captain for the Vikings in 2011. She averaged 2.16 kills and 0.48 blocks per game in 2010.
GENERAL INFORMATION
NAME: Augustana College
CITY/ZIP: Rock Island, Illinois 61201
FOUNDED: 1860
NICKNAME: Vikings
SCHOOL COLORS: Blue & Gold
ARENA: Roy J. Carver (1971)
ATHLETIC AFFILIATION: NCAA Division III
RELIGIOUS AFFILIATION: Evangelical Lutheran Church in America
CONFERENCE: College Conference of Illinois & Wisconsin (CCIW)
PRESIDENT: Steven Bahls (University of Iowa, 1971)
DIRECTOR OF ATHLETICS: Mike Zapolski (Pepperdine, 1985)
ATHLETIC DEPARTMENT PHONE: (309) 794-7521

VOLLEYBALL HISTORY
FIRST YEAR OF VOLLEYBALL: 1977
OVERALL VOLLEYBALL RECORD: 577-582 (.498)
CCIW RECORD SINCE 1986: 97-109 (.471)
CCIW CHAMPIONSHIPS: 1996 & 2001
NCAA APPEARANCE: (One) 2001 - lost to Colorado College 1-3 (30-28; 23-30; 27-30; 21-30) in first round of West Regional in Hayward, CA.
SPORTS INFORMATION
SPORTS INFORMATION: Dave Wrath
SID OFFICE PHONE: (309) 794-7265
WRATH'S CELL PHONE: (309) 737-5306
SID FAX: (309) 794-7525
INTERNET ADDRESS: davewrath@augustana.edu
AUGUSTANA INTERNET ADDRESS: www.augustana.edu
SID MAILING ADDRESS: Dave Wrath, Sports Information Director, Carver PE Center, Augustana College, Rock Island, Illinois 61201
COACHING STAFF
HEAD COACH: Jamie Walters (Benedictine University)—Second season at Augustana...46-79 in four seasons as a collegiate head coach.
WALTER'S OFFICE PHONE: (309) 794-7839
BEST TIME TO REACH WALTERS: Late mornings
ASSISTANT COACH: Steve Hennings & Kelly Kelley
HEAD ATHLETIC TRAINER: Rochel Rittgers (Northern Iowa 1981)
TEAM INFORMATION
2010 RECORD: 12-20 overall and 4-3 in the College Conference of Illinois & Wisconsin, fourth place...Lost to Wheaton in three games in the CCIW tournament play-in round.

LETTERWINNERS RETURNING/LOST: Eight/10
STARTERS RETURNING/LOST: Four/Two
KEY LOSSES:
Courtney Jungnickel (Naperville Central HS, Naperville, Ill.), 5-8, OH…Captain...2-time team MVP...1st team All-CCIW...Team leader with 377 kills and 58 aces...Second with 417 digs... Augustana's career record holder with 215 service aces...Second in career kills (1,442) and digs (1,597)...Academic All-CCIW...2-time Jack Swartz winner.
Jenna Loncar (Marist HS, Chicago, Ill.), 5-9, RS...Captain...Augie Award winner...92 kills...21 assists...43 digs...26 blocks.
Shannon Slick (Hononegah HS, Roscoe, Ill.), 5-5, DS, Junior...Honorable mention All-CCIW...Led team in digs with 577...4.93 digs per game rank fifth in Augustana history...10th on Augustana's career digs list with 1,110...20 service aces...Academic All-CCIW.
KEY RETURNEES:
Katrina Colclasure (Tri-Valley HS, Bloomington, Ill.), 5-5, S, Sophomore...Second on the team with 451 assists...Third with 223 digs...15 service aces.
Kelsey Mikula (Coal City HS, Coal City, Ill.),5-6, S, Junior...Led team with 607 assists...Fifth with 207 digs...21 service aces.
Brianna Skeens (Vernon Hills HS, Libertyville, Ill.), 5-10, MB, Senior...Led team with 54 blocks...Second with 238 kills...33 digs...10 aces.
Kristen Yerkes (Marist HS, Palos Heights, Ill.), 5-11, OH, Sophomore... Second on the team with 43 service aces...Third with 167 kills...Fourth with 211 digs...29 blocks...Academic All-CCIW.
2010 AUGUSTANA VOLLEYBALL SUPERLATIVES
CCIW ALL-CONFERENCE SELECTIONS: Courtney Jungnickel (1st ), Shannon Slick (HM)
CCIW ACADEMIC ALL-CONFERENCE: Michelle Egan, Courtney Jungnickel, Sarah Martin, Shannon Slick, Sarah Williams, Kristen Yerkes
CCIW JACK SWARTZ AWARD: Courtney Jungnickel (second year in a row)
ALL TOURNAMENT SELECTIONS
Courtney Jungnickel @ UW-Platteville Invitational on 09/24-25 in Platteville, Wisconsin…Courtney Jungnickel @ Barker IWU Tournament on 10/1-2 in Bloomington, Illinois…Courtney Jungnickel @ Benedictine Tournament on 10/29-30 in Lisle, Illinois.
CCIW STATICSTICAL LEADERS – INDIVIDUAL
Digs – Shannon Slick, 6.11 digs per game (171 digs in 28 games) – CCIW only
CCIW STATISTICAL TOP 10 – INDIVIDUAL
Hitting Percentage – 7th - Brianna Skeens, .305 (71 kills, 20 errors and 167 total attempts in 28 games) – CCIW only
Kills – 6th - Courtney Jungnickel, 3.00 kills per game (84 kills in 28 games) – CCIW only
Assists – 7th - Kelsey Mikula, 5.75 assists per game (161 assists in 28 games) – CCIW only
Service Aces – 2nd - Kristen Yerkes, 0.44 aces per game (12 service aces in 27 games) – CCIW only & 7th - Courtney Jungnickel, 0.32 aces per game (9 service aces in 28 games) – CCIW only
Digs – 1st – Shannon Slick, 6.11 (171 digs in 28 games) – CCIW only & 9th – Courtney Jungnickel, 4.21 digs per game (118 digs in 28 games)
2010 TEAM AWARDS
MOST VALUABLE PLAYER – Courtney Jungnickel
AUGIE AWARD – Jenna Loncar
MOST IMPROVED PLAYER – Sarah Williams
TOP TEN LISTS
CAREER TOP TEN LISTINGS (additions from 2010)
Kills – 1,442 Courtney Jungnickel moves into second place
Service Aces – 215, Courtney Jungnickel breaks previous school record of 184 held by Mandy Murray (1999-02)
Digs – 1,597, Courtney Jungnickel moves into second place…1,110, Shannon Slick moves into 10th place.
SINGLE SEASON TOP TEN LISTINGS (additions from 2010)
Kills per game – 3.25 (377 kills in 116 games), Courtney Jungnickel – 7th place
Aces per game – 0.50 (58 service aces in 116 games), Courtney Jungnickel – 3rd place (tie)
Digs per game – 4.93 (577 digs in 117 games), Shannon Slick – 5th place