2011 Season - Jamie  Walters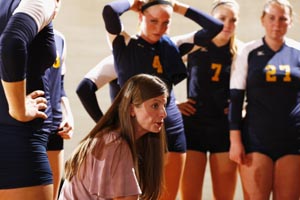 Jamie Walters completed her second season as the head volleyball coach with a 9-23 overall record, experiencing the growing pains of a roster that had just three upperclassmen. The Viking's finished 1-6 in the College Conference of Illinois & Wisconsin, finishing seventh place in the league. Her two year record at Augustana now stands at 21-43 overall, with a 5-8 record overall in the CCIW.
Walters, who served as the head coach at Aurora University for three seasons (2007-009), became the 10th head coach in the history of the program. She replaced Janelle Hester, who resigned in May of 2010 after recording a 34-33 record in two years.
"I am honored knowing that I am the next volleyball coach at Augustana," said Walters at the time of her hiring. "The Augustana program has had a tradition of excellence not only on the court but in the classroom as well. That is something we intend to continue. I am looking toward moving forward, not only as a program but as a college as well. With the support that has been shown throughout the entire campus I know that the will have an opportunity to make great strides."
Walters began her coaching career at Aurora in the fall of 2006 when she served as the assistant coach and helped the Spartans to a 19-14 overall record and a perfect 11-0 record in the Northern Athletics Conference. She assumed the head coaching position prior to 2007 and in her first year went 10-21 overall and 4-8 in conference play. In 2008 the Spartans were 7-23 and 6-6 before breaking through last year with a 17-15 overall mark and a 9-3 record in the league. During her time at Aurora she was instrumental in doubling the team's roster size and the Spartans recorded a team cumulative grade point average of 3.00. During her three years as the head coach, Walters compiled a record of 34-59 overall and 19-17 in the Northern Athletics Conference.
"Jamie Walters will be an outstanding addition to our staff due to her previous head coaching experience, thorough understanding of the NCAA Division III philosophy and extensive recruiting contacts in the Chicago-land area," said Augustana director of athletics Mike Zapolski at the time of her hiring. "I am confident that Jamie will be an excellent fit at Augustana. She has a wealth of volleyball experience as both a player and a coach and we look forward to watching her build our program."
Before coming to Aurora, Walters was the head coach at Dominican University for both men's and women's volleyball. The men's team won the National Intramural and Recreation Sports Club championship in 2005-06 and finished the year with a 37-4 overall record. She also served as an assistant coach at both College of DuPage and West Chicago High School.
She has also coached at the club level and worked for nine years for the Side Out Volleyball Association. She assisted with the junior college national team in 2003 and in 2006 was an assistant coach at the World Scholar Athlete Games.
A much decorated player, Walters was a two time junior college All-American at College of DuPage and helped the Chaparrals win back-to-back national titles. She was named MVP of the NJCAA national tournament as a sophomore and both of the DuPage teams she played on have been inducted into the NJCAA "Hall of Fame".
After her career was over at DuPage, she moved to Benedictine University in Lisle, Illinois where she was named to the NCAA Division III all-region team. She helped the Eagles win a pair of Northern Illinois-Iowa Conference championships and qualify for the NCAA Division III national tournament twice.
Walters has a Bachelor of Arts degree in business and economics from Benedictine and an MBA in leadership from Aurora.
JAMIE WALTERS' CAREER HEAD COACHING RECORD
| | | | | | | | |
| --- | --- | --- | --- | --- | --- | --- | --- |
| YEAR | W (ALL) | L (ALL) | .PCT (ALL) | W (CONF) | L (CONF) | .PCT (CONF) | SCHOOL |
| 2007 | 10 | 21 | .323 | 4 | 8 | .333 | Aurora |
| 2008 | 7 | 23 | .233 | 6 | 6 | .500 | Aurora |
| 2009 | 17 | 15 | .531 | 9 | 3 | .750 | Aurora |
| CAREER AT AURORA | 34 | 59 | .366 | 19 | 17 | .528 | |
| 2010 | 12 | 20 | .375 | 4 | 3 | .571 | Augustana |
| 2011 | 9 | 23 | .281 | 1 | 6 | .166 | Augustana |
| CAREER AT AUGUSTANA | 21 | 43 | .328 | 5 | 9 | .385 | |
| OVERALL CAREER | 55 | 102 | .350 | 24 | 26 | .480 | |