June 14, 2011
2011 Season - Justin Rich named co-defensive coordinator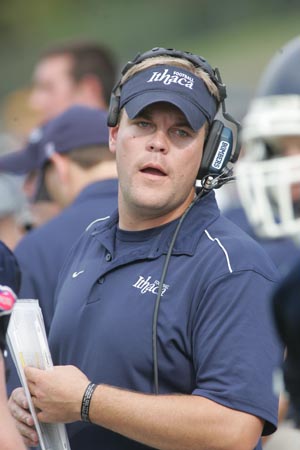 Justin Rich has been hired to be the co-defensive coordinator for the Vikings in 2011. He will share that duty with Kyle Reade.
Augustana head coach Rob Cushman has announced the addition of Justin Rich to his staff. Rich will serve as co-defensive coordinator for the Vikings in 2011.
A 1999 graduate of Colorado State University, Rich comes to Augustana from Palmer High School in Colorado Springs, Colorado. In his one season with the Terrors, he served as receivers coach and helped lead the team to a 7-4 record and a playoff appearance after consecutive 1-9 seasons.
Prior to his time at Palmer, Rich served on the staffs at Watertown High School in Watertown, New York and Ithaca College in Ithaca, New York as well as the semi-pro Watertown Red & Black.
As defensive coordinator, running game coordinator, offensive line coach and special teams assistant, Rich helped guide Watertown High School to a 4-4 record after the Cyclones had won just eight games in the previous five seasons. At Ithaca, he served as running backs coach and special teams assistant, mentoring Jamie Donovan, the school's all-time leading rusher and helping the Bombers to an 8-2 record and an NCAA Division III playoff appearance in 2007. In two seasons with the Red & Black, he helped lead the team to an 18-4 record and a pair of divisional titles as offensive coordinator, special teams coordinator and offensive and defensive line coach.
Rich, who holds a master's degree in sports management from Ithaca, was a Distinguished Military Graduate from Colorado State. Prior to the start of his coaching career, he served seven and a half years in the United States Army as a captain in the aviation branch. The Air Cavalry and Attack Aviation platoon leader is a veteran of Operation Iraqi Freedom. He was awarded the Meritorious Service Medal, Air Medal and Army Commendation Medal with Valor as well as the General Aubrey "Red" Newman Award for excellence in leadership and mentorship.