June 13, 2011
2011 Season - Wickenhauser and Lee named football captains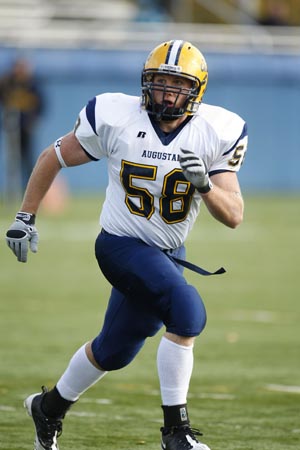 Fifth-year senior linebacker Cody Wickenhauser will serve as a co-captain for the 2011 Augustana football team. Senior quarterback David Lee will be the other co-captain for head coach Rob Cushman's first Viking team.
Fifth-year senior linebacker Cody Wickenhauser (Tri-Valley HS, Downs, Ill.) and record-setting senior quarterback David Lee (Springfield HS, Springfield, Ill.) have been named Augustana football co-captains for the 2011 season. The pair will be joined as captains by one offensive and one defensive player selected each game.
Wickenhauser, a 5' 11", 230-pound linebacker, was a team captain in 2010 as well, but suffered a season-ending injury in the second game of the year. He made five solo tackles and assisted on four others before his injury and returns for a fifth year in 2011. He recorded 26 tackles in his first two varsity seasons with the Vikings, including 16 solo stops and three for loss. Wickenhauser is also a three-time academic all-conference selection.
The 6' 3", 219-pound Lee is already Augustana's school-record holder for passing yards (429) and completions (28) in a game and completions (195), attempts (317), passing yards (2,411) and total offense (2,655) in a season. The 2010 second team All-CCIW performer and academic all-conference selection enters his senior season within striking distance of all of Ken Anderson's career records as well. Lee, who led the CCIW in total offense, was the Vikings' offensive MVP a year ago and shared the award with Blaine Westemeyer in 2009.
"Cody and David are fine choices as captains for our 2011 football team," said first year head coach Rob Cushman. "Both young men have proven themselves on the field in game action and off the field in leadership situations. It is clear that they have the complete respect of their teammates."