From Augustana to St. Augustine
Augie Choice supports research on teaching the sensory-impaired
June  10, 2011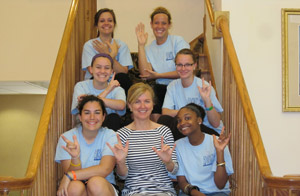 At the Florida School for the Deaf and the Blind-(front row, from left) Kate Cannova '13, Dr. Deborah Bracke, Alannah Golden '13; (second row) Katelyn Kelps '13, Alicia Koepke '12; (back row) Julie Wach '12, Katlyn Deal '12
In late May, six Augustana students and Dr. Deborah Bracke, assistant professor of education, spent a week on a beautiful 80-acre campus in St. Augustine, Fla., that serves sensory-impaired children and teenagers. Bracke and her students were the first from Augustana to visit the Florida School for the Deaf and the Blind (FSDB), but based on the value of the experience for all, Bracke hopes it is the beginning of a long partnership.
The first time Bracke, who used to live in nearby Jacksonville, visited FSDB's campus, she realized the amazing opportunity the school offers for college students interested in special education. Although FSDB had never collaborated with a college before, Bracke developed a relationship and after arrangements were finalized, each of the six Augustana students arrived ready to research a specific question during their weeklong stay.
"The students didn't just observe," Bracke said. "The whole experience was very hands-on. For instance, one of our students who studied the impact of recreational activities on students with disabilities accompanied a group of students who were blind on their first trip to the beach."
To attend FSDB, students must be deaf and/or blind, and have an intellectual level that at least matches unimpaired students at their grade level. The 650 FSDB students take the same core classes as students at other public schools, and participate in sports and fine arts activities. "The technology of speech to text and text to speech is amazing," Bracke said. "I think our students were surprised at how well the students who are deaf and blind can communicate with each other."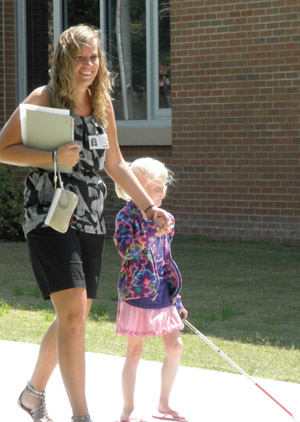 Katelyn Deal '12 walks on campus with one of her students at the Florida School for the Deaf and the Blind (FSDB).
Augustana's Alannah Golden '13, an elementary education major, says the experience has fueled her passion to teach students with special needs. Her research question was how art, particularly visual art, is incorporated into classes for visually impaired students and how art instruction benefits the students. "People, disabled or not, are capable of so many wonderful things," Golden says. "The educators at FSDB use their strengths and enthusiasm to help their students discover their capabilities. That is something I hope to do in the future as well."
In working with mostly elementary school students who are blind, Alicia Koepke '12 researched how technology impacts their learning. She discovered a world of talking dictionaries and calculators, and a desktop system called myReader for magnified reading.
"This trip has inspired me to possibly get my master's in visual education," said Koepke, who is majoring in elementary education and middle school math and language arts. "I cannot thank Professor Bracke enough for all the hard work she put into making this trip possible. I learned how wonderful it is to teach blind students. They were such hard workers, and everyday I learned something new from each and every one of them."
One of two communication sciences and disorders (CSD) majors on the trip, Julie Wach '12 was interested in participating after her aural rehabilitation class went on a field trip to the Illinois School for the Deaf last winter term. She wanted to experience that environment again for an extended period, and to look at it with a CSD perspective. Her research question centered on teaching children who are deaf how to communicate, using strategies associated with speech and language therapy.
"I learned so much from the SLPs at the school that it has sparked my interest in working in a school, maybe even one for the deaf like FSBD," said Wach, who worked with students at the elementary level and in high school. "The trip also gave me six new friends and familiar faces on the Augustana campus. Professor Bracke and all the girls became close friends because we came together at the end of each day to share our experiences."
Even a day at the beach is a learning experience for Alicia Koepke '12 and FSDB students.
All six Augustana students used Augie Choice funding to help finance their trip. Augie Choice allows students in their junior or senior year to apply for up to $2,000 for a high-impact learning experience.
Wach says she probably wouldn't have been able to spend a week at the FSDB without Augie Choice funding. "I was so thankful to have received the money because it paid for an experience I will never forget," she said. Golden, too, would not have been able to travel without Augie Choice money. Koepke says she would have been able to go to FSBD without Augie Choice, "but it would have been very hard paying rent next year."
As noted earlier, all of the Augustana students are considering a career in special education, which is one of the reasons why they were selected from among a large applicant pool. But if they choose not to follow that career path, their research will give them a stronger grasp of how to accommodate different students' needs. "Their tool bag of teaching practices is much richer after this week," Bracke said.
She believes the students' experiences will make them more marketable to school districts after they graduate. "Being able to tell stories is so important," Bracke said. "I think their personal stories from this trip will set them apart from other teacher candidates."
-Kim Hedlin '11 and Debbie Blaylock