2011 Season - Assistant Coaches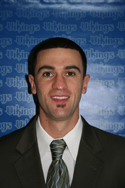 ZAC CONNORS (Offensive Coordinator)
The first hire of Rob Cushman's reign as the head football coach at Augustana was to name Zac Connors as the Vikings' new offensive coordinator. Connors, who possesses a wealth of experience in the spread offense, comes to Augustana after a year as an offensive assistant and special teams coordinator at Diablo Valley College in Pleasant Hill, California. Before working at Diablo Valley, Conners was a graduate assistant at the University of Utah where he was involved in four straight bowl games as a member of the Utes' staff. Connors played four years of college football as a quarterback, competing during his final two years at Southern Utah where he served as team captain in 2005. He played his high school ball at Clayton Valley High School in Concord, California where he was voted co-MVP and team captain as a senior. Connors has a bachelor's degree in physical education from Southern Utah (2006) and he is currently working on his master's degree in sports management from the University of Utah.
KYLE READE (Co-Defensive Coordinator)
This name is familiar to anyone associated with Augustana football as Kyle Reade joined the Augustana staff on a full-time basis in the summer of 2007. His father Bob was a legendary fixture as the Vikings' head coach from 1979-94, winning four straight NCAA Division III national championships in the mid-1980's. Kyle played quarterback at Geneseo High School and was the Quad City Area's "Player of the Year" as a senior. He played and coached at Augustana during his undergraduate days and came back to his alma mater after coaching at Ohio Northern University. He graduated from Augustana with a degree in political science and history in 2005 and received his master's degree in sports administration from Bowling Green University in July of 2007. He will assume the role as co-defensive coordinator heading into the 2011 season after coaching the defensive backs for the previous four years.
JUSTIN RICH (Co-Defensive Coordinator)
Justin Rich will join the Augustana staff in 2011 as co-defensive coordinator and linebackers coach. He worked with Vikings' head coach Rob Cushman at Ithaca during the 2007 season. In 2010 he was an offensive assistant and receivers coach at Palmer High School in Colorado Springs, Colorado. He had two separate stints at Watertown High School in Watertown, New York sandwiched around his year at Ithaca. From 2000-07 he was a captain in the United States Army – Aviation Branch. Rich is a graduate of Colorado State University where he was a "Distinguished Military Graduate" in 1999. He won the General Aubrey "Red" Newman Award for execellence in leadership and mentorship during his time in the U.S. Army.
ANTHONY SCOTT (Offensive Line)
The newest addition to the Augustana football coaching staff is offensive line coach Anthony Scott. Hired in February of 2011, Scott comes to Augustana from St. Augustine's College in Raleigh, North Carolina, where he held the same position and was responsible for recruiting central North Carolina and northeast Georgia. During his four seasons at St. Augustine's, the Falcons led the Central Intercollegiate Athletic Association in rushing offense once (2010) and were second once (2008). Scott also had stints as an offensive line coach at Lenoir-Rhyne University and Brevard College—like St. Augustine's, both NCAA Division II institutions. His first coaching job was at East Forsythe High School in Winston-Salem, North Carolina, where he served as an assistant coach from 2003-2006. He also taught history at East Forsythe.
Scott is a graduate of Georgia Southern University in Statesboro, Georgia, where he was an offensive lineman on the Eagles' 1999 and 2000 NCAA Division I-AA national championship teams. He received his bachelor's degree in broadcasting in 2001.
JEFF LINDMARK (Special Teams Coordinator)
From ball boy to player to coach, Jeff Lindmark has seen the Augustana program from a variety of angles. When his father worked the chain gang during his boyhood years, Jeff served as a ball boy for the Vikings. After graduating from Pleasant Valley High School in 1988 where he was a multi-sport standout, he played football and baseball at Augustana. During his senior year of 1991 he played an instrumental role in the Vikings 8-1 season that resulted in a CCIW championship.
He joined the staff in a full-time capacity in 2005 and is the offensive coordinator after serving as a part-time coach in charge of offensive ends. He spent five years as a teacher for at-risk students at Pleasant Valley High School in Bettendorf, Iowa. He was an assistant baseball coach at Pleasant Valley from 2001 through the 2005 season.
He taught physical education and sociology at Sherrard High School in Sherrard, Illinois from 1994 until 2000. Lindmark was the head football coach at Sherrard from 1995 through 1998. He was the head baseball coach at the school from 1994-00.
After graduating from Augustana in February of 1993 with a degree in secondary/physical education he taught in the Riverdale (Illinois) school system and was an assistant football coach in the fall of 1993.
JIM SANDERS (Running Backs)
A longtime fixture in the Quad City community, Jim Sanders will begin his seventh year on the Augustana staff in 2011. He will work with the running backs. A member of three Halls of Fame (Illinois Football Coaches Association, United Township High School and Greater Peoria Area), Sanders compiled a 169-65-2 record with 10 conference champions and one undefeated team during his coaching career. He was the head coach at Eureka, Kewanee and United Township High School in East Moline. A native of Urbana, Illinois, he has his bachelor's degree in physical education from the University of Illinois and a master's degree from Illinois State. Jim and his wife Joanne currently reside in East Moline and have five children and 11 grandchildren.
DICK BLAIR (Tight Ends)
A 1975 Augustana graduate, Dick Blair will be in his 10th year as an assistant coach at his alma mater. A native of Savanna, Illinois, his coaching career spans 28 years, starting in Newton, Iowa in 1975. For 10 years (1989 to 1999) he was the head coach at Riverdale High School in Port Byron, Illinois. He was a volunteer coach at St. Ambrose during the 2000 season before joining the Augustana staff in 2001 as the linebacker coach. He has since moved to the defensive backfield and this year will be working with the tight ends. He was a three year letter winner for the Vikings from 1972-74.
MIKE BREWERS (Offensive Line)
After spending 30 years on the staff of United Township High School in East Moline, Illinois, Mike Brewers joined the Augustana staff in 2004. Brewers retired after serving as the principal at United Township for two years. Prior to that he was an associate principal and before that was a teacher. He coached offensive and defensive lines and was the Panthers defensive coordinator. During his coaching tenure, United Township made 12 IHSA playoff appearances. He graduated from Western Illinois in 1970 with a degree in physical education. He has a master's degree in Educational Administration and has an education specialist degree in Educational Administration. A native of East Moline, he was an all-conference player both in high school at Rock Island Alleman and in college. He played at Western Illinois with current Augustana assistant coach Tom Schmulbach.
AARON CALL (Defensive Line)
A native of Wilton, Iowa, Call began coaching the defensive line for the Vikings, a position he has had since 2006. He was a first team all conference performer at defensive end in 2005 and helped lead Augustana to the CCIW title and into the NCAA Division III playoffs.
MARK READE (Recruiting Coordinator)
Mark Reade returned to his alma mater in March of 2008 to take on the role of recruiting coordinator. The son of legendary Augustana head coach Bob Reade, Mark brings a plethora of experience to the position. He held coaching positions on the football staffs of Rice, Clemson, Concordia and Eastern Illinois as well as a two year stint at LaSalle-Peru High School. He served as the head men and women's head track & field coach at Concordia for two years. He also spent time in the private sector, working for Country Insurance and The Home Depot. A Phi Beta Kappa student at Augustana who graduated Magna Cum Laude with degrees in business, finance and economics in 1993, Reade has also done graduate work at Clemson, Eastern Illinois and Rice. He was a two sport standout in track & field and football with the Vikings, serving as team captain of the 1993 track team and qualifying for the national meet in the 400 hurdles.
ERIC MEYER (Linebackers)
Eric Meyer joined the Augustana football staff at the beginning of the 2010 season after completing his final year of eligibility in 2009. A three time letter winner, Meyer was a 1st team all-CCIW linebacker as a senior after being a 2nd team all-CCIW linebacker as a junior. He was an academic all-conference and academic all-district selection. As a senior, he was awarded the Jerry Freck Most Inspirational Award which is given to a player that symbolizes the intangible concept of being a team player and contributing wherever possible to the success of the Vikings. He graduated Augustana with a degree in Spanish and business.
DICK SKILLETT (Kickers)
Dick Skillett, a familiar name in both Quad City and Augustana circles joined the Augustana staff in 2010 and will help coach the kickers. Skillett, who retired after a 38 year career at Alcoa and is a graduate of United Township High School in East Moline, has been involved with youth and high school programs and worked with several high school kickers in the area. Most notably was the work he did with his son Jeff, who was a national Punt/Pass/Kick champion and kicked for Iowa in the Rose Bowl. Dick, an Alleman High School graduate, and his wife Linda, a Rock Island Alleman graduate, are the parents of two sons: Jeff and Kevin. Kevin played one year of basketball at Augustana in 1990-91 and was a first team all-conference performer before transferring to Iowa where he enjoyed a three year career with the Hawkeyes. Both Jeff and Kevin are high school teachers and coaches.
JOHNNY MAGO (Student Assistant)
Johnny Mago will serve as a student-assistant on the Vikings' staff for the 2011 season. He graduated in May of 2011 with degrees in theater and mass communications. He was Augustana's leading tackler in 2010 when he earned Academic All-American, all-conference and all-region honors. A team captain in 2010 and the Vikings' defensive MVP, Mago is originally from Cary, Illinois.