June 9, 2011
2011 Season - Women's Track & Field finishes season ranked 19th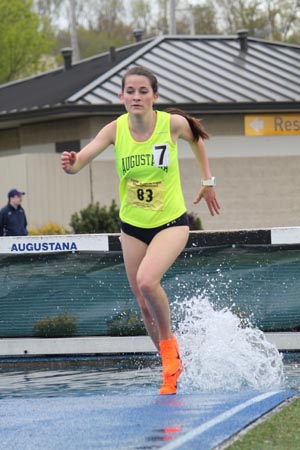 Senior Katie Ries set a new school record in the 3000 steeplechase for the 2011 Augustana women's track & field team. The Vikings finished the year ranked 19th in the final NCAA Division III dual meet ranking.
Augustana finished the 2011 women's track & field season ranked 19th in the final NCAA Division III outdoor dual meet power ranking. The Vikings ended with 173.42 point in the poll, which is conducted by the U.S. Track & Field/Cross Country Coaches Association and encompasses the top two performances by each team in every event.
Wartburg ended up with the top spot with 213.65 points while Wisconsin-Oshkosh was second with 202.46 and Williams was third with 199.86. There were seven teams from the Midwest Region in the final top 20 in the ranking. In addition to Wisconsin-Oshkosh, North Central was fourth (198.67), Wisconsin-Oshkosh fifth (197.02), Wisconsin-LaCrosse seventh (190.95), Monmouth 10th (185.84), Carthage 13th (183.75), Washington 18th (175.45) and Augustana 19th (173.42).
Veteran head coach Fred Whiteside's squad finished second in both the Augustana Invitational and the Viking Olympics. The Vikings were fifth in the Lee Calhoun Memorial Invitational and the College Conference of Illinois & Wisconsin championship.
Augustana crowned four individual champions in the CCIW meet and had five NCAA qualifiers during the 2011 campaign.
2011 NCAA DIVISION III WOMEN'S TRACK & FIELD DUAL MEET POWER RANKINGS
US Track & Field/Cross Country Coaches Association
June 9, 2011 – Final Ranking
1 – Wartburg, Central, 213.65
2 – Wisconsin-Oshkosh, Midwest, 202.46
3 – Williams, New England, 199.86
4 – North Central, Midwest, 198.67
5 – Wisconsin-Eau Claire, 197.02
6 – Massachusetts Institute of Technology, New England, 191.83
7 – Wisconsin-La Crosse, Midwest, 190.95
8 – Ithaca, Atlantic, 189.06
9 – Tufts, New England, 187.56
10 – Monmouth, Midwest, 185.84
11 – Concordia-Moorhead, Central, 185.69
12 – St. Benedict, Central, 185.31
13 – Carthage, Midwest, 183.75
14 – Nebraska Wesleyan, Central, 183.51
15 - Ohio Wesleyan, Great Lakes, 181.55
16 – College of New Jersey, Atlantic, 177.97
17 – Loras, Central, 175.90
18 - Washington, Midwest, 175.45
19 – AUGUSTANA, Midwest, 173.42
20 – Johns Hopkins, Mideast, 173.21
21 – Colby, New England, 172.28
22 – Claremont-McKenna-Harvey-Mudd-Scripps, West, 171.12
23 – Whitworth, West, 170.42
24 – Williamette, West, 169.53
25 – Emory, South, 169.16