June 7, 2011
2011 Season - Hottle, Mathieson & Bennett share MVP honors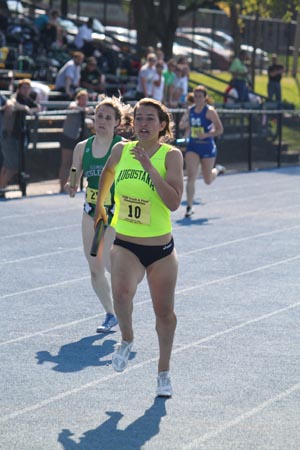 Senior sprinter Brittney Bennett shared the MVP award for the 2011 season with Hannah Hottle and Ella Mathieson.
Seniors Brittney Bennett (Annawan HS, Annawan, Ill.), Hannah Hottle (Monmouth-Roseville HS, Monmouth, Ill.) and Ella Mathieson (Lyons Township HS, LaGrange, Ill.) have been named Augustana's Most Valuable performers for the 2011 outdoor track & field season. The trio accounted for four championships at this year's CCIW meet and all three competed at the NCAA Division III National Track & Field Championships in Delaware, Ohio.
Hottle was named Track Athlete of the Meet after setting meet records in the 800 (2:12.07) and 1500 (4:36.21) at this year's CCIW Championships. She and Bennett were each members of the school record-breaking 4x400 relay (3:51.04) which finished 10th at the NCAA meet. Bennett also finished 16th in the open 400 at the national meet, while Hottle was 21st in the 800 and qualified in the 1500 as well. Mathieson was also a double CCIW champion this year, winning the long jump with a school-record leap of 18' 6" and the triple jump with a mark of 37' 6". She qualified for the national meet in both events and finished 11th in the long jump. Bennett, Hottle and Mathieson, along with fellow seniors Amy Walsh (Cary-Grove HS, Cary, Ill.), Brittany Prazak (Naperville North HS, Naperville, Ill.) and Anita Maurer (Downers Grove North HS, Downers Grove, Ill.) served as team captains this year.
Walsh and Prazak shared the Erica Vortman Viking Spirit Award with senior Meaghan Reaney (Lincoln-Way Central HS, New Lenox, Ill.), sophomore Jennifer Prazak (Naperville North HS, Naperville, Ill.) and senior manager Daun Greif (Sandwich HS, Sandwich, Ill.). Walsh also ran on the school-record 4x400 relay and was a provisional national qualifier in the 400 hurdles with a best of 1:04.21.
Kierra Smith (Creston HS, Creston, Iowa), another member of the record-setting 1600 relay, and Johanna Schnitzler (Downers Grove South HS, Woodridge, Ill.) were selected as Most Valuable Freshmen. Smith ran an Augustana season-best :15.36 in the 100 hurdles and Schnitzler recorded team bests in the high jump (4' 11") and heptathlon (3,637).
Senior Katie Ries (Regina HS, Iowa City, Iowa), who broke Hottle's school record in the 3000-meter steeplechase (11:20.97) this year, shared Susan Wall Most Improved honors with sophomore thrower Bethany Siwek (Woodstock HS, Woodstock, Ill.).
Juniors Morgan Gale (Oregon HS, Oregon, Ill.), Amber Gruber (Rolling Meadows HS, Arlington Heights, Ill.) and Melissa Lehpamer (Plainfield South HS, Plainfield, Ill.) were named captains-elect for 2012.
2011 OUTDOOR TRACK & FIELD LETTER WINNERS
| | | | | |
| --- | --- | --- | --- | --- |
| FIRST | LAST | YR | EVENTS | HOMETOWN/HIGH SCHOOL |
| Valerie | Bach ** | So | Sprints, Hurdles | Palatine, Ill./HS |
| Kristyn | Barton * | Fr | Mid Distance | Elmhurst, Ill./York |
| Melanie | Battistoni *** | Jr | Discus, Hammer, Shot | Elmhurst, Ill./York |
| Liana | Beauchamp * | Fr | Hammer, Discus, Shot | Kingston, Ill./Genoa-Kingston |
| Brittney | Bennett **** | Sr | Sprints, Hurdles | Annawan, Ill./HS |
| Tara | Bistry ** | So | Distance | Shorewood, Ill./Joliet Catholic |
| Theresa | Coverick ** | So | Distance | Palos Park, Ill./Amos Alonzo Stagg |
| Katherine | Dinkel ** | So | Sprints, Long Jump | Fairfield, Iowa/Maharashi |
| Catherine | Foreman *** | Jr | Javelin, Sprints | Saint Joseph, Ill./St Joseph-Ogden |
| Morgan | Gale *** | Jr | Pole Vault, Sprints | Oregon, Ill./HS |
| Megan | Garvey **** | Sr | High Jump, Javelin | Naperville, Ill./North |
| Emma | Grandgeorge * | Fr | Distance | Sycamore, Ill./HS |
| Daun | Greif **** | Sr | Student Coach | Sandwich, Ill./HS |
| Amber | Gruber *** | Jr | Discus, Hammer, Shot | Arlington Heights, Ill./Rolling Meadows |
| Annie | Heifner ** | So | Mid Distance, Steeple | Oregon, Wis./HS |
| Taelar | Hillyer * | Fr | Pole Vault | Bettendorf, Iowa/Rock Island Alleman |
| Hannah | Hottle **** | Sr | Mid Distance | Monmouth, Ill./Monmouth-Roseville |
| Sarah | Johnson *** | Jr | Steeplechase | Lake Villa, Ill./Grayslake North |
| Sarahbeth | Jones ** | So | Mid Distance | Wadsworth, Ill./Warren Township |
| Katie | Kornaus * | Fr | Mid Distance | Portage, Wis./HS |
| Jaynee | Krippel * | Sr | Mid Distance | Joliet, Ill./West |
| Rachael | Latham *** | Jr | Sprints | Elgin, Ill./Burlington Central |
| Megan | Lecander *** | Sr | Pole Vault, High Jump | Sherrard, Ill./HS |
| Melissa | Lehpamer *** | Jr | Mid Distance | Plainfield, Ill./South |
| Emily | Margosian ** | So | Hurdles | Naperville, Ill./Neuqua Valley |
| Ella | Mathieson **** | Sr | Long Jump, Triple Jump | LaGrange, Ill./Lyons Township |
| Jordan | Mauerman ** | So | Sprints | Albany, Wis./HS |
| Anita | Maurer **** | Sr | Steeplechase | Downers Grove, Ill./North |
| Jennifer | Misewicz * | Sr | Pole Vault, Sprints | Plainfield, Ill./Centyral |
| Kelsey | Moon * | Fr | Mid Distance | Wauconda, Ill./Mundelein |
| Allison | Nagy * | Fr | Mid Distance | Naperville, Ill./Neuqua Valley |
| Angela | Norton * | Fr | Distance | Mundelein, Ill./HS |
| Amanda | Pease * | Fr | Steeplechase | East Moline, Ill./United Township |
| Angela | Pisani *** | Jr | Mid Distance | Elmhurst, Ill./York |
| Kirstillyn | Pohlman ** | So | Mid Distance | Winthrop Harbor, Ill./Zion-Benton |
| Julia | Popp * | Fr | Heptathlon | Belvidere, Ill./Rockford Boylan Catholic |
| Jennifer | Prazak ** | So | Mid Distance | Naperville, Ill./North |
| Brittany | Prazak **** | Sr | Steeplechase | Naperville, Ill./North |
| Meaghan | Reaney *** | Sr | Mid Distance | New Lenox, Ill./Lincoln Way Central |
| Katie | Ries * | Sr | Steeplechase | Iowa City, Iowa/Regina |
| Amanda | Rodriguez * | So | Distance | Mahomet, Ill./Mahomet-Seymour |
| Katie | Rowland *** | Sr | Long Jump | Libertyville, Ill./HS |
| Johanna | Schnitzler * | Fr | Heptathlon Hurdles | Woodridge, Ill./Downers Grove South |
| Hope | Shiel * | Fr | Student Manager | Prospect Heights, Ill./Hersey |
| Bethany | Siwek ** | So | Hammer, Discus, Shot | Woodstock, Ill./HS |
| Kierra | Smith * | Fr | Hurdles | Creston, Iowa/HS |
| Kelsey | Stockert * | Fr | Mid Distance | Mapleton, Ill./Peoria Notre Dame |
| Taylor | Tjardes ** | So | Pole Vault, Javelin | Gibson City, Ill./Gibson City/Melvin-Sibley |
| Amy | Walsh **** | Sr | Hurdles | Cary, Ill./Cary-Grove |
| Devon | White ** | So | Javelin | DeKalb, Ill./Indian Creek |
| Kristen | Whiteside * | Fr | Mid Distance | Winthrop Harbor, Ill./Zion Benton |