June 7, 2011
2011 Season - Vikings finish season ranked second in NCAA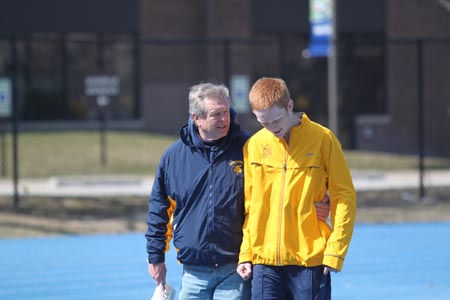 Head coach Paul Olsen guided the Vikings to their fifth consecutive top 10 finish in the national dual meet power rankings during the 2011 season.
Putting the finishing touches on another outstanding season, Augustana finished second in the final NCAA Division III men's track & field dual meet ranking. The ranking is compiled by the U.S. Track & Field/Cross Country Coaches Association. Veteran head coach Paul Olsen's team compiled a total of 223.64 points, narrowly missing the top spot, which was claimed by NCAA Division III national champion North Central with 223.87 points.
As has been the case in recent years, the top 10 had a decidedly Midwestern flavor as the top four spots were claimed by teams competing in the Midwest Region. Behind North Central and Augustana, Wisconsin-Oshkosh was third (221.44) and Wisconsin-Eau Claire was fourth (217.51). Williams was the first team not from the Midwest to crack the ranking and the Ephs were fifth with 215.99.
Whitworth, which had been second for three weeks, ended up in sixth with 215.09. Wisconsin-LaCrosse (212.08), Massachusetts Institute of Technology (209.93), Wabash (208.02) and Wisconsin-Whitewater (206.65) rounded out the top 10.
Augustana has recorded five straight top 10 finishes in the NCAA Division III dual meet ranking. In 2007 the Vikings were seventh and in 2008 and 2009 they were the top ranked team in the nation. Last year Olsen's crew was third in the final ranking and followed that with the runner-up finish this year.
The Vikings placed second in the College Conference of Illinois & Wisconsin on May 6-7, losing to North Central by a score of 284-243 despite crowning 10 champions. They had participants in 10 events at the NCAA Division III national meet and came away with one All-American when junior Phil Christensen (Kaneland HS, Maple Park, Ill.) placed sixth in the discus.
Augustana won the Meet of Champions and the Viking Olympics and placed second in Wartburg Select and the Lee Calhoun Invitational.
2011 NCAA DIVISION III FINAL OUTDOOR POWER DUAL MEET POWER RANKING
Sponsored by the USTFCCA *** As of 06/06/2011 *** FINAL POLL
| | | | |
| --- | --- | --- | --- |
| RANK | SCHOOL | REGION | POINTS |
| 1. | North Central | Midwest | 223.87 |
| 2. | Augustana | Midwest | 223.64 |
| 3. | University of Wisconsin, Oshkosh | Midwest | 221.44 |
| 4. | University of Wisconsin, Eau Claire | Midwest | 217.51 |
| 5. | Williams | New England | 215.99 |
| 6. | Whitworth | West | 215.09 |
| 7. | University of Wisconsin, LaCrosse | Midwest | 212.08 |
| 8. | Massachusetts Institute of Technology | New England | 209.93 |
| 9. | Wabash | Great Lakes | 208.02 |
| 10. | University of Wisconsin, Whitewater | Midwest | 206.65 |