Quad Cities to Audrey Adamson: thanks!
Augustana's director of residential life recognized as one of top "Leaders Under 40"
June  03, 2011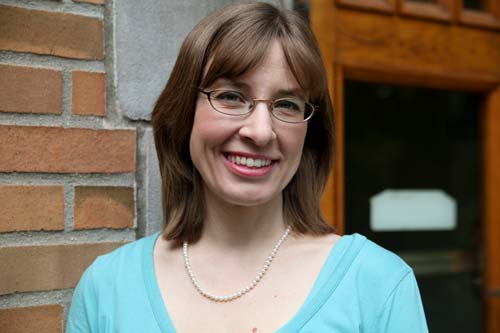 Audrey Adamson (Augustana Photo Bureau/Marla Alvarado Neuerburg)
Audrey Adamson, Augustana assistant director of residential life and interim director, has been named one of the Quad Cities top "Leaders Under 40."
A quick look at Adamson's calendar reveals the kind of leader she is. When she's not at her full-time position at Augustana, you might find her building a playground at Longfellow Liberal Arts School as the president of the Longfellow Booster Club. Or bringing 18 girls on a field trip as a Girl Scout troop leader. Or organizing Operation Read to benefit at-risk preschool children for United Way. Or serving as the treasurer for Daughters of the Nile, an organization that raises funds for Shriners Hospitals for Children.
When Adamson sees a need in her community, she volunteers. "I don't wait for an invitation to get involved," she said. "When my daughter started first grade at Longfellow, I went to the school and asked them how I could help. I don't think volunteer organizations get that very often."
Adamson grew up in Davenport, graduated from Augustana in 1997 and has been working in residential life ever since. She was a community advisor when she was a student and worked her way to her current position.
She likes her job because it is different every day. She handles student discipline, advises the residence hall association and oversees Augustana's three residential area coordinators, each of whom manages a staff of about 18 students serving as community advisors in the residence buildings.
"Mostly, I talk to students about the choices they've made and how their decisions affect their community," she said. "I get to meet new people every day, and I like working with students and hopefully having an impact on them."
Next year Adamson will become the interim director of residential life to replace Carmen Rasso, who is retiring. Rasso nominated Adamson as one of the "Leaders Under 40."
"I have worked in the college student housing field for more than 30 years and in that time Audrey has stood out as one of the most dedicated, capable and indispensible employees I've ever supervised," Rasso said. "She is a natural leader, who has unfailingly inspired thousands of students and professional staff."
Adamson says her success at work is tied to her involvement in the community. "I think I have a good perspective at work because I am well-rounded. I try to be flexible with myself and those around me, and I try to be good at a lot of things rather than perfect at just one thing."
She encourages students to get involved in an organization outside of school or work. "See where there is a need that meets with your passions and put yourself out there," she said. "Find the area where you can have the most influence and then show people you care about what you're doing."
Adamson lives at Augustana with her husband Jim and their two children, Tori, 6, and Grant, 3. She loves how her untraditional schedule at Augustana has allowed her to balance work, family and community involvement. "I appreciate Augustana's flexibility and support, which allows its employees to have good, full lives," she said.
Rasso says Adamson has a special gift as a professional, volunteer and mother. "She is willing to go that extra mile in any situation," she said. "She is unique for her selflessness and strong desire to make a positive impact."
The "Leaders Under 40" award is given annually to a select group of individuals in the Quad Cities to recognize their professional accomplishments, community involvement and civic service. This year, Adamson was one of 19 leaders chosen by the Black Hawk College Foundation to receive the award.