June 1, 2011
2011 Season - 2011 BASEBALL REVIEW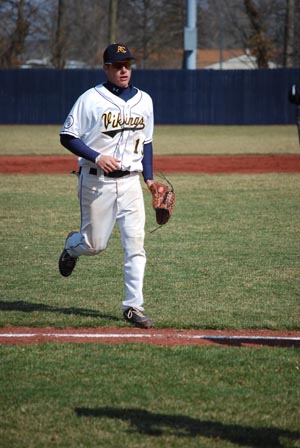 Senior Dave Hoffman finished his career ranked in the top 10 on seven different career lists.
Vikings win eight of last nine to finish 28-12 overall and 12-9 in CCIW play; Head coach Greg Wallace gets 400th win at his alma mater; Jared McIntosh earns first team All-CCIW honors
Coach Greg Wallace's Augustana baseball team closed the 2011 season by winning eight of its last nine contests to finish the year 28-12—the 12th time in the last 13 seasons the Vikings have achieved at least 25 wins. The team finished 12-9 in CCIW play. Along the way, Wallace picked up his 400th win at Augustana and he now has a record of 409-189 (.684) in 14 seasons at his alma mater. Sophomore Jared McIntosh (Assumption HS, Davenport, Iowa) was a first team All-CCIW selection, becoming the first Viking pitcher since 2006 to earn first team honors.
The Vikings opened the season by winning 10 of 11 games in Florida. The lone loss was a 2-0 setback to Wartburg in which senior right-hander Ray Homolka (Glenbard West HS, Wheaton, Ill.) fired a complete-game one-hitter. Homolka walked none and fanned six and both Knight runs were unearned.
After returning to the Midwest, Augustana continued its strong play, winning six of the next eight, including a three-game sweep of Wheaton to open CCIW play.
On April 17 at Swanson Stadium/Brunner Field, the Vikings swept a doubleheader from Carthage 3-1 and 8-7. It was Augustana's first twin bill sweep of Carthage since 2001 and the win in the nightcap was Wallace's 400th at Augustana. In addition, Wallace will enter the 2012 season just 13 wins shy of 500 in his head coaching career.
The Vikings dropped six of their next seven, including five in a row in conference play, before rebounding to win eight of their last nine. In a normal year, the team's 12-9 CCIW record would have been good enough to earn a top four finish and a place in the conference tournament. Unfortunately, in an unusual 2011 season, the Vikings finished one game out of fourth place, falling just short of qualifying for post-season play.
McIntosh emerged as the ace of the starting staff, going 4-0 with a 2.68 ERA in eight starts before being relegated to designated hitter duties late in the year by arm trouble. Opponents hit a meager .190 against him. In league play, he went 2-0 and finished second in the CCIW with a 1.91 ERA and first with a .160 opponents' batting average. He became the first Viking pitcher to earn first team All-CCIW recognition since Kevin Kuntz and Andrew Setter in 2006. He shared the team's Most Outstanding Pitcher award with junior Mike Trotta (Notre Dame HS, Chicago, Ill.). McIntosh was a .283 hitter with three homers and 28 RBI this year, playing left field or DH-ing when he wasn't on the mound.
Trotta (6-2, 4.13) led the staff in wins, starts (nine), innings pitched (61) and strikeouts (40). Junior John Peters (Alleman HS, Milan, Ill.) (4-1, 3.47) completed two of his five starts, including a shutout. He gave up 37 hits in 46 2/3 innings as opponents managed just a .218 average against him. Sophomore Ben Heaton (Bloomington Central Catholic HS, Heyworth, Ill.) was the Vikings' fourth starter and went 4-2 with a 5.66 ERA. He made seven starts, completing two.
Junior Josiah Martin (Canton HS, Canton, Ill.) was the team's bullpen ace this year, going 3-1 with a 2.10 ERA and a team-leading five saves. He threw 30 innings in a team-high 19 appearances, allowing just 22 hits and four walks while fanning 21. He led the CCIW with 10 appearances and four saves. Senior Vince Frede (St. Charles East HS, St. Charles, Ill.) provided a nice complement to Martin with three saves and a 3.65 ERA in 13 appearances.
Offensively, the Vikings finished the year hitting .312 as a team and averaged just over seven runs a game. Infielder Dave Hoffman (Cary-Grove HS, Fox River Grove, Ill.) (.327-4-40) led the Vikings in home runs, RBI, walks (27) and on-base percentage (.429). He was also selected as the team's Most Outstanding Defensive Player. The senior wrapped up a fine career which saw him crack Augustana's career top ten in seven offensive categories. His 594 at-bats rank third and he ended up fourth in hits (217), RBI (130) and doubles (42), fifth in walks (87), eighth in runs scored (135) and 10th in career batting average at .365.
Another senior, catcher T.J. O'Donnell (New Trier HS, Northbrook, Ill.), hit .287 with one home run and 26 runs batted in. He tied for the team lead with 11 doubles and was fourth in RBI and runs scored (27). He also cut down 11 of 22 attempted base stealers and won Augustana's Leadership Award. He played in 100 career games, starting 83 and hitting .275 with eight home runs and 73 RBI. He was hit by 31 pitches in his career, helping lead to an impressive .408 on-base percentage.
Freshman first baseman Pat Wilson (Stevenson HS, Vernon Hills, Ill.) started every game this year and led the squad with a .386 batting average. His 171 at-bats, 66 hits and 79 total bases were also team highs and he tied O'Donnell for the team lead in doubles with 11. Wilson's 39 RBI were second on the club. He tied for the CCIW lead with 34 hits and was a second team all-conference selection as well as the Vikings' Most Outstanding Offensive Player. Sophomore infielder Jeremy Juhl (Glenbard East HS, Lombard, Ill.) (.370-1-17), who joined Wilson on the All-CCIW second team, tied for second on the team with 32 runs scored. Sophomore infielder/outfielder Kurt Schmidt (Grayslake Central HS, Grayslake, Ill.) (.336-1-20) led the team with 39 runs scored, four triples, 12 stolen bases and a .492 slugging percentage.
2011 COLLEGE CONFERENCE OF ILLINOIS & WISCONSIN STANDINGS
| | | | | |
| --- | --- | --- | --- | --- |
| TEAM | CCIW W-L | CCIW PCT | OVERALL W-L | OVERALL PCT |
| Illinois Wesleyan | 15-6 | .714 | 28-18 | .609 |
| North Park | 15-6 | .714 | 30-12 | .714 |
| Carthage | 14-7 | .667 | 32-12 | .727 |
| North Central | 13-8 | .619 | 22-17 | .564 |
| AUGUSTANA | 12-9 | .571 | 28-12 | .700 |
| Wheaton | 8-13 | .381 | 17-23 | .425 |
| Elmhurst | 6-15 | .286 | 18-20 | .474 |
| Millikin | 1-20 | .048 | 7-32 | .219 |
2011 CCIW BASEBALL TOURNAMENT
Thursday, May 12, 2011
#1 Illinois Wesleyan 5, #4 North Central 4
#3 Carthage 9, #2 North Park 4

Friday, May 13, 2011
North Central 5, North Park 4
Carthage 5, Illinois Wesleyan 4
North Central 7, Illinois Wesleyan 5

Sunday, May 15, 2011
Carthage 11, North Central 1
(Carthage wins CCIW Baseball Tournament)
2011 AUGUSTANA BASEBALL SUPERLATIVES
ALL-CCIW: First Team – Jared McIntosh, P; Second Team – Jeremy Juhl, IF; Pat Wilson, IF.
AUGUSTANA MOST OUTSTANDING OFFENSIVE PLAYER: Pat Wilson.
AUGUSTANA MOST OUTSTANDING DEFENSIVE PLAYER: Dave Hoffman.
AUGUSTANA MOST OUTSTANDING PITCHER: Jared McIntosh & Mike Trotta.
AUGUSTANA'S CCIW INDIVIDUAL STATISTICAL LEADERS: Hits – 34, Pat Wilson; Triples – 3, Kurt Schmidt; Walks – 18, Dave Hoffman; Sacrifice Flies – 6, T.J. O'Donnell; Opposing Batting Average – .160, Jared McIntosh; Saves – 4, Josiah Martin; Appearances – 10, Josiah Martin; Games Finished – 7, Josiah Martin; Relief Appearances – 10, Josiah Martin.
AUGUSTANA'S CCIW TEAM STATISTICAL LEADERS: Caught Stealing By – 10.
ADDITIONS TO TOP TEN LISTS
Career
Batting Average – .365, Dave Hoffman, 10th
At-Bats – 594, Dave Hoffman, 3rd
Runs – 135, Dave Hoffman, 8th
Hits – 217, Dave Hoffman, 4th
Doubles – 42, Dave Hoffman, 4th
Runs Batted In – 130, Dave Hoffman, 4th
Walks – 97, Dave Hoffman, 5th
Single Season
Triples – 4, Kurt Schmidt, 9th-T