May 25, 2011
2011 Season - Baseball award winners announced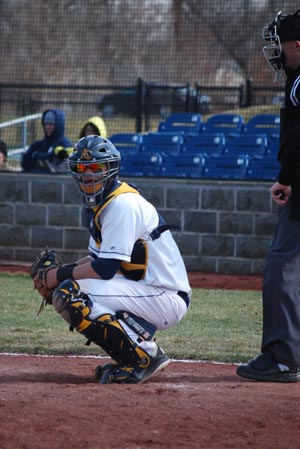 Senior catcher T.J. O'Donnell received the "Leadership Award" for the 2011 Augustana baseball season, it was announced today.
Coach Greg Wallace and the Augustana baseball program have announced their team awards for the 2011 season and freshman first baseman Pat Wilson (Stevenson HS, Vernon Hills, Ill.) was named Outstanding Offensive Player as well as Newcomer of the Year. Senior infielder Dave Hoffman (Cary-Grove HS, Fox River Grove, Ill.) earned Best Defensive Player. Junior Mike Trotta (Notre Dame HS, Chicago, Ill.) and sophomore Jared McIntosh (Assumption HS, Davenport, Iowa) shared Outstanding Pitcher honors and senior catcher T.J. O'Donnell (New Trier HS, Northbrook, Ill.) was presented with the team's Leadership Award.
Wilson, who was named second team All-CCIW this week, led the Vikings in hitting this year at .386. He started all 40 games—38 at first base and two in the designated hitter slot. He was penciled into the cleanup and fifth spots in the batting order 20 times each and led the team in at-bats (171), hits (66), total bases (79) and doubles (tied with 11) as well. He was second on the team with 39 RBI. Wilson's 34 hits in conference play tied for the league lead and he tied for fifth in the CCIW in RBI with 21.
The versatile Hoffman played primarily at second base, but also spent time at first and third. He made just three errors in 144 chances at second base and handled 18 chances at first and 11 at third without a miscue, compiling a .983 combined fielding percentage. Also a threat at the plate, Hoffman hit .327 this year and led the Vikings in home runs (four), RBI (40), walks (27) and on-base percentage (.429). He cracked Augustana's career top ten in several offensive categories. His 594 at-bats rank third and he ended up fourth in hits (217), RBI (130) and doubles (42), fifth in walks (87), eighth in runs scored (135) and 10th in career batting average at .365.
McIntosh and Trotta anchored the Viking starting rotation this year. McIntosh was a first team All-CCIW selection after finishing second in the conference with a 1.91 ERA. He went 4-0 in eight starts overall and led the team with a 2.68 ERA. He allowed only 33 hits and an opponents' batting average of .190 in 50 1/3 innings. Trotta went 6-2 with a 4.13 ERA on the year, leading the staff in wins. He also led in starts (nine), innings pitched (61) and strikeouts (40).
O'Donnell was a four-year letter winner and helped the Vikings to a record of 76-44 in his three years as a starter behind the plate. He hit .287 this year with one home run and 26 RBI and tied for the team lead in doubles with 11. He played in 100 career games, starting 83, and hit .275 with eight home runs and 73 RBI. Always willing to "take one for the team," O'Donnell was hit by 31 pitches in his career, helping lead to an impressive .408 on-base percentage.
2011 AUGUSTANA BASEBALL LETTER WINNERS
| | | | |
| --- | --- | --- | --- |
| Name | Yr. | Hometown | High School |
| | | | |
| Mike Barker*** | Jr. | Marina Del Rey, Calif. | Grandview (Centennial, Colo.) |
| Niko Capodice* | Fr. | Minooka, Ill. | Minooka |
| Jordan Cealey* | Sr. | Peoria, Ill. | Peoria Notre Dame |
| Joe Cecchi** | Soph. | Romeoville, Ill. | Romeoville |
| Zac Chuvala* | Fr. | Fort Collins, Colo. | Rocky Mountain |
| Anthony Concialdi** | Jr. | Barrington, Ill. | Fremd |
| Rick Erickson** | Soph. | Hawthorn Woods, Ill. | Lake Zurich |
| Vince Frede**** | Sr. | St. Charles, Ill. | St. Charles East |
| Ben Heaton** | Soph. | Heyworth, Ill. | Bloomington Central Catholic |
| Dave Hoffman**** | Sr. | Fox River Grove, Ill. | Cary-Grove |
| Ray Homolka** | Sr. | Wheaton, Ill. | Glenbard West |
| Jeremy Juhl** | Soph. | Lombard, Ill. | Glenbard East |
| Brian Konecke* | Fr. | Itasca, Ill. | Lakes Community |
| Mike Lamb*** | Sr. | Ottawa, Ill. | Ottawa Township |
| Luke Lowery* | Fr. | Lone Tree, Colo. | Regis |
| Josiah Martin*** | Jr. | Canton, Ill. | Canton |
| Jared McIntosh** | Soph. | Davenport, Iowa | Assumption |
| T.J. O'Donnell**** | Sr. | Northbrook, Ill. | New Trier |
| John Peters** | Jr. | Milan, Ill. | Alleman Catholic |
| Matt Pisani* | Fr. | Elmhurst, Ill. | York |
| Jim Sandberg** | Soph. | Littleton, Colo. | JK Mullen |
| Kurt Schmidt** | Soph. | Grayslake, Ill. | Grayslake Central |
| Kevin Serna*** | Jr. | Arlington Heights, Ill. | Rolling Meadows |
| Mike Trotta*** | Jr. | Chicago, Ill. | Notre Dame |
| Jacob VanDuyne* | Fr. | Wilmington, Ill. | Wilmington |
| Pat Wilson* | Fr. | Vernon Hills, Ill. | Stevenson |