May 23, 2011
2011 Season - Trio of Vikings named All-CCIW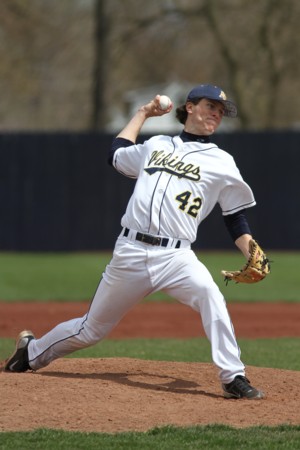 Augustana sophomore pitcher Jared McIntosh was selected to the first team of the 2011 CCIW all-conference baseball team Monday. McIntosh, who also plays in the outfield, finished second in the CCIW with a 1.91 ERA this year.
ROCK ISLAND, Ill.- Led by sophomore Jared McIntosh (Assumption HS, Davenport, Iowa), who was a first team selection as a pitcher, three Augustana Vikings received all-conference recognition from the College Conference of Illinois & Wisconsin Monday. Sophomore infielder Jeremy Juhl (Glenbard East HS, Lombard, Ill.) and freshman first baseman Pat Wilson (Stevenson HS, Vernon Hills, Ill.) were named to the second team.
As the season progressed, McIntosh emerged as the ace of the Viking starting rotation. He finished the year 4-0 with a 2.68 earned run average and gave up just 33 hits in 50 1/3 innings. He was even better in CCIW play, where he went 2-0 and his 1.91 ERA ranked second in the conference. He allowed 15 hits in 28 1/3 innings in league action, good for an opponents' batting average of .160--best in the CCIW among starting pitchers. When not on the mound, McIntosh patrolled left field for the Vikings and hit .283 with three home runs and 28 RBI.
Wilson led the Vikings in hitting this year with a .386 average and also finished one off the team lead in runs batted in with 39. His 171 at-bats, 66 hits and 79 total bases were also team highs and he tied for the team lead in doubles with 11. The consistent freshman also hit .386 in CCIW play and tied for the league lead with 34 hits. He finishing ninth in the conference in batting average, tied for third with nine doubles and tied for fifth with 21 RBI. He fanned just four times in 95 CCIW plate appearances.
Juhl hit .370 with one home run and 17 RBI this year and was Augustana's leading hitter in conference action at .390, which ranked eighth in the CCIW. He tied for seventh in league with 30 hits and posted a slugging percentage of .506 and an on-base percentage of .422 in conference play. Overall, Juhl was second on the club in batting, tied for second in runs scored with 32 and was perfect in five stolen base attempts.
Outfielder Will Hodges of Carthage and first baseman Kevin Callahan of Illinois Wesleyan shared CCIW Player of the Year honors. Illinois Wesleyan's Jason Pankau was named the conference Pitcher of the Year and Luke Johnson, who led North Park to a share of the regular season title, won Coach of the Year honors.
2011 CCIW ALL-CONFERENCE BASEBALL TEAM
| | | | |
| --- | --- | --- | --- |
| POS | PLAYER (School) | YR | HOMETOWN (HIGH SCHOOL) |
| 1st Team | FIRST TEAM | | |
| OF | Matt Abraham (North Central) | Sr. | Naperville, Ill. (North) |
| OF | Andy Athans (North Park) | Sr. | New Lenox, Ill. (Lincoln-Way Central) |
| OF | Will Hodges (Carthage) | Sr. | Oak Park, Ill. (West Aurora) |
| OF | Mike Petti (Carthage) | Sr. | Mundelein, Ill. (H.S.) |
| OF | Justin Zeller (Wheaton) | Jr. | Indianapolis, Ill. (North Central) |
| IF | Joey Aiello (Carhtage) | Jr. | Libertyville, Ill. (H.S.) |
| IF | Kevin Callahan (Illinois Wesleyan) | So. | Chicago, Ill. (Brother Rice) |
| IF | Zach Hofer (Elmhurst) | Sr. | Algonquin, Ill. (Jacobs) |
| IF | Kyle Pusateri (Carthage) | Jr. | Schaumburg, Ill. (H.S.) |
| IF | Joe Turek (North Central) | Jr. | Frankfort, Ill. (Lincoln-Way East) |
| C | Zach Deutscher (North Park) | Sr. | Batavia, Ill. (H.S.) |
| DH | Bobby Czarnowski (Illinois Wesleyan) | Fr. | Naperville, Ill. (Central) |
| Util | Trey Martin (Wheaton) | So. | Wheaton, Ill. (North) |
| P | Danny Dahm (Carthage) | Sr. | Morton Grove, Ill. (Niles West) |
| P | JARED MCINTOSH (AUGUSTANA) | SO. | DAVENPORT, IOWA (ASSUMPTON) |
| P | Jason Pankau (Illinois Wesleyan) | Sr. | Elmhurst, Ill. (York) |
| P | Joe Sweeney (Illinois Wesleyan) | Jr. | Chicago, Ill. (Fenwick) |
| | | | |
| 2nd Team | SECOND TEAM | | |
| OF | Drew Golz (Wheaton) | Jr. | River Forest, Ill. (Oak Park-River Forest) |
| OF | Dan Scott (North Central) | Sr. | Frankfort, Ill. (Lincoln-Way East) |
| OF | Dave Wolak (Elmhurst) | Fr. | Carol Stream, Ill. (Glenbard North) |
| IF | Matt Burke (North Central) | Sr. | Palatine, Ill. (H.S.) |
| IF | Mike Domenick (North Park) | Sr. | Wilmette, Ill. (New Trier) |
| IF | JEREMY JUHL (AUGUSTANA) | SO. | LOMBARD, ILL. (GLENBARD EAST) |
| IF | Eric Sousanes (North Park) | Fr. | Aurora, Ill. (Waubonsie Valley) |
| IF | PAT WILSON (AUGUSTANA) | FR. | VERNON HILLS, ILL. (STEVENSON) |
| C | Michael Corrigan (North Central) | Sr. | St. Charles, Ill. (North) |
| DH | Brad Medina (North Park) | Jr. | Mundelein, Ill. (H.S.) |
| Util | Austin Driggers (Wheaton) | Jr. | Abilene, Texas (Cooper) |
| P | Nate Arenson (North Central) | Sr. | Naperville, Ill. (North) |
| P | Steve Kuligowski (North Park) | Jr. | Grayslake, Ill. (Parkland Community College) |
| P | Nick Mehn (Illinois Wesleyan) | So. | Peoria, Ill. (Limestone) |
| P | Eric Rohe (Carthage) | Jr. | Mundelein, Ill. (H.S.) |
CCIW Co-Players of the Year
Kevin Callahan - Illinois Wesleyan
Will Hodges - Carthage

CCIW Pitcher of the Year
Jason Pankau - Illinois Wesleyan

CCIW Coach of the Year
Luke Johnson - North Park