May 23, 2011
2011 Season - Women in four events at NCAA championship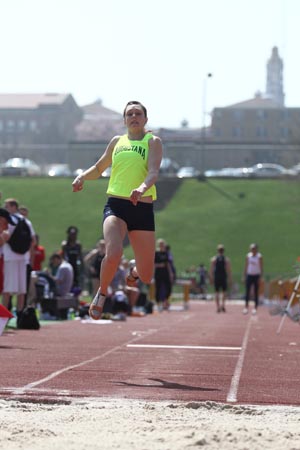 Ella Mathieson will compete in the long jump at the NCAA Division III women's track & field national meet.
The Augustana Vikings women's track & field team will be represented in four events at the NCAA Division III national meet, which will be held on May 26-28 at Ohio Wesleyan University in Delaware, Ohio. Veteran head coach Fred Whiteside's team will have competitors in three individual events and one relay.
The 1600 relay was the final qualifier for the Vikings with a time 3:51.04 at the Twilight Qualifier on May 20 at Paul V. Olsen Track. The unit of senior Brittney Bennett (Annawan HS, Annawan, Ill.), senior Amy Walsh (Cary-Grove HS, Cary, Ill.), freshman Kierra Smith (Creston HS, Creston, Iowa) and senior Hannah Hottle (Monmouth-Roseville HS, Monmouth, Ill.) shattered the existing school record with that clocking.
Bennett qualified in the 400 with a time of :56.65 at the College Conference of Illinois & Wisconsin championship on May 7. Hottle will run in the 800 after running a time of 2:12.07 at the CCIW meet. She also qualified in the 1500 with a time of 4:36.21 at the CCIW meet but will not run that event at the national meet. Senior Ella Mathieson (Lyons Township HS, LaGrange, Ill.) made the field in the long jump with a leap of 18' 6" in the CCIW meet on May 6.
Mathieson met the qualifying standard in the triple jump with a mark of 37' 6" at the CCIW meet on May 7 but did not make the field. Walsh qualified in the 400 intermediate hurdles with a time of 1:04.21 at the Twilight Qualifying meet on May 20 but that time was not good enough to make the final NCAA cut.
AUGUSTANA COMPETITORS IN THE NCAA NATIONAL MEET
400 – Brittney Bennett (Annawan HS, Annawan, Ill.)… :56.65 @ CCIW on May 7
800 – Hannah Hottle (Monmouth-Roseville HS, Monmouth, Ill.)… 2:12.07 @ CCIW on May 7
1500 – Hannah Hottle (Monmouth-Roseville HS, Monmouth, Ill.)… 4:36.21 @ CCIW on May 7 (will not run this event)
1600 RELAY – Brittney Bennett (Annawan HS, Annawan, Ill.), Amy Walsh (Cary-Grove HS, Cary, Ill.), Kierra Smith (Creston HS, Creston, Iowa), Hannah Hottle (Monmouth-Roseville HS, Monmouth, Ill.) … 3:51.04 @ Twilight Qualifier on May 20.
LONG JUMP – Ella Mathieson (Lyons Township HS, LaGrange, Ill.) … 18' 6" @ CCIW on May 6
AUGUSTANA QUALIFIERS NOT COMPETING IN NCAA NATIONAL MEET
400 INTERMEDIATE HURDLES – Amy Walsh (Cary-Grove HS, Cary, Ill.)… 1:04.21 @ Twilight Qualifier on May 20
TRIPLE JUMP – Ella Mathieson (Lyons Township HS, LaGrange, Ill.)… 37' 6" @ CCIW on May 7