May 23, 2011
MEN'S TENNIS REVIEW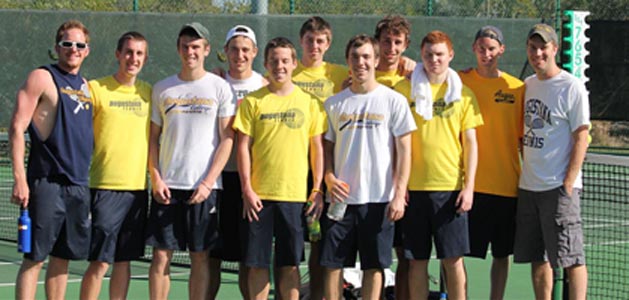 The Augustana men's tennis team finished second at the CCIW Tournament and completed its fourth straight winning season with a record of 19-10 overall.
ROCK ISLAND, Ill. – The Augustana men's tennis team completed its season by placing second at the College Conference of Illinois & Wisconsin Tournament. The Vikings entered as the No. 2 seed and edged Elmhurst 5-4 before falling to Carthage 5-4 in the championship match. The runner-up finish is the highest for the Blue & Gold since the team placed second in 1992. The Vikings wrapped up the year with a record of 19-10 overall, notching the fourth straight winning season for the squad.
The Vikings rallied from a 2-1 deficit to defeat St. Ambrose 7-2 in the first fall match of the year and then followed with an 8-1 triumph over Cornell. The team sent nine players to the Intercollegiate Tennis Association (ITA) Regional Tournament hosted by Kalamazoo College in Kalamazoo, Michigan and combined for 16 victories at the event.
The spring season opened with a trip to Pella, Iowa where the Blue defeated Nebraska Wesleyan by a 7-2 score and then swept Central 9-0 to improve to 4-0 overall. The team pulled off its third straight road victory with a 5-4 nail biter at Wabash that saw the Vikings rally from a 2-1 deficit after doubles. The unbeaten streak would extend to seven straight after a pair of 9-0 wins the following weekend at home against Wartburg and Loras. Another close 5-4 win followed against a much improved Monmouth squad before the winning streak was finally snapped with a 9-0 loss to a highly ranked UW-Whitewater squad.
Sitting at 8-1, the team made its way to Orlando, Florida for the annual spring trip. The Vikings opened with a match-up against Alma and came away with an 8-1 win. Another 8-1 victory against Capital gave Augustana a 10-1 record before the team suffered its second loss of the season, falling 7-2 to Ohio Northern. The trip closed out on a positive note with a 9-0 sweep over Hanover; the fourth 9-0 win of the year.
Returning home at 11-2, Augustana faced its toughest weekend of the season up to that point with a trio of matches against strong competition. The Blue & Gold first hosted a double header and notched a 7-2 win over UW-Oshkosh and followed with a 6-3 win against Elmhurst, giving the team a 1-0 mark to open up CCIW league play. The Vikings were unable to complete the weekend sweep, dropping a 9-0 decision at Grinnell the following day. Losses to quality teams from Coe (8-1) and UW-La Crosse (7-2) followed, but a second win over St. Ambrose (6-3) got Augustana back on the winning track and gave the squad a 14-5 record.
The Vikings returned to CCIW action with a trip to Naperville, but first battled UW-Eau Claire. Augustana swept the three doubles matches, but was unable to pull the upset and lost 6-3. The squad got off to another good start in doubles against North Central and prevailed 6-3 to move to 2-0 in the CCIW. The busy weekend concluded with an 8-1 loss to Luther.
After dropping league matches to Carthage (6-3) and Illinois Wesleyan (6-3), Augustana closed out the regular season with three straight victories, defeating Rose-Hulman (6-3), Dubuque (6-3), and Wheaton (5-4). The win against Wheaton gave Augustana a 3-2 mark in the league and some positive momentum heading to the conference championship.
Entering the CCIW Tournament as the No. 2 seed, the Vikings earned a first round bye and then had an epic battle with Elmhurst in the semi-final match-up. Augustana trailed 2-1 after the doubles, but rallied to win four singles matches to earn a spot in the title match against top-seeded Carthage. The Blue & Gold raced out of the gates by sweeping the doubles, but were only able to win one singles match, dropping a 5-4 heartbreaker and finishing second in the league.
Senior Kyle Doyle (Anthony Wayne HS, Maumee, Ohio) finished his career with more wins than any player in Augustana men's tennis history. He totaled 139 wins, including 66 in singles and 73 in doubles. Doyle moved into the No. 2 slot in the singles lineup and finished the season with 13 singles victories. He was 1-0 at No. 1, 9-13 at No. 2, 2-0 at No. 3, and 1-1 at the ITA Regional Tournament.
He also paired with junior Nik Lehnert (Greeley West HS, Milliken, Colo.) for the second straight season at No. 2 doubles, finishing at 18-10 overall to lead the team in that category. They combined for a 38-21 mark, tied for fourth on the all-time list.
Lehnert filled the No. 3 singles position and earned 11 wins on that side of the ledger. He also entered the "100 Win Club," a terrific honor considering he still has another year to play and is one of only 10 players in Augustana men's tennis history to achieve that distinction. Lehnert is also sixth on the all-time doubles wins list for an individual with 58. He is 105-71 for his career and was 0-2 at No. 1, 1-1 at No. 2, 10-11 at No. 3, and 0-2 at the ITA Regional Tournament.
Junior Adam DeSimone (Bettendorf HS, Bettendorf, Iowa) held down the No. 1 singles position for the second straight season and completed the year with a record of 12-17, going 10-15 at No. 1, 2-0 at No. 2, and 0-2 at the ITA Regional Tournament. He is 48-45 in singles for his career, playing many of those matches at the top of the lineup. DeSimone was also honored as a CCIW All-Conference selection for the third straight season and joined the "100 Win Club," currently holding an overall record of 105-86.
DeSimone teamed with freshman Andy Wall (Notre Dame Academy, De Pere, Wis.) at No. 1 doubles where the pair produced a 13-15 record. The duo recorded wins over regionally ranked foes from UW-Eau Claire and Carthage. DeSimone is seventh on the individual doubles wins list with 57 for his career.
Wall tied for second on the team with 16 singles victories, sporting a mark of 16-13 while primarily playing the No. 4 position for the Vikings. In his first season, he was 1-0 at No. 1, 1-1 at No. 2, 1-0 at No. 3, 12-10 at No. 4, and 1-2 at the ITA Regional Tournament. Wall also earned "No. 4 Singles Flight Champion" honors in the CCIW, only losing one match against league foes at that spot during the regular season.
Sophomore Jack Cullen (Edgewood HS, Madison, Wis.) was also tied for second with a 16-12 singles record. He was honored as the "No. 5 Singles Flight Champion" in the CCIW and now has a singles mark of 39-22 after two seasons. This season, he was 2-0 at No. 3, 3-1 at No. 4, 9-9 at No. 5, 1-1 at No. 6, and 1-1 at the ITA Regional Tournament. Cullen is 69-44 overall after two seasons.
Cullen teamed with freshman Colin Arnold (Sterling HS, Sterling, Ill.) for a 14-6 mark in doubles. The duo was named the "No. 3 Doubles Flight Champion" in the CCIW and they were 1-0 at No. 1, 12-4 at No. 3, and 1-2 at the ITA Regional Tournament.
Arnold had a spectacular season in his first year at Augustana, leading the team with a 17-6 singles record. He spent most of the year at No. 6 where he compiled an 11-3 mark and was also 1-0 at No. 2, 2-0 at No. 3, 1-0 at No. 4, 0-2 at No. 5, and 2-1 at the ITA Regional Tournament. In addition to playing with Cullen, Arnold also went 4-2 with sophomore Austin Boyle (Moline HS, Moline, Ill.) and also won one match each with DeSimone and sophomore Will Palmer (Leicester, England (Schiller International School – Spain)). Overall, he was 20-8 in doubles for a total record of 37-14.
Boyle was 8-6 in doubles while playing with a variety of partners and also finished 2-2 in singles in limited action. Palmer completed his second year with a 4-3 singles mark and also went 3-0 in doubles with a trio of partners. Freshman Grant Wick (Windsor HS, Ft. Collins, Colo.) completed his first season with a singles mark of 7-4. He also teamed with freshman Kevin Bayles (Homewood-Flossmoor HS, Flossmoor, Ill.) for a 4-3 record in doubles. Bayles was 6-4 in singles action. Sophomore Patrick Howell (Southwest HS, Minneapolis, Minn.) won his lone varsity singles match.
Augustana finished the year with an overall record of 105-91 in singles and 61-41 in doubles. The team was 95-79 in singles in dual meets with a 15-15 record against CCIW opponents. The Vikings compiled a 55-32 mark in doubles in dual matches and were 8-7 in CCIW meets.
2011 COLLEGE CONFERENCE OF ILLINOIS & WISCONSIN TOURNAMENT
May 6-7, 2011 ** Evergreen Racquet Club ** Bloomington, Illinois
SEEDS: 1. Carthage (4-1); 2. AUGUSTANA (3-2); 3. North Central (3-2); 4. Wheaton (2-3); 5. Illinois Wesleyan (2-3); 6. Elmhurst (1-4)
FIRST ROUND:
Match #1 – Elmhurst 5, North Central 4
Match #2 – Wheaton 5, Illinois Wesleyan 4
SEMI-FINALS:
Match #3 – Carthage 5, Wheaton 1
Match #4 – Augustana 5, Elmhurst 4
PLACING MATCHES:
Match #5 – North Central 6, Illinois Wesleyan 0 (5th place)
Match #6 – Elmhurst 6, Wheaton 3 (3rd place)
Match #7 – Carthage 5, Augustana 4 (1st place)
2010-11 AUGUSTANA SUPERLATIVES
CCIW Finish: 2nd place at conference tournament – highest finish since 1992
CCIW All-Conference: Adam DeSimone (2nd team)
Career Singles Wins: Kyle Doyle…1st with 66 (66-47)
Single Season Doubles Wins: Kyle Doyle & Nik Lehnert…tied for fifth with 18 (18-10)
Career Doubles Wins (Individual): Kyle Doyle…first with 73 (73-48); Nik Lehnert…sixth with 58 (58-31); Adam DeSimone…seventh with 57 (57-41)
Career Doubles Wins (w/ same partner): Kyle Doyle & Nik Lehnert…tied for fourth with 38 (38-21)
Career Doubles Winning Percentage: Kyle Doyle & Nik Lehnert…ninth at .644 (38-21)
100th Career Victory: Adam DeSimone (04/02/11 vs. UW-Eau Claire); Nik Lehnert (04/16/11 vs. Rose-Hulman)
100 Win Club: Adam DeSimone with 105; Nik Lehnert with 105
CCIW "Player of the Week": Kyle Doyle (03/09/11)…Nik Lehnert (05/04/11)
John R. Olson "Most Valuable Player": Kyle Doyle
Newcomer of the Year: Andy Wall
Most Improved: Colin Arnold
Most Inspirational: Adam DeSimone
CCIW Individual Flight Champions: Andy Wall (No. 4 singles)…Jack Cullen (No. 5 singles)…Jack Cullen/Colin Arnold (No. 3 doubles)