May 20, 2011
2011 Season - 1600 relay breaks school record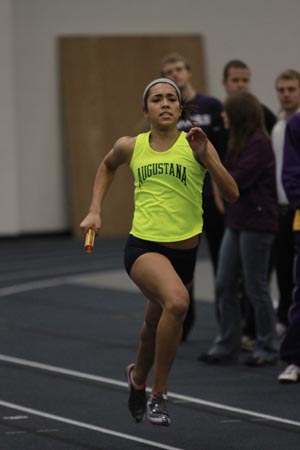 Freshman Kierra Smith handled the third leg of Augustana's school record 1600 relay on Friday, May 20 at the Twilight Qualifier. The Vikings ran 3:51.04.
A tremendous performance from the 1600 relay put an exclamation point on the final regular season track & field meet of the 2011 season for head coach Fred Whiteside's Augustana Vikings. The 1600 quartet of senior Brittney Bennett (Annawan HS, Annawan, Ill.), senior Amy Walsh (Cary-Grove HS, Cary, Ill.), freshman Kierra Smith (Creston HS, Creston, Iowa) and senior Hannah Hottle (Monmouth-Roseville HS, Monmouth, Ill.) shattered the existing school record with a scintillating time of 3:51.04 to win the event at the Twilight Qualifier on Friday, May 20 at Paul V. Olsen Track.
Bennett, Walsh, Smith and Hottle erased the previous record of 3:53.96 set in 1999 by Amy Tirmenstein, Amy Knapp, Maegan Harris and Chrissy Hammer. The Vikings won the event by the narrowest of margins over Nebraska Wesleyan, which was second in 3:51.37. There was some drama in the event as Smith and Hottle had to stretch to make the exchange heading into Hottle's anchor lap. With that time of 3:51.04, the Vikings also qualified for the NCAA Division III national meet.
Augustana won two other events on the evening. Senior Anita Maurer (Downers Grove North HS, Downers Grove, Ill.) won the 3000 steeplechase with a time of 12:44.20. Teammates Kelsey Stockert (Peoria Notre Dame HS, Mapleton, Ill.) and Kelsey Moon (Mundelein HS, Wauconda, Ill.) were second and third respectively with times of 12:50.10 and 12:58.20. Sophomore Amanda Rodriguez (Mahomet-Seymour HS, Mahomet, Ill.) won the 5000 in 20:50.98.
Bennett took second in the 400 with an NCAA qualifying time of :56.74. Hottle was second in the 800 in 2:16.32 and Walsh was third in the 400 intermediate hurdles with an NCAA qualifying time of 1:04.21. Senior Ella Mathieson (Lyons Township HS, LaGrange, Ill.) was second in the triple jump with a leap of 37' 3" and second in the long jump with an NCAA qualifying mark of 18' 5 ¾".
Sophomore Sarahbeth Jones (Warren Township HS, Wadsworth, Ill.) took third in the 800 in 2:17.50. Junior Morgan Gale (Oregon HS, Oregon, Ill.) was third in both the 100 (:13.32) and the 200 (:27.36). Sophomore Valerie Bach (Palatine HS, Palatine, Ill.) placed fourth in the 100 (:13.55) and 200 (:28.08) and sophomore Katie Dinkel (Maharashi HS, Fairfield, Ill.) took fifth in the 100 (:13.91) and the 200 (:28.22). The 400 relay team of junior Catherine Foreman (St. Joseph-Ogden HS, St. Joseph, Ill.), Bach, Gale and Dinkel placed fourth in :51.45.
Smith took fourth in the 100 hurdles in :15.36 while Walsh was fifth in :15.44. Senior Meaghan Reaney (Lincoln-Way Central HS, New Lenox, Ill.) finished fourth in the 1500 with a time of 4:57.64 while sophomore Theresa Coverick (Stagg HS, Palos Park, Ill.) was fifth in 4:58.65. Sophomore Emily Margosian (Neuqua Valley HS, Naperville, Ill.) finished fourth in the 400 hurdles (1:12.20) and senior Katie Ries (Iowa City Regina HS, Iowa City, Iowa) was fifth in 1:13.09. Sophomore Jordan Mauerman (Albany HS, Albany, Wis.) finished fifth in the javelin with a toss of 106'0".