Viking debate: victories now and in the making
June  03, 2011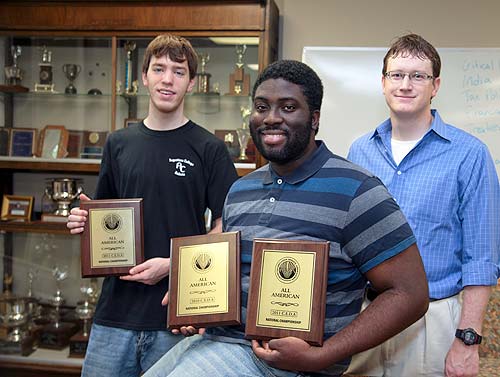 Two Augustana competitors were named to the Cross Examination Debate Association's All-American squad of only 30 students in 2011. They are Benedict Fischer, left, who will be a junior in fall 2011, and Kofi Sam, who graduated in May 2011. At right is Debate advisor Max Archer. (Augustana Photo Bureau/Marla Alvarado Neuerburg)
Two Augustana competitors were named to the Cross Examination Debate Association's All-American squad of only 30 students this year.
They are Benedict Fischer, who will be a junior next year, and graduating senior Kofi Sam. It's an honor Sam has now received two years in a row. Sam says, simply, "I knew what I was saying was more true than my opponent's argument. I knew it was my last speech, and I had to perform."
The Augustana team competes in District 5 of the NDT/Cross Examination Debate Association (CEDA), which includes the big names (and much bigger schools) of Kansas, Northwestern, University of Michigan and Michigan State, among others. After a series of wins through post-season competition at the novice, junior varsity and varsity levels, Augustana sent four Viking debaters to join 278 students from around the country at Binghamton University, N.Y., for the CEDA National Championship in March.
This was the first year Augustana saw two of its debaters named All-Americans. And even though the teams didn't make it through the final rounds that sent winners to the National Debate Tournament , the squad has experienced enough victory to light a torch for the future.
Up for debate
Sam definitely sees the team's future as bright. As the only senior, he considers it a great honor to be named a two-year All-American and to be a mentor for the younger members. A political science major, he will pursue a master's in public policy at the University of Northern Iowa next fall.
Debate is "an academic sport-a great way for non-athletes to be competitive," he says. When Sam first started on the team at Augustana, there were only four or five members, but nearly 10 showed for the next year. He credits debate director Max Archer for the renewed spark of interest, for finding good talent and encouraging walk-ons.
Archer, who teaches in communication studies, came to Augustana from Kansas State in 2008. He refers to Sam as "the heart and soul of the team." As the member with the longest tenure, he says "Kofi has sacrificed a lot for the other members of the team, and set the bar high for academic excellence as he moves on to graduate school."
He also calls Ben Fischer the leader for the next generation. A philosophy, computer science and mathematics major, Fischer is one of three Bens on the team. (The others are called by their last names: Rudy and Beta, actually spelled Bajda.) Archer says, "Ben consistently works hard to continue to grow, putting up with more of the strategic decisions that the team must make to be successful."
Fischer refers to those "strategic decisions" as something that can "make our whole year an exciting balancing act." He explains further: "Everyone on the debate team has arguments that they get attached to, and that's good because it makes you passionate about what you're saying, and you can get comfortable in your zone.
"But the downside to any niche is that you'll miss out if you don't let yourself try things that make you less comfortable. So I try to make arguments that I'm not necessarily great at debating, yet, because debate can teach you an incredible amount about the world and yourself if you go into the activity with an open mind — and I think we do that well on the Augie debate team."
Though they don't remember the moment exactly, Fischer and Sam first met when they competed against each other in a high school tournament years ago. Sam recalls the topic was national service. And who won?
"I did," he says. Then he is quick to add, "but Ben had higher speaker points."
The 2010-11 Augustana Debate Union
Benjamin Bajda '14, Lombard, Ill.; biochemistry and economics major
Mason Broxham '14, Elgin, Ill.; undecided
J.D. Engelhardt '14, Des Moines; multimedia journalism and mass communication major
Benedict Fischer '13, Batavia, Ill.; computer science, math and philosophy major
Andrew Heidtke '13, Cedarburg, Wis.; political science and philosophy major
Benjamin Rudy '14, Geneseo, Ill.; biology and pre-medicine major, religion minor
Kofi Sam '11, Chicago; political science/public administration major
Nathan Treichel '13, Peoria, Ill.; biology/pre-veterinary major, theatre arts minor
Jamila Washington '12, Chicago; communication studies and political science major, sociology minor
March 2011 Post-Season
District 5 National Debate Tournament Qualifier, John Carroll University, University Heights, Ohio: Benedict Fischer and Andrew Heidtke, three wins in eight debates (a one win improvement on 2009-10)
National Junior Division Debate Tournament, Johnson County Community College, Overland Park, Kan.:
Benjamin Bajda, 4th place speaker, Novice Division
Mason Broxham, 2nd place speaker, Novice Division
Benedict Fischer, 18th place speaker, Junior Varsity
Benjamin Bajda and Nathan Treichel, Novice team semi-finalist trophy
Mason Broxham and J.D. Engelhardt, Novice team finalist trophy
CEDA National Championship, Binghamton University, N.Y.
Benjamin Bajda and Andrew Heidtke
Kofi Sam, National Debate Scholar honorable mention
Benedict Fischer and Kofi Sam, All-American Debate Squad
Augustana's debate program was formed when the college itself was only three days old. Viking debate has seen plenty of glory in its long history, highlighted by the year 1950, when coach Martin "Prof" Holcomb sent the first Augustana team to the final round of the National Debate Tournament (NDT): Charles Lindberg and D.A. Koch, who also was the first woman finalist. In his day, Holcomb built the most successful small-college team in the history of academic debate. Only 10 U.S. colleges and universities have qualified more teams to the NDT.