May 19, 2011
2011 Season - Rindone and Zeunik share MVP honor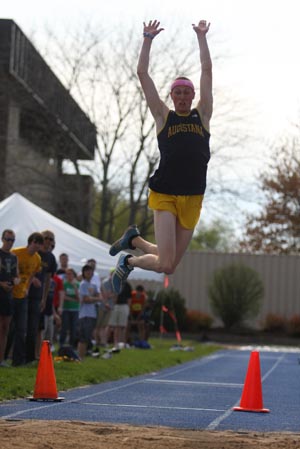 Senior Patrick Zeunik won the MVP award for field events at the Augustana track & field banquet while sophomore teammate Alex Rindone was the MVP for track events.
Sophomore Alex Rindone (Marmion Academy, Geneva, Ill.) andsenior Pat Zeunik (Bloomington Central Catholic HS, Bloomington, Ill.), each of whom set school records and won multiple CCIW titles this spring, have been named Augustana's Most Valuable track & field athletes for 2011. Jay Graffagna (Geneva HS, LaFox, Ill.) and Nick Sinon (Kaneland HS, Elburn, Ill.) were named Most Valuable Freshmen for track and field events, respectively.
Other award winners for coach Paul Olsen's Vikings include seniors Alex Stake (Williamsville HS, Sherman, Ill.) and Greg Weigand (Wheaton Warrenville South HS, Wheaton, Ill.), along with junior Mike Tisza (Hersey HS, Prospect Heights, Ill.), who were named Most Inspirational. Most Improved recognition went to sophomore Justin Smith (Fenton HS, Bensenville, Ill.) and junior Adam Myers (Dixon HS, Dixon, Ill.), while Josh Eisenberg (Richmond-Burton HS, Spring Grove, Ill.) was named Most Improved Freshman.
Also, Olsen named his captains-elect for next season. Brian Benning (Winnebago HS, Winnebago, Ill.), Phil Christensen (Kaneland HS, Maple Park, Ill.), Greg Davis (Carlinville HS, Carlinville, Ill.), Matt Deets (Polo Community HS, Polo, Ill.), A.J. Nice (Rochelle HS, Rochelle, Ill.), Billy TenBusch (Prairie Ridge HS, Cary, Ill.) and Tisza, all juniors this year, will share the team's co-captaincy in 2012.
Rindone was a four-time CCIW outdoor champion this year, winning the 100 (:10.75) and 200 (:21.36) for the second year in a row. His 200-meter time of :21.21 in the conference preliminaries set a new school record. His other titles came in the 4x100 and 4x400 relays, both of which set meet records. His CCIW championship in the 400 relay was his second as well and he was selected the meet's Outstanding Track Athlete.
Zeunik was co-Most Outstanding Field Athlete at this year's CCIW meet, winning the triple jump (47' 11") and long jump (22' 4¼"). He also went 49' 6½" in the triple jump at the Wartburg Select meet to break his own school record in the event.
Graffagna and Sinon were conference champions this year as well. Graffagna led off the winning 4x100 relay, which finished in :41.30 and Sinon cleared 6' 8" in the high jump.
Other CCIW champions among this year's award winners were Stake, who took the decathlon with 6,253 points, Tisza, who came from behind on the last half lap to win the 5000 in 14:58.84, and Christensen, who won the discus with a throw of 172'.
2011 MEN'S OUTDOOR TRACK & FIELD LETTER WINNERS
| | | | | |
| --- | --- | --- | --- | --- |
| NAME | YR. | HOMETOWN | HIGH SCHOOL | |
| Jesse Alexander* | Fr. | Cedar Falls, Iowa | Cedar Falls | |
| Andrew Allabastro* | Fr. | LaGrange, Illinois | Lyons Township | |
| Don Anciaux*** | Sr. | Iowa City, Iowa | City High | |
| Mike Anderson* | So. | Spring Grove, Illinois | Richmond-Burton | |
| Luke Anderson* | So. | Lemont, Illinois | Lemont | |
| Brett Becker** | So. | Cuba City, Wisconsin | Cuba City | |
| Brian Benning*** | Jr. | Winnebago, Illinois | Winnebago | |
| Brett Bernatowicz* | Jr. | Downers Grove, Illinois | Downers Grove North | |
| Brendan Bradley**** (C) | Sr. | Mundelein, Illinois | Mundelein | |
| Ryan Brummet** | So. | Port Byron, Illinois | Riverdale | |
| Dane Burmeister*** | Sr. | Crystal Lake, Illinois | Central | |
| Tyler Busch* | Fr. | Winnebago, Illinois | Winnebago | |
| Patrick Callan** | So. | Libertyville, Illinois | Libertyville | |
| Eric Chalus**** (C) | Sr. | Rochelle, Illinois | Rochelle | |
| Phil Christensen*** | Jr. | Maple Park, Illinois | Kaneland | |
| Thomas Christian*** | Jr. | Port Angeles, Washington | Port Angeles | |
| Luke Chvatal* | Fr. | Lombard, Illinois | Glenbard East | |
| Chad Collins** | So. | Dolton, Illinois | Thornridge | |
| Justin Davidson* | Fr. | Galesburg, Illinois | Galesburg | |
| Greg Davis*** | Jr. | Carlinville, Illinois | Carlinville | |
| Matt Deets*** | Jr. | Polo, Illinois | Polo Community | |
| Matthew Dickey* | Fr. | Downers Grove, Illinois | Benet Academy | |
| Daniel Doubet** | So. | Galesburg, Illinois | Galesburg | |
| Joshua Eisenberg* | Fr. | Spring Grove, Illinois | Richmond-Burton | |
| Eric Erspamer** | Sr. | Bartlett, Illinois | Bartlett | |
| David Etheridge** | Sr. | South Holland, Illinois | Thornwood | |
| Tim Faith-Rosley** | Sr. | Glenview, Illinois | Glenbrook South | |
| Ethan Gale** | So. | Oregon, Illinois | Oregon | |
| Brandon Gittelman*** | Jr. | Naperville, Illinois | Naperville Central | |
| Jay Graffanga* | Fr. | LaFox, Illinois | Geneva | |
| Kevin Gray* | Fr. | Batavia, Illinois | Batavia | |
| Erik Hansen* | Fr. | Geneva, Illinois | Geneva | |
| Thomas Harris** | So. | Davenport, Illinois | Assumption | |
| Kevin Hodge* | Fr. | Elburn, Illinois | Kaneland | |
| Patrick Hoefle**** (C) | Sr. | Lena, Illinois | Lena-Winslow | |
| Marty King*** | Jr. | Oswego, Illinois | Oswego | |
| Jason Langslet**** | Sr. | Mundelein, Illinois | Mundelein | |
| Kevin Macek** | So. | Orland Park, Illinois | Carl Sandburg | |
| Floyd Mays** | So. | Justice, Illinois | Mooseheart | |
| Alex Mikos**** | Sr. | Wood Dale, Illinois | Fenton | |
| Ryan Miller*** | Sr. | Crystal Lake, Illinois | Crystal Lake Central | |
| Adam Myers*** | Jr. | Dixon, Illinois | Dixon | |
| Andrew Nice*** | Jr. | Caledonia, Illinois | Christian Life | |
| Matt Nykaza** | Sr. | Oak Lawn, Illinois | Brother Rice | |
| Dennis O'Flaherty** | So. | Orland Park, Illinois | Carl Sandburg | |
| Jacob O'Rourke** | So. | Betendorf, Iowa | Davenport Assumption | |
| Devon Pace** | So. | Byron, Illinois | Byron | |
| Greg Patton** | So. | Bloomington, Illinois | Bloomington | |
| Brian Pollastrini** | So. | Elmhurst, Illinois | York | |
| Scott Pospisil* | Fr. | Geneva, Illinois | Geneva | |
| Trevor Raupp* | Fr. | Wadsworth, Illinois | Warren Township | |
| Taylor Riley* | Sr. | Winnebago, Illinois | Winnebago | |
| Alex Rindone** | So. | Geneva, Illinois | Marmion Academy | |
| Steven Rogers** | So. | Crystal Lake, Illinois | Crystal Lake South | |
| Ben Sharko* | Sr. | Elmhurst, Illinois | York | |
| Cody Sharko* | Fr. | Elmhurst, Illinois | York | |
| Brandon Shaver* | Sr. | Bloomington, Illinois | Normal University | |
| Nick Sinon* | Fr. | Elburn, Illinois | Kaneland | |
| Jonathan Smith** | So. | Moline, Illinois | Moline | |
| Justin Smith** | So. | Bensenville, Illinois | Fenton | |
| Nathan Smith* | So. | Bensenville, Illinois | Fenton | |
| Matt Somers**** | Sr. | Naperville, Illinois | Naperville Central | |
| Jared Spivey* | Fr. | Annawan, Illinois | Annawan | |
| Alex Stake**** (C) | Sr. | Sherman, Illinois | Williamsville | |
| Alexander Stockwell* | Fr. | Glen Ellyn, Illinois | Glenbard West | |
| Billy TenBusch*** | Jr. | Cary, Illinois | Prairie Ridge | |
| Mike Tisza*** | Jr. | Prospect Heights, Illinois | Hersey | |
| Isaac Trostle* | Fr. | Lombard, Illinois | Willowbrook | |
| Edgar Valle* | Fr. | Elburn, Illinois | Kaneland | |
| Colton Vankirk** | So. | Rochelle, Illinois | Rochelle | |
| Greg Weigand**** (C) | Sr. | Wheaton, Illinois | Wheaton Warrenville South | |
| Lucas Westblade** | Sr. | Hillsdale, Michigan | Will Carleton Academy | |
| Kyle Williams** | So. | Lake Zurich, Illinois | Lake Zurich | |
| Bill Wisser** | Jr. | Mount Prospect, Illinois | Hersey | |
| James Wood**** (C) | Sr. | St. Charles, Illinois | St. Charles North | |
| Joseph Zahn** | So. | Moline, Illinois | Moline | |
| Steve Zahrobsky* | Fr. | Woodridge, Ill. | Downers Grove South | |
| Patrick Zeunik**** (C) | Sr. | Bloomington, Ill. | Bloomington Central Catholic | |