May 18, 2011
2011 Season - Nelson & Hintz share MVP honor in softball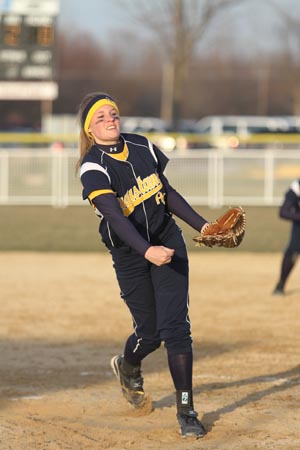 Freshman pitcher Sarah Hintz shared the Most Valuable Player award for the 2011 Augustana softball season with senior leftfielder Melissa Nelson.
The Augustana softball team and head coach Kris Kistler have announced the team's 2011 season award winners and a senior and freshman share Most Valuable Player honors. Senior outfielder Melissa Nelson (West Aurora HS, Aurora, Ill.) and freshman pitcher Sarah Hintz (Leroy HS, Leroy, Ill.) were named co-MVP's.
Other Viking award winners included freshman shortstop Krista Watson (Coal City HS, Coal City, Ill.), who was named Best Offensive Player; senior third baseman Stephanie Sarb (Lisle HS, Lisle, Ill.), named Best Defensive Player; freshman Kelsey Winter (United Township HS, East Moline, Ill.), Most Improved Player; and senior Emilee Goad (Galesburg HS, Galesburg, Ill.), who shared the team's Viking Award with Hintz. The Viking Award goes to the person who plays with the most "heart" and contributes unselfishly to the team.
Nelson, who earned first team All-CCIW honors this year, hit .336 with three homers and 20 RBI. She led the team with nine doubles and four triples—the seventh-best single season total in school history. She finished her career ranked in Augustana's all-time top ten in seven offensive categories. Her 33 doubles are third all-time. She's fourth in career RBI (96), fifth in home runs (14) and at-bats (497), tied for seventh in triples (eight) and ninth in hits (156) and her 89 runs put her alone in ninth place.
Hintz went 8-7 on the year and led the team in ERA (2.17), appearances (25), starts (18), complete games (seven), innings pitched (116) and strikeouts (78). She ranked fifth in the CCIW with a 2.24 earned run average.
Watson, a first team All-CCIW selection, hit .377 with nine home runs and 25 runs batted in. She led the team in homers and RBI and her batting average was one point off the team lead. She also led in hits (tied with 40), runs scored (29), total bases (74) and slugging percentage (.698). She led the CCIW in home runs with five in 14 league games and tied for the conference lead in totals bases (33) and slugging percentage (.767).
Sarb made just four errors in 108 chances at the hot corner this year, fashioning a .963 fielding percentage. Also a potent hitter, she batted .305 with two homers and 24 RBI this year and finished her career fourth on Augustana's all-time home run list with 15 and eighth in RBI with 77.
Winter made 14 starts at second base and hit .277 and Goad closed her career by winning her third varsity letter.
2011 AUGUSTANA SOFTBALL LETTER WINNERS
| | | | | |
| --- | --- | --- | --- | --- |
| NAME | POS | HT | YR | HOMETOWN (HIGH SCHOOL) |
| Dege Abate* | 1B-C | 5-5 | So | Downers Grove, Ill. (Downers Grove South HS) |
| Randi Applehans* | C | 5-7 | Fr | Highlands Ranch, Colo. (Mountain Vista HS) |
| Jillian Gibbs* | OF | 5-7 | Jr | Rock Island, Ill. (Rock Island HS) |
| Emilee Goad*** | OF | 5-2 | Sr | Galesburg, Ill. (Galesburg HS) |
| Sarah Hintz* | P-OF | 5-8 | Fr | Leroy , Ill. (Leroy HS) |
| Amanda Johnson* | OF-2B | 5-3 | So | Elmhurst, Ill. (York HS) |
| Courtney Ledezma* | P-1B | 5-10 | Fr | East Moline, Ill. (United Township HS) |
| Jenna Nelson* | C-3B | 5-7 | So | Orion, Ill. (Orion HS) |
| Melissa Nelson**** | OF | 5-4 | Sr | Aurora, Ill. (West Aurora HS) |
| Rachel Perry** | P | 5-7 | Sr | Chillicothe, Ill. (Illinois Valley Central HS) |
| Jessica Peterson** | 2B-SS | 5-3 | So | Lansing, Ill. (Marian Catholic HS) |
| Alyssa Powles* | 2B | 5-6 | Fr | Wadsworth, Ill. (Zion-Benton HS) |
| Sheldon Ritzheimer*** | P | 5-9 | Sr | Trenton, Ill. (Wesclin HS) |
| Rachel Russell* | OF | 5-4 | So | Willowbrook, Ill. (Hinsdale South HS) |
| Stephanie Sarb**** | 3B | 5-7 | Sr | Lisle, Ill. (Lisle HS) |
| Lauren Schneiderbauer* | OF | 5-4 | Fr | Sterling, Ill. (Sterling HS) |
| Abbi Staples** | IF | 5-5 | Jr | Sterling, Ill. (Sterling HS) |
| Chaney Tambling* | 1B | 5-8 | Fr | Dwight, Ill. (Dwight HS) |
| Emma Thompson* | IF-C | 5-10 | Fr | Port Byron, Ill. (Riverdale HS) |
| Christina Trojanowski*** | 1B-OF | 5-5 | Fr | Evergreen Park, Ill. (Evergreen Park HS) |
| Krista Watson* | UT | 5-5 | Fr | Coal City, Ill. (Coal City HS) |
| Kelsey Winter* | 2B-C | 5-6 | Fr | East Moline, Ill. (United Township HS) |
| Ashley Yaros* | P-1B | 5-6 | Fr | Palos Hills, Ill. (Stagg HS) |