May 14, 2011
2011 Season - Myers hits NCAA qualifying again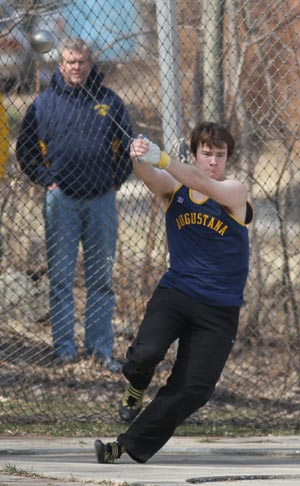 Junior Adam Myers placed second in the hammer throw at the Chicago Penultimate on Saturday, May 14 with an NCAA qualifying toss of 183' 11".
CHICAGO, Ill. - Junior Adam Myers (Dixon HS, Dixon, Ill.) improved his NCAA Division III qualifying mark in the hammer throw with a solid performance on Saturday, May 14 at the Chicago Penultimate meet at the University of Chicago. The Vikings came away with a pair of runner-up finishes and four throwers earned places.
Myers placed second with a throw of 183' 11", his best toss of the season. Also taking second was senior Alex Mikos (Fenton HS, Wood Dale, Ill.) with a mark of 137' 9" in the javelin. Junior Phil Christensen (Kaneland HS, Maple Park, Ill.) took fourth in the discus with a throw of 161' 5" and junior Brian Benning (Winnebago HS, Winnebago, Ill.) was eighth in the shot at 46' 8".