May 13, 2011
2011 Season - Two relay teams hit NCAA qualifying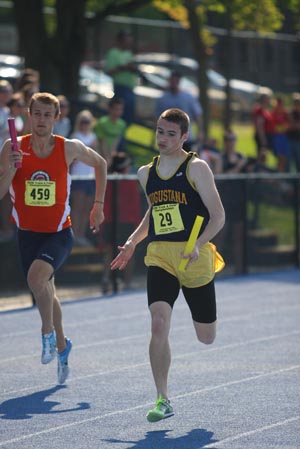 Daniel Doubet handled the lead-off leg for the Vikings' 1600 relay on Friday night at the Dr. Keeler Invitational.
In the aftermath of the College Conference of Illinois & Wisconsin championship the previous weekend, an emotional letdown is not unexpected. However, a pair of relay teams performed extremely well for Augustana at the Dr. Keeler Invitational on Friday, May 13 in Naperville, Illinois.
The 1600 team of sophomore Dan Doubet (Galesburg HS, Galesburg, Ill.), sophomore Alex Rindone (Marmion Academy, Geneva, Ill.), senior James Wood (St. Charles North HS, St. Charles, Ill.) and sophomore Greg Patton (Bloomington HS, Bloomington, Ill.) won the event with a time of 3:14.89. That is under the NCAA qualifying mark.
Earlier in the meet the 400 relay of freshman Jay Graffagna (Geneva HS, LaFox, Ill.), Rindone, Wood and Patton placed third with a time of :41.95. That also was better than the NCAA qualifying standard.
Patton was sixth in the 400 with a time of :49.17 and Rindone placed eighth in the 100 at :10.95. Freshman Nick Sinon (Kaneland HS, Elburn, Ill.) was sixth in the high jump with a clearance of 6' 4 ¾".