May 9, 2011
2011 Season - Augustana drops season finale at North Park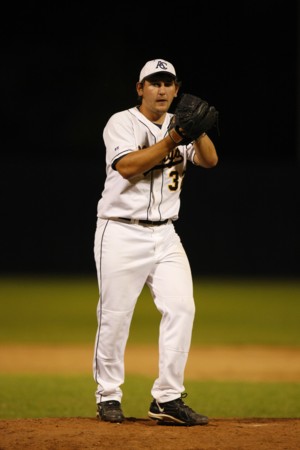 Rick Erickson allowed just one hit in three scoreless innings of relief Monday, but Augustana dropped its season finale, 5-0 at North Park.
CHICAGO, Ill.-North Park snapped Augustana's eight-game winning streak Monday night, grabbing a share of the CCIW championship with a 5-0 win at the Holmgren Sports Complex. Augustana finishes the season 28-12 overall and 12-9 in CCIW play.
The visitors managed just three hits--singles by Pat Wilson (Stevenson HS, Vernon Hills, Ill.) and Joe Cecchi (Romeoville HS, Romeoville, Ill.) and a double by T.J. O'Donnell (New Trier HS, Northbrook, Ill.)--off North Park's Travis Boyer, who went the distance and fanned 13. Augustana freshman Matt Pisani (York HS, Elmhurst, Ill.) fell to 2-2 with the loss.
Boyer walked five Vikings, including two in the first inning, but was able to pitch out of the jam. He also left two Augustana runners stranded in the ninth. The visitors only had one other runner advance as far as second base in the contest.
Boyer got all the offense he would need when the hosts reached Pisani for a run in the second inning. Wade Yunker's sacrifice fly scored Andy Athans, who had singled to lead off the frame. North Park added three runs in the third inning and one in the fourth. Athans, who had three hits in the game, had an RBI double in the third and a run-scoring single in the fourth.
Viking relievers John Peters (Alleman HS, Milan, Ill.), Rick Erickson (Lake Zurich HS, Hawthorn Woods, Ill.) and Ray Homolka (Glenbard West HS, Wheaton, Ill.) shut North Park out the rest of the way, with Erickson allowing just one hit in his three inning stint. Homolka, a senior, finished his Augustana career with a perfect eighth inning.