May 7, 2011
2010-11 Season - Viking women can't advance to NCAAs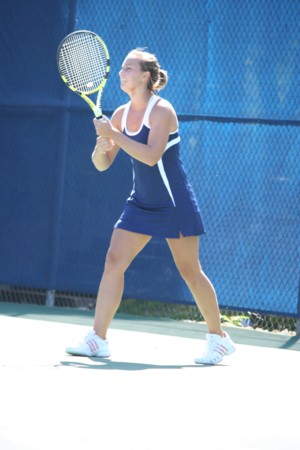 Augustana senior Sheri Hendricks
BLOOMINGTON, Ill.—Coach Adam Strand's Augustana women's tennis team came up short Saturday in its bid to reach the NCAA Division III tournament. CCIW champ Wheaton took all nine matches against the Vikings to earn the conference's automatic bid. Strand's squad ends its record-setting season with a 20-9 record.
The Wheaton duo of Elizabeth Worsowicz and Sara Federschmidt defeated Augustana's freshman tandem of Shannen McNamara (Battle Mountain HS, Avon, Colo.) and Kim Sawyer (Batavia HS, Batavia, Ill.) by an (8-4) score at No. 1 doubles. Seniors Tricia Sapio (Barrington HS, Hoffman Estates, Ill.) and Sheri Hendricks (Wheaton-Warrenville South HS, Wheaton, Ill.) dropped their No. 2 doubles match to Lindsey Hallett and Marissa Shults (8-0) and the Thunder's Sarah Ray and Kirsten Boyer won 8-2 at No. 3 doubles over sophomore Krista Panko (Geneva HS, Geneva, Ill.) and junior Brittany Reece (Neuqua Valley HS, Naperville, Ill.).
In singles play, Worsowicz defeated Sawyer 6-4, 6-1 at No. 1. Federschmidt beat McNamara (6-0, 6-2) at No. 2 and Hallett bested Sapio at No. 3, (6-0, 6-1). At No. 4, it was Ray over Panko (6-2, 6-0) while Boyer defeated Reece (6-1, 6-2) at No. 5 and Shults won over Hendricks (6-2, 6-3) at No. 6.
05/07/11 – Wheaton 9, Augustana 0
| | |
| --- | --- |
| | RESULT |
| Singles | |
| 1. | Elizabeth Worsowicz (WHEATON) def. Kim Sawyer (AUGIE) 6-4, 6-1 |
| 2. | Sara Federschmidt (WHEATON) def. Shannen McNamara (AUGIE) 6-0, 6-2 |
| 3. | Lindsey Hallett (WHEATON) def. Tricia Sapio (AUGIE) 6-0, 6-1 |
| 4. | Sarah Ray (WHEATON) def. Krista Panko (AUGIE) 6-2, 6-0 |
| 5. | Kirsten Boyer (WHEATON) def. Brittany Reece (AUGIE) 6-1, 6-2 |
| 6. | Marissa Shults (WHEATON) def. Sheri Hendricks (AUGIE) 6-2, 6-3 |
| Doubles | |
| 1. | Elizabeth Worsowicz/Sara Federschmidt (WHEATON) def. Shannen McNamara/Kim Sawyer (AUGIE) 8-4 |
| 2. | Lindsey Hallett/Marissa Shults (WHEATON) def. Tricia Sapio/Sheri Hendricks (AUGIE) 8-0 |
| 3. | Sarah Ray/Kirsten Boyer (WHEATON) def. Krista Panko/Brittany Reece (AUGIE) 8-2 |