May 7, 2011
2011 Season - Pitchers, Capodice lead sweep of Millikin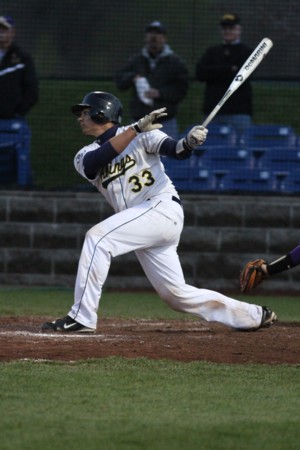 Freshman catcher Niko Capodice went 3-for-5 with a double, two homers, three runs and five RBI in game two Saturday to help the Vikngs cap off a doubleheader sweep of Millikin.
DECATUR, Ill.- A pair of complete game pitching performances and a big game by freshman catcher Niko Capodice (Minooka HS, Minooka, Ill.) helped Augustana sweep Millikin Saturday by scores of 4-0 and 13-4. The Vikings have now won their last seven games and are 27-11 on the year and 11-8 in the CCIW.
Game One: Augustana 4, Millikin 0
Mike Trotta (Notre Dame HS, Chicago, Ill.) fired a complete game, four-hit shutout in Saturday's opener, improving to 6-2 on the year. He walked two and struck out five.
The Vikings gave Trotta all the offense he would need in the first inning, pushing across a pair of runs without the benefit of a hit. Freshman Zac Chuvala (Rocky Mountain HS, Fort Collins, Colo.) drew a one-out walk and stole second. Dave Hoffman (Cary-Grove HS, Fox River Grove, Ill.) followed with another base-on-balls. One out later, consecutive walks to Pat Wilson (Stevenson HS, Vernon Hills, Ill.), T.J. O'Donnell (New Trier HS, Northbrook, Ill.) and Kurt Schmidt (Grayslake Central HS, Grayslake, Ill.) forced in both runs for a 2-0 Augustana lead.
Jared McIntosh's (Assumption HS, Davenport, Iowa) solo home run in the third pushed the lead to 3-0 and a Chuvala single in the ninth drove in Mike Barker (Centennial, Colo. Grandview HS, Marina Del Rey, Cal.) to make it 4-0.
Chuvala had three hits and Hoffman a pair in the game.
Game Two: Augustana 13, Millikin 4
In the nightcap, all nine Viking starters had at least one hit, but it was the Augustana battery of pitcher John Peters (Alleman HS, Milan, Ill.) and catcher Capodice that really shined. Peters went the distance, scattering nine hits while giving up just two earned runs with a walk and six strikeouts. Capodice went 3-for-5 with a double, two homers, three runs scored and five driven in.
The Big Blue took advantage of two Viking errors to put a pair of unearned runs on the board in the bottom of the third.
Millikin starter John Steele held Augustana scoreless through the first three innings., but the visitors got to him for four runs in the fourth. McIntosh reached on a one-out error and Joe Cecchi (Romeoville HS, Romeoville, Ill.) and Barker followed with singles to get the Vikings on the board. Capodice then blasted a three-run homer to give Augustana the lead 4-2. Schmidt got a two-out double in the inning, but was left stranded at third.
The runs kept coming for the Vikings. A Hoffman single and a Cecchi sacrifice fly made it 5-2 after four and a half innings and after Millikin plated a run in the bottom of the fifth, a Schmidt two-run homer in the sixth made it 7-3. Augustana blew it open in the seventh, getting five runs on just two hits, one of which was an RBI double by Capodice.
Millikin got a solo homer from Theo Facer in the seventh to make it 12-4 and Capodice's solo blast in the eighth capped the scoring.
In addition to Capodice's three hits, Schmidt, Wilson, Cecchi and Barker each had a pair. Schmidt, Cecchi and Barker each scored twice and Schmidt drove in two as well.
The Vikings face Millikin in Decatur, Illinois at noon on Sunday to close the season.