May 7, 2011
2011 Season - Viking men finish second at CCIW meet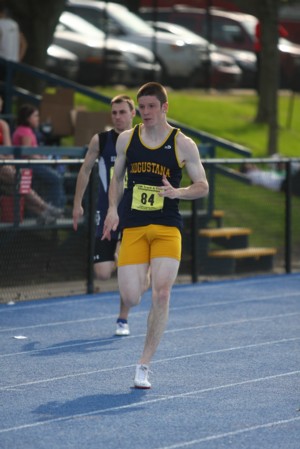 Alex Rindone was named Track Athlete of the Meet at the CCIW Championships after winning titles in two individual events and two relay.
ROCK ISLAND, Ill.-Alex Rindone (Marmion Academy, Geneva, Ill.) won two individual and two relay championships Saturday, earning Track Athlete of the Meet honors at the CCIW Championships held at Augustana's Ericson Field. The Vikings also boasted co-Field Athlete of the Meet Pat Zeunik (Bloomington Central Catholic HS, Bloomington, Ill.), who added a triple jump title to his long jump championship from Friday. Despite those and several other outstanding efforts, Augustana couldn't catch North Central, which won the team title with 284 points. The Vikings were second with 243.
Rindone won the 100 in a provisional qualifying time of :10.75. He ran a provisional :21.36 to claim the 200 title as well. In addition, his :21.21 in Friday's 200 preliminaries was an automatic qualifier. Rindone also ran on Augustana's winning 4x100 (:41.30) and 4x400 (3:13.88) relays, both of which set meet records and met provisional qualifying standards.
Zeunik went a provisional qualifying 47' 11" to win the triple jump. He shared Field Athlete of the Meet honors with Carthage thrower Greg Raimondi.
The Vikings won four other individual titles as well Saturday. Alex Stake (Williamsville HS, Sherman, Ill.) came from second place after day one to win the decathlon with a total of 6,253 points. Nick Sinon (Kaneland HS, Elburn, Ill.) won the high jump at 6' 8" with Stake clearing 6' 6" to take third. Phil Christensen (Kaneland HS Maple Park, Ill.) recorded a heave of 172' 0" in the discus and Mike Tisza (Hersey HS, Prospect Heights, Ill.) came from behind on the last half lap to win the 5000 in 14:58.84. All the winning marks but Tisza's were provisional qualifiers.
Greg Patton (Bloomington HS, Bloomington, Ill.) and James Wood (St. Charles North HS, St. Charles, Ill.) both qualified provisionally in the 400. Patton ran a third-place :48.33 and Wood was fifth in :48.48. Dan Doubet (Galesburg HS, Galesburg, Ill.) was seventh in :49.33.
Wood, Patton and Jay Graffagna (Geneva HS, LaFox, Ill.) all scored points with Rindone in the 200. Wood's :22.21 was good for third. Patton ran a fifth-place :22.44 and Graffagna was sixth in :22.46. Graffagna was also third in the 100, running an :11.06.
Four Vikings scored points in the 110 hurdles. Greg Davis (Carlinville HS, Carlinville, Ill.) was third with a :15.63. Brendan Bradley (Mundelein HS, Mundelein, Ill.) was fifth in :15.71. Marty King (Oswego HS, Oswego, Ill.) ran a sixth-place :15.92 and Pat Callan (Libertyville HS, Libertyville, Ill.) was eighth in :16.49. Bradley and King also placed in the 400 hurdles, running :55.30 and :55.82, respectively.
Brian Benning (Winnebago HS, Winnebago, Ill.) was fourth in the shot with a mark of 50' 6", followed by Christensen's fifth-place 48' 11". Pat Hoefle (Lena-Winslow HS, Lena, Ill.) was fourth in the discus with a throw of 155' 10". Ethan Gale (Oregon HS, Oregon, Ill.) and Don Anciaux (Iowa City HS, Iowa City, Iowa) were fourth and fifth in the decathlon with 5,587 and 5,567 points, respectively.
Brian Pollastrini (York HS, Elmhurst, Ill.) finished fifth in the 5000 (15:11.13) and Joe Zahn (Moline HS, Moline, Ill.) was fifth at 800 meters (1:56.41). Chad Collins (Thornridge HS, Dolton, Ill.) went 44' 6" to finish sixth in the triple jump.
North Central and Augustana dominated the team scoring. Carthage finished third with 101 points, followed by Wheaton (73), Illinois Wesleyan (56), Millikin (36), North Park (16) and Elmhurst (10).