May 6, 2011
2010-11 Season - Viking tennis reaches CCIW finals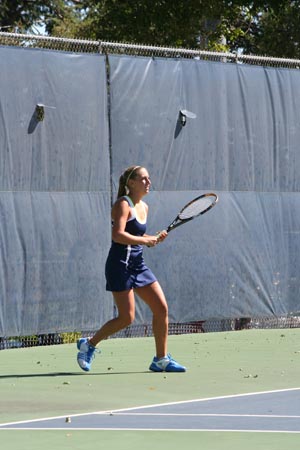 Kim Sawyer was a winner at number one singles and doubles Friday as Augustana moved within one step of an NCAA tournament berth with a 7-2 win over Carthage in the semifinals of the CCIW Automatic Qualifying Tournament in Bloomington, Illinois.
BLOOMINGTON, Ill.- Freshman Kim Sawyer (Batavia HS, Batavia, Ill.) won her No. 1 singles match and teamed with freshman Shannen McNamara (Battle Mountain HS, Avon, Colo.) to win at No. 1 doubles Friday as Augustana advanced to the finals of the CCIW Automatic Qualifying Tournament with a 7-2 semifinal win over Carthage. The Vikings, ranked 14th in the Central Region, face Wheaton, who is No. 7 in the regional rankings, at 10:30 a.m. Saturday for an NCAA Tournament berth.
The win over Carthage gives coach Adam Strand's squad a record of 20-8 this year, breaking the previous school record of 19 wins held by coach Larry Flaherty's 1994 team.
Sawyer and McNamara defeated the Lady Reds' Hollis McPeek and Kristina Naidicz (9-8 (3)) No. 1 doubles to give Augustana a 2-1 advantage. At No. 2, seniors Tricia Sapio (Barrington HS, Hoffman Estates) and Sheri Hendricks (Wheaton Warrenville South HS, Wheaton, Ill.) dropped an (8-4) decision to Bari Reynolds and Amanda Bizub. Sophomore Krista Panko (Geneva HS, Geneva, Ill.) and junior Brittany Reece (Neuqua Valley HS, Naperville, Ill.) got an (8-1) win at No. 3, beating Kelsey Bowen and Holly Weber.
Carthage evened the score at 2-2 when Naidicz defeated Sapio (6-0, 6-2) at No. 3, but the Vikings won the remaining five matches to seal the victory. Panko defeated Bizub (6-1, 6-1) at No. 4 to put the Blue & Gold in front. Reece rallied back from an early 0-3 deficit to win (6-4, 6-2) against Bowen at No. 5. Sawyer clinched the 20th win of the year for Augustana with a (6-1, 6-3) decision against McPeek at No. 1. McNamara held off Reynolds in the second set at No. 2 for a (6-1, 7-5) decision. Hendricks closed out the match by rallying to edge Weber (5-7, 6-3, (10-8)) at No. 6.
Augustana advances to the AQ championship match for the first time in the five year history of the event.
05/06/11 – Augustana 7, Carthage 2
| | |
| --- | --- |
| | RESULT |
| Singles | |
| 1. | Kim Sawyer (AUGIE) def. Hollis McPeek (CARTHAGE) 6-1, 6-3 |
| 2. | Shannen McNamara (AUGIE) def. Bari Reynolds (CARTHAGE) 6-1, 7-5 |
| 3. | Kristina Naidicz (CARTHAGE) def. Tricia Sapio (AUGIE) 6-0, 6-2 |
| 4. | Krista Panko (AUGIE) def. Amanda Bizub (CARTHAGE) 6-1, 6-1 |
| 5. | Brittany Reece (AUGIE) def. Kelsey Bowen (CARTHAGE) 6-4, 6-2 |
| 6. | Sheri Hendricks (AUGIE) def. Holly Weber (CARTHAGE) 5-7, 6-3, (10-8) |
| Doubles | |
| 1. | Shannen McNamara/Kim Sawyer (AUGIE) def. Hollis McPeek/Kristina Naidicz (CARTHAGE) 9-8 (3) |
| 2. | Bari Reynolds/Amanda Bizub (CARTHAGE) def. Tricia Sapio/Sheri Hendricks (AUGIE) 8-4 |
| 3. | Krista Panko/Brittany Reece (AUGIE) def. Kelsey Bowen/Holly Weber (CARTHAGE) 8-1 |