May 6, 2011
2011 Season - Women 5th after CCIW day one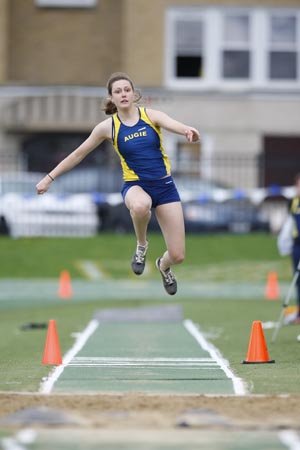 Ella Mathieson won the long jump at the CCIW Championships Friday. Her leap of 18' 6" also surpassed the NCAA Division III provisional qualifying standard.
ROCK ISLAND, Ill.-After the first day of the CCIW Track & Field Championships being held this weekend at Augustana, the host Vikings are in fifth place with 25.5 points. North Central leads after Friday's competition with 81.5 points, more than double second-place Wheaton's total of 39.
Ella Mathieson (Lyons Township HS, LaGrange, Ill.) stood out for the Vikings Friday, winning the long jump with an NCAA provisional qualifying leap of 18' 6" and taking fourth in the pole vault, clearing 10' 2½". Taylor Tjardes (Gibson City/Melvin-Sibley HS, Gibson City, Ill.) was eighth in the pole vault, going 9' 2½".
In the hammer, Amber Gruber (Rolling Meadows HS, Arlington Heights, Ill.) had a fourth-place heave of 144' 3" and Liana Beauchamp (Genoa-Kingston HS, Kingston, Ill.) was seventh with a mark of 135' 1".
Johanna Schnitzler (Downers Grove South HS, Woodridge, Ill.) sits in fifth place in the heptathlon with 2,248 points after four events. Katie Ries (Regina HS, Iowa City, Iowa) ran a 11:36.30 in the 3000-meter steeplechase, good for a sixth-place finish.
After North Central and Wheaton, Illinois Wesleyan is in third place with 34 points, followed by Millikin (28), Augustana, Carthage (24) and Elmhurst (2).
The meet resumes tomorrow at 11:00 a.m. at Ericson Field.