May 6, 2011
2011 Season - Men 2nd after CCIW day one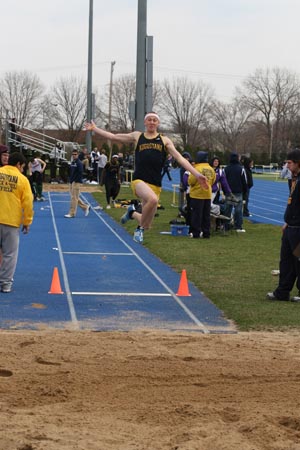 Pat Zeunik won the CCIW long jump Friday with a leap of 22' 4 1/4".
ROCK ISLAND, Ill.-Coach Paul Olsen's Augustana Vikings, attempting to defend their conference title, sit in second place after day one at the CCIW Track & Field Championships. The Vikings scored 58 points on Friday and trail first-place North Central's 89. The meet, which is being hosted by Augustana, concludes on Saturday at Ericson Field.
Pat Zeunik (Bloomington Central Catholic HS, Bloomington, Ill.) got the Vikings' first win of the meet, going 22' 4¼" in the long jump. Teammate Alex Stake (Williamsville HS, Sherman, Ill.) was fifth with a leap of 21' 10¾". Stake is also in second place in the decathlon after five events. With 3,232 points, he's just 10 behind day one leader Joe Schneiderbauer of North Central.
The Vikings scored well in the hammer throw, with Adam Myers (Dixon HS, Dixon, Ill.) capturing second place with an NCAA provisional qualifying toss of 182' 4". Phil Christensen (Kaneland HS, Maple Park, Ill.) also met the provisional standard with a fourth-place 174' 2" mark. Brian Benning (Winnebago HS, Winnebago, Ill.) was fifth with a 171' 4" heave.
Augustana also had three place-winners and a provisional qualifier in the pole vault. Colton Vankirk (Rochelle HS, Rochelle, Ill.) cleared 15' 7¾" to finish third and better the provisional mark by ¾". Eric Chalus (Rochelle HS, Rochelle, Ill.) was fifth, going 15' 1¾" and Alex Mikos (Fenton HS, Wood Dale, Ill.) cleared 14' 2" for eighth place. Mikos also took fourth in the javelin with a 169' 4" throw.
Other place winners for the Vikings on Friday were Billy TenBusch, (Prairie Ridge HS, Cary, Ill.) who ran a third-place 9:28.35 in the 3000-meter steeplechase and Mike Tisza, (Hersey HS, Prospect Height, Ill.) who was fourth in the 10,000 with a time of 31:19.91.
Following North Central and Augustana in the standings after Friday's competition are Carthage (33), Wheaton (18), Illinois Wesleyan (13), North Park and Millikin (10 each) and Elmhurst (3).
The meet resumes tomorrow at 11:00 a.m. at Ericson Field.