May 5, 2011
2011 Season - Vikings stay in top spot for third straight week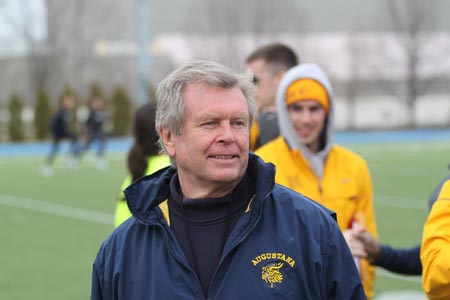 For the third week in a row Paul Olsen's Augustana track & field team is ranked first in the NCAA Division III dual meet power ranking.
For the third straight week the Augustana Vikings sit atop the NCAA Division III Track & Field Team Dual Meet Rankings. Facing the best competition they have seen this year, the Vikings stepped up and had some of their best performances to date. With a split squad this weekend, some competing at Drake Relays, some at the Loras Invitational, Head Coach Paul Olsen's squad increased their point total, now up to 214.95. This poll is conducted by the U.S. Track & Field and Cross Country Coaches Association.
No new teams entered the top ten, though there was some shuffling among the current teams. Whitworth (214.33), North Central (208.45), and Williams (207.39) stayed in second, third and fourth, respectively. UW-Whitewater jumped up to the fifth spot with 206.65 points, moving ahead of Massachusetts Institute of Technology, who has 202.52 points. University of Redlands holds the seventh spot with 199.51 points, while Nebraska Wesleyan dropped to eighth with 199.37 points. Bates College (197.97) and Claremont McKenna-Harvey Mudd-Scripps (195.39) both stayed in the top ten.
The Vikings competed at the Drake Relays, with the top performance coming from the 1600 meter relay team, qualifying for NCAA Division III nationals with a time of 3:15.20. At the Loras Invitational the team had seven 2 nd place finishers, as no team scores were kept. Before that, the Blue & Gold had competed in six meets. The Vikings won their dual meet with St. Ambrose by a score of 154-54 on March 19 in Rock Island, Illinois and finished first in the Viking Olympics on March 26. On Saturday, April 2, Augustana finished second at the Wartburg Select meet in Waverly, Iowa. On April 9, at the Lee Calhoun Invitational, Augustana finished second of 16. Augustana won the Meet of Champions, contested in rain, snow and cold temperatures, on Saturday, April 16 with 191.5 points. On April 22 at the Dubuque Open, the Vikings won 11 events and had place winners in every event, though no team scores were kept.
The Vikings will host the College Conference of Illinois and Wisconsin Championship meet on Friday May 6 th and Saturday May 7 th. Competing will be the #1 Augustana, #3 North Central, #34 Carthage and #41 Illinois Wesleyan, among others.
2011 NCAA DIVISION III OUTDOOR POWER DUAL MEET POWER RANKING
Sponsored by the USTFCCA
As of 05/03/2011
POLL #5
| | | | |
| --- | --- | --- | --- |
| RANK | SCHOOL | REGION | POINTS |
| 1. | Augustana | Midwest | 214.95 |
| 2. | Whitworth | West | 214.33 |
| 3. | North Central | Midwest | 208.45 |
| 4. | Williams | New England | 207.39 |
| 5. | University of Wisconsin, Whitewater | Midwest | 206.65 |
| 6. | Massachusetts Institute of Technology | New England | 202.52 |
| 7. | University of Redlands | West | 199.51 |
| 8. | Nebraska Wesleyan University | Central | 199.37 |
| 9. | Bates College | New England | 197.97 |
| 10. | Claremont McKenna-Harvey Mudd-Scripps | West | 195.39 |