Tracing the secret sounds of Bermuda
May  06, 2011
How Brooke Armstrong's curiosity about a vibrant folk tradition led her to academic pursuit

The Bermuda Chamber of Commerce describes Harbor Nights in Hamilton as, "Bermuda at its best." As sundown approaches, the streets close to traffic, the decorative lights on the downtown shops and trees flicker on, and Front Street comes alive to the booming of drums and troupes of wildly costumed dancers.
Augustana senior Brooke Armstrong remembers waiting for a ferry with her mom and dad one summer night in Bermuda about five years ago: "You could just hear all these drums and this wonderful noise coming from across the harbor. I just had to see was going on."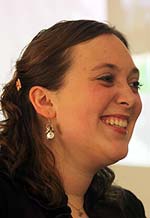 Brooke Armstrong (Augustana Photo Bureau/Marla Alvarado Neuerburg)
That wonderful noise was made by a troupe of Gombeys, a traditional Bermudian drum and folk dance team whose profile has risen from obscurity to become a centerpiece of the island's travel and tourism programming in recent years.
The Gombeys are uniquely Bermudian, but what tourists see on Harbor Nights in Hamilton has its roots in a number of cultures including West Indian, African, English and even Native American.
Gombey dancing began as a way the slaves on the island celebrated Boxing Day, the day after Christmas and a day of rest for the slaves. In those days, the slaves would don masks and costumes to avoid being recognized as they celebrated, because the British colonists who witnessed this display looked on it as a heathen tradition, even though interpretations of passages from the Bible were frequent themes in Gombey performances.
As the tradition evolved, the troupes began to adopt a very British flavor. Similar to Christmas carolers, or mummers, the troupes performed in front of homes in the hope of receiving some form of reward — money, or more often food. The Gombeys' also developed a pretty sophisticated method for finding the right homes to approach. They used a system of scouts whose job was to find homeowners who might be interested in hosting a Gombey performance. The scout, "bow and arrow man," would leave a mark for the troupe to show them which houses to go to.
The impression the troupes left on Brooke lingered well into her first semester at Augustana. When she considered was assigned a research paper for an anthropology class, the first topic that came to mind was the Gombeys. She quickly realized there was very little information about the Gombey tradition on Bermuda — really only one book, The Bermuda Gombey — Bermuda's Unique Dance Heritage, written in the 1980s by Louise A. Jackson.
"It's a very small book — only 28 pages. And really just covers historical facts about the Gombeys, not much about their role in Bermudian society," says Brooke.
When she told Dr. Adam Kaul, assistant professor of anthropology, about her interest in researching the Gombeys and the lack of information resources, he suggested that it might be a great dissertation topic.
The Gombeys return
After she completed this first paper, Brooke pushed the dissertation idea to the back of her mind and moved on with her studies. In the summer of 2010 as she was working as a peer mentor helping students register for classes, she started to think about the senior research project that loomed as an anthropology graduation requirement. Brooke began working with Dr. Carolyn Hough, assistant professor of sociology, anthropology and social welfare, on what would become her Senior Inquiry project on the effects of tourism on the Gombey tradition. Dr. Hough helped Brooke secure a Summer Student Research Fellowship that paid for her travel to Bermuda.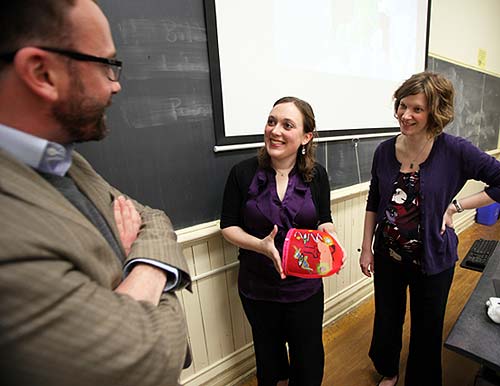 Brooke Armstrong holds a Gombey mask as she talks to her advisors, Dr. Adam Kaul and Dr. Carrie Hough. (Augustana Photo Bureau/Marla Alvarado Neuerburg)
The research trip also allowed her to conduct a little digging on her own family's heritage in Bermuda. She stayed with one of her father's cousins and two of his second cousins and learned quite a lot:
"For me it was the discovery of everything about my family and heritage," she says. "From my second cousin I learned about an old family scandal involving her grandmother (my grandmother's sister) who married a Portuguese man. She ended up being shunned by everybody but my grandmother - made me even more proud of my grandmother to know this about her."
She learned that the Gombeys are very tight and semi-secret social groups, and that membership in a troupe extends across generations. Brooke remembers beginning her research by working the family connections she had begun to make soon after arriving on the island.
"I spoke with a second cousin who knew somebody, who knew somebody else who was related to somebody who knew a Gombey.
It wasn't long until Brooke realized that she was engaged in something special. "I just knew that this was what I was here to do," she says.
Brooke and several fellow Augustana anthropology majors gave research presentations at the Central States Anthropological Society annual meeting at the University of Iowa April 9. Her presentation, "The Bermuda Gombey and Tourism: An Ethnographic Investigation," focused on the Gombeys' struggles to hold on to the values that built their tradition as it evolved from obscurity into a mainstream element of modern Bermudian society.
With graduation approaching, Brooke now looks back in wonder at some of the unique experiences she has enjoyed as an Augustana student. Last summer she spent a month in Bermuda doing research for her Senior Inquiry project. Then in the fall, she traveled and studied in Taiwan, Japan and China as a participant in Augustana's annual Asia Term. And this spring, she will join her Augustana Choir colleagues in a performance at New York's legendary Carnegie Hall.
(Learn more about Brooke Armstrong's Augustana experience.)