April 30, 2011
2010-11 Season - Weigand tallies lowest scores for Vikings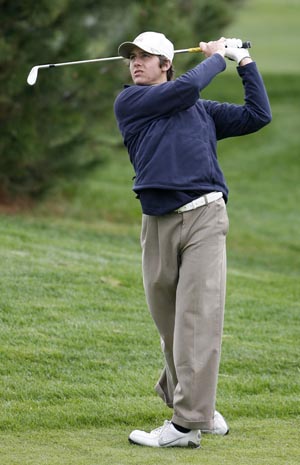 Kyle Weigand finished with rounds of 80 and 77 to lead the Vikings in the final two rounds of the CCIW Tournament.
CHICAGO, Ill. - Junior Jordan Henry (Erie HS, Erie, Ill.) finished 26th in the individual standings after the four rounds of the College Conference of Illinois & Wisconsin tournament with a score of 338. He shot an 82 and an 86 over the weekend. The final two rounds were played at Harborside International in Chicago, Illinois. Senior Kyle Weigand (Leyden HS, Franklin Park, Ill.), who did not compete in the first two rounds of play, shot the top two scores for the Blue & Gold in the final two rounds with an 80 and a 77.
Augustana finished in eighth place with a team total of 1367 after completing rounds of 349, 347, 332, and 339. Millikin won the team title with a total of 1259, edging out Illinois Wesleyan (1262) by three strokes. Wheaton was third at 1282 with Carthage five shots back at 1287. Elmhurst earned the fifth slot at 1333 and North Park was close behind in sixth with 1339. North Central finished seventh at 1341.
Sophomore Jeff Paustian (Geneva HS, Geneva, Ill.) was the second highest finisher for the Blue & Gold with a total of 343. He ended in 29th place after a pair of 85's over the weekend. Senior Phil Litchfield (Benet Academy, Darien, Ill.) shot an 85 in the third round and then closed with a 91, giving him a total score of 355. He finished in 33rd place overall. Sophomore Curtis Lubic (Kaneland HS, Sugar Grove, Ill.) did not compete in the opening two rounds of the tournament, but shot an 85 and a 91 over the weekend.
Ryan Dorner of Illinois Wesleyan was the individual medalist after scores of 71 and 78 gave him a total of 310 for the four-round tournament. He edged out Wheaton's Steven Moore by one stroke for top honors.
Story written by Assistant Sports Information Director Adam Strand