May 3, 2011
2011 Season - Watson's bat leads sweep over Knox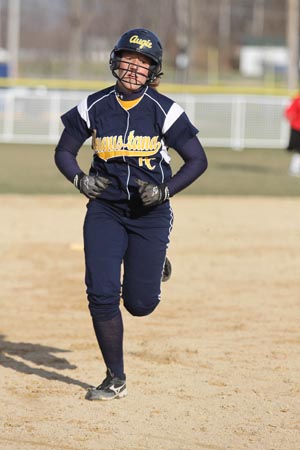 Freshman Krista Watson pounded out a pair of homers and three doubles during Augustana's sweep of Knox on Tuesday night.
Freshman Krista Watson (Coal City HS, Coal City, Ill.) went on a hitting rampage on Tuesday, May 3 and the result was a triumphant finish for Augustana in the 2011 softball campaign. Watson collected six hits, including two home runs and three doubles as the Vikings beat Knox by scores of 6-5 and 10-2. With the double victories, Augustana closed out the season with a 19-19 overall record.
GAME 1 – AUGUSTANA 6, KNOX 5
Freshman Krista Watson (Coal City HS, Coal City, Ill.) blasted a two run home run in the bottom of the seventh inning to lift Augustana to a 6-5 win over Knox in the first game of a non-conference double header. Watson's homer came with one out and brought home junior Jillian Gibbs (Rock Island HS, Rock Island, Ill.) and erased a 5-4 Prairie Fire advantage.
The Vikings took a 4-1 lead into the top of the seventh inning but Knox pitcher Amber Eisha, batting for herself, homered to lead off against reliever Rachel Perry (IVC HS, Chillicothe, Ill.). That cut the lead to 4-2. Eventually, a double off the bat of Kaylah Murphy tied the game at 4-4 and Murphy scored on a single by Jill Krippel to give the visitors a 5-4 lead.
Freshman Sarah Hintz (Leroy HS, Leroy, Ill.), who started the game, came on in relief of Perry and got out of the inning without any more damage.
Gibbs reached on an error to lead off the bottom of the seventh and went to second on a sacrifice bunt by sophomore Rachel Russell (Hinsdale South HS, Willowbrook, Ill.). That set up Watson's heroics.
It was actually the second home run of the game for Watson, who went deep with a solo shot in the bottom of the fifth. She ended the game going three for four with three runs scored and three runs-batted-in.
The Vikings scored three runs in the bottom of the second with the help of one costly error by Knox. Watson started things with a single and then she stole second. Sophomore Jenna Nelson (Orion HS, Orion, Ill.) reached on an error with Watson scoring an unearned run. Nelson stole second and Dege Abate (Downers Grove South HS, Downers Grove, Ill.) walked. Senior Stephanie Sarb (Lisle HS, Lisle, Ill.) sacrificed Abate to second and Nelson to third. Senior Emilee Goad (Galesburg HS, Galesburg, Ill.) singled to drive in Nelson and Abate moved to third. A single by freshman Kelsey Winter (United Township HS, East Moline, Ill.) brought Abate home.
Hintz picked up the victory and moved to 8-7 on the year. Winter joined Watson with three hits.
GAME 2 – AUGUSTANA 10, KNOX 2
The Vikings jumped all over Knox starter Anna Lemen with three runs in the first inning and then added five in the third to take command of the game. A two run fourth put the finishing touches on a contest that ended in Augustana's favor after just four and a half innings by a score of 10-2.
With two outs in the first freshman Krista Watson (Coal City HS, Coal City, Ill.) got things started with a single and freshman Chaney Tambling (Dwight HS, Dwight, Ill.) kept it alive with another single. Sophomore Jenna Nelson (Orion HS, Orion, Ill.) chased both Watson and Tambling home with a home run to erase a brief 1-0 Knox advantage.
In the third the Vikings used two Prairie Fire errors to put five runs on the board. Watson's double brought home the first run of the inning. Freshman Allyssa Powles (Zion-Benton HS, Wadsworth, Ill.) singled home the fifth and final run of the frame as Augustana took a commanding 8-1 lead.
Knox scored a single run in the top of the fourth off reliever Ashley Yaros (Stagg HS, Palos Hills, Ill.) but the Vikings answered with two in the bottom of the frame. With one out Watson doubled, her sixth hit of the twin-bill and third double. She scored on a double by freshman Emma Thompson (Riverdale HS, Port Byron, Ill.). Thompson scored on a single by Jenna Nelson.
Yaros, who took over for senior starter Sheldon Ritzheimer (Trenton-Wesclin HS, Trenton, Ill.) in the third, picked up the win to move to 9-5 on the year. Watson and Jenna Nelson each had three hits with Nelson scoring two runs and driving in five.
Augustana ended the year with a 19-19 overall record.