May 1, 2011
2010-11 Season - Vikings tie school mark with 19th victory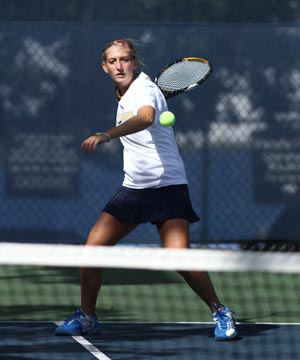 Kim Sawyer won a pair of singles matches against Loras and Edgewood to increase her record to 28-6 this season. Her 28th win breaks the single season mark of 27 that was previously held by Margo Clarke from the 1997-98 season.
DUBUQUE, Iowa – The Augustana women's tennis team tied the school record for single season wins after picking up a pair of victories on Sunday, May 1 in Dubuque, Iowa. The Vikings swept Loras 9-0 before racing past Edgewood 8-1. At 19-8, the Blue & Gold have tied the 1993-94 squad for the highest win total in school history.
Senior Sheri Hendricks (Wheaton Warrenville South HS, Warrenville, Ill.) and sophomore Meghan Wethington (Geneseo HS, Geneseo, Ill.) quickly gave Augustana the lead against Loras with an (8-0) victory over Sarah Alt and Rebecca Weglarz at No. 2 doubles. Freshmen Mariah Bardo (Sterling HS, Sterling, Ill.) and Caitee Margenthaler (Moline HS, Moline, Ill.) pulled out a tight win by an (8-5) score at No. 3, defeating Est Mungai and Emily Morrison to give the Vikings a 2-0 advantage. Sophomore Krista Panko (Geneva HS, Geneva, Ill.) and junior Brittany Reece (Naperville Neuqua Valley HS, Naperville, Ill.) rallied back from a 5-1 deficit to edge Alejandra Ruales and Rachel Weglarz (8-6) at No. 1 doubles to complete the sweep.
The Vikings won all six singles matches in straight sets. Freshman Kim Sawyer (Batavia HS, Batavia, Ill.) won her 27th singles match of the year with a (6-1, 6-3) victory over Ruales at No. 1, tying the single season mark for singles wins in the process. Senior Tricia Sapio (Barrington HS, Hoffman Estates, Ill.) also made history by joining the 100 Win Club after beating Alt (6-4, 6-1) at No. 2 singles. She is the 17th player in program history to win 100 matches for her career.
Wethington was a (6-2, 6-1) winner over Carly Villano at No. 3 while freshman Emily Kaczmarek (Glenbard South HS, Lombard, Ill.) defeated Mungai (6-2, 6-2) at No. 4. Freshman Katie Scharnagle (St. Francis College Prep, Lisle, Ill.) earned a (6-2, 6-1) decision over Rebecca Weglarz at No. 5 and junior Alyssa Quitschau (Jacobs HS, Algonquin, Ill.) closed out the match by prevailing (6-2, 7-6 (5)) against Rachel Weglarz at No. 6.
Augustana trailed for the first time all day when Edgewood notched an (8-1) victory at No. 2 doubles, but McNamara and Sawyer evened the score at 1-1 with an (8-3) win over Hannah Pincsak and Shae Beckwith at No. 1. Panko and Reece rallied to win the final three games at No. 3, edging Brittany Storhoff and Kristen Boone (8-6) to put the Vikings in front.
Sawyer led 3-2 in her singles match before rattling off the final nine games for a (6-2, 6-0) win against Amber Hemp at No. 2, setting the single season record for most singles wins with 28. McNamara followed with an impressive showing of her own, racing past Pincsak (6-1, 6-2) at No. 1 for her 24th singles victory of the year. Panko clinched the match with a (6-0, 6-2) win against Storhoff at No. 4. Sapio collected her 101st win and 22nd singles victory this season by holding on for a (6-4, 0-6, (10-8)) win over Beckwith at No. 3. Reece defeated Ali Diamond-Tumbush (6-3, 6-4) at No. 5 and Hendricks finished off the singles sweep with a (6-1, 6-0) decision against Boone at No. 6.
The Vikings return to action on Friday, May 6 for the semi-final round of the College Conference of Illinois & Wisconsin Automatic Qualifier in Bloomington, Illinois. Augustana, seeded No. 2 in the four team bracket, will take on No. 3 seeded Carthage in the opening match. Top seeded Wheaton will face No. 4 seed Illinois Wesleyan in the other semi-final match-up. The two winners will play on Saturday, May 7 for the right to represent the CCIW in the NCAA Division III national tournament.
05/01/11 – Augustana 9, Loras 0
| | |
| --- | --- |
| | RESULT |
| Singles | |
| 1. | Kim Sawyer (AUGIE) def. Alejandra Ruales (LORAS) 6-1, 6-3 |
| 2. | Tricia Sapio (AUGIE) def. Sarah Alt (LORAS) 6-4, 6-1 |
| 3. | Meghan Wethington (AUGIE) def. Carly Villano (LORAS) 6-2, 6-1 |
| 4. | Emily Kaczmarek (LORAS) def. Est Mungai (LORAS) 6-2, 6-2 |
| 5. | Katie Scharnagle (AUGIE) def. Rebecca Weglarz (LORAS) 6-2, 6-1 |
| 6. | Alyssa Quitschau (AUGIE) def. Rachel Weglarz (LORAS) 6-2, 7-6 (5) |
| Doubles | |
| 1. | Krista Panko/Brittany Reece (AUGIE) def. Alejandra Ruales/Rachel Weglarz (LORAS) 8-6 |
| 2. | Sheri Hendricks/Meghan Wethington (AUGIE) def. Sarah Alt/Rebecca Weglarz (LORAS) 8-0 |
| 3. | Mariah Bardo/Caitee Margenthaler (AUGIE) def. Est Mungai/Emily Morrison (LORAS) 8-5 |
05/01/11 – Augustana 8, Edgewood 1
| | |
| --- | --- |
| | RESULT |
| Singles | |
| 1. | Shannen McNamara (AUGIE) def. Hannah Pincsak (EC) 6-1, 6-2 |
| 2. | Kim Sawyer (AUGIE) def. Amber Hemp (EC) 6-2, 6-0 |
| 3. | Tricia Sapio (AUGIE) def. Shae Beckwith (EC) 6-4, 0-6, (10-8) |
| 4. | Krista Panko (AUGIE) def. Brittany Storhoff (EC) 6-0, 6-2 |
| 5. | Brittany Reece (AUGIE) def. Ali Diamond-Tumbush (EC) 6-3, 6-4 |
| 6. | Sheri Hendricks (AUGIE) def. Kristen Boone (EC) 6-1, 6-0 |
| Doubles | |
| 1. | Shannen McNamara/Kim Sawyer (AUGIE) def. Hannah Pincsak/Shae Beckwith (EC) 8-3 |
| 2. | Amber Hemp/Jessi Ditzler (EC) def. Tricia Sapio/Sheri Hendricks (AUGIE) 8-1 |
| 3. | Krista Panko/Brittany Reece (EC) def. Brittany Storhoff/Kristen Boone (EC) 8-6 |