April 30, 2011
2010-11 Season - IBCA named Giovanine "Coach of the Year"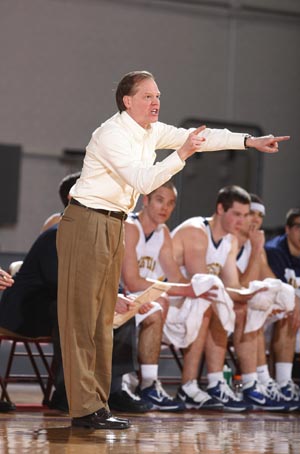 Augustana head men's basketball coach Grey Giovanine was selected as the NCAA Division III "Coach of the Year" by the Illinois Basketball Coaches Association. It was the fifth time since 2003 that Giovanine has won this honor.
For the fifth time in the last nine years, Augustana men's basketball head coach Grey Giovanine has been named a winner of the Illinois Basketball Coaches Association's NCAA Division III Coach of the Year award. The IBCA also honored Giovanine in 2003, 2006, 2007 and 2008.
Giovanine led the Vikings to a 27-4 record in 2010-11 and an Elite Eight appearance in the NCAA Division III tournament. It was the school's fourth NCAA appearance in the last six years. Augustana ended the year ranked seventh in the nation in the final D3Hoops.com poll. This year's team opened the season with 20 consecutive wins—the longest winning streak in school history and its 27 wins represent the second-highest single season total ever at Augustana.
This year's Vikings also captured a share of the College Conference of Illinois & Wisconsin regular season championship. It was their fifth league title in the last nine years. They won the conference tournament in convincing fashion as well, defeating Wheaton and Illinois Wesleyan by the two largest margins of victory in tournament history. Augustana, the only school to qualify for the event all six years, has won it three times in the last five years.
In 12 seasons at Augustana, Giovanine has guided the Vikings to a record of 226-93 (.708) and a 114-54 mark in CCIW play. His .679 CCIW winning percentage is the fourth highest in league history among coaches with more than five seasons of service and his five conference titles are tied for fifth-most in CCIW history. Since the 2002-03 season, when Giovanine won his first IBCA award, Augustana has gone 182-62 (.746) overall and 92-34 (.730) in the CCIW.