April 29, 2011
2011 Season - Women's track competes at Drake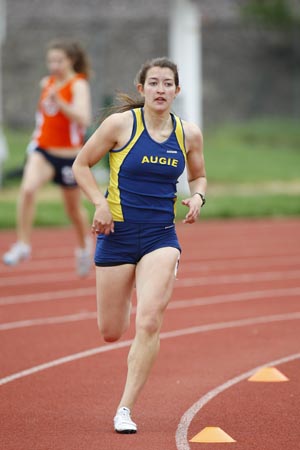 Brittney Bennett handled the lead-off leg on the 1600 relay team that just missed hitting the NCAA Division III qualifying standard on Friday at the Drake Relays. The Vikings ran 3:56.96 and NCAA qualifying is 3:56.00.
DES MOINES, Iowa - It was a near miss for the 1600 meter relay team at the Drake Relays on Friday, April 29 in Des Moines, Iowa. The unit of senior Brittney Bennett (Annawan HS, Annawan, Ill.), senior Amy Walsh (Cary-Grove HS, Cary, Ill.), senior Hannah Hottle (Monmouth-Roseville HS, Monmouth, Ill.) and freshman Kierra Smith (Creston HS, Creston, Iowa) ran 3:56.96 and just missed qualifying for the NCAA Division III national meet with that time. The NCAA qualifying standard is 3:56.00.
The 1600 relay's performance was the highlight of the day for veteran head coach Fred Whiteside's team on Friday at Drake Stadium. The 400 relay team of junior Catherine Foreman (St. Joseph-Ogden HS, St. Joseph, Ill.), sophomore Emily Margosian (Neuqua Valley HS, Naperville, Ill.), junior Morgan Gale (Oregon HS, Oregon, Ill.) and freshman Johanna Schnitzler (Downers Grove South HS, Woodridge, Ill.) ran :52.97 and was eighth in heat number four.
The distance medley team of senior Meaghan Reaney (Lincoln-Way Central HS, New Lenox, Ill.), Walsh, sophomore Sarahbeth Jones (Warren Township HS, Wadsworth, Ill.) and sophomore Annie Heifner (Oregon HS, Oregon, Wis.) placed 14th overall with a time of 12:37.76. The 800 relay of Foreman, Margosian, Gale and Schnitzler suffered a bad exchange and dropped the baton.
On Saturday, April 30 the day started with the shuttle hurdle relay of Walsh, Smith, Schnitzler and Bennett running 1:05.03 and taking fourth in the heat and 11th overall. The 3200 relay of Jones, Reaney, Heifner and junior Angela Pisani (York HS, Elmhurst, Ill.) was 13th in 9:45.17. The sprint medley team of Bennett, Walsh, Smith and Hottle concluded Augustana's performance at Drake for 2011 by taking 12th with a time of 4:09.76.