April 29, 2011
2011 Season - 1600 relay hits NCAA mark at Drake Relays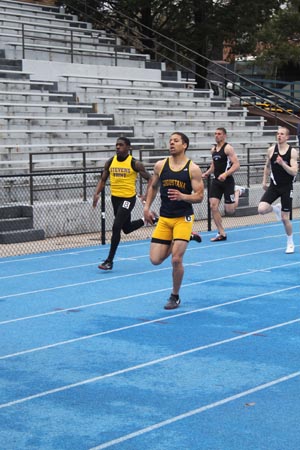 Sophomore Greg Patton handled the anchor leg for the 1600 relay which ran 3:15.20 at the Drake Relays and qualified for the NCAA Division III national meet. The Vikings finished third in their heat and placed ninth overall.
DES MOINES, Iowa - The 1600 meter relay team hit the NCAA Division III national qualifying standard during preliminary round competition at the Drake Relays on Friday, April 29 in Des Moines, Iowa. The unit of sophomore Alex Rindone (Marmion Academy, Geneva, Ill.), senior James Wood (St. Charles North HS, St. Charles, Ill.), junior Greg Davis (Carlinville HS, Carlinville, Ill.) and sophomore Greg Patton (Bloomington HS, Bloomington, Ill.) ran 3:15.20 to eclipse the standard of 3:16.40.
The Vikings were third in their heat and just missed making the finals in the event, finishing ninth overall. It was the fastest 1600 relay time of the year for the quartet, bettering the previous best of 3:17.51 set on April 2 in Waverly, Iowa at the Wartburg Select Invitational.
The 400 relay of freshman Jay Graffagna (Geneva HS, LaFox, Ill.), Patton, Wood and Rindone ran :42.26 and finished fourth in the fifth heat and 15th overall. The 3200 relay team of senior Jason Langslet (Mundelein HS, Mundelein, Ill.), sophomore Joe Zahn (Moline HS, Moline, Ill.), Edgar Valle (Kaneland HS, Elburn, Ill.) and senior Greg Weigand (Wheaton-Warrenville South HS, Wheaton, Ill.) turned in a time of 7:48.87 and finished 10th overall. It was the fastest time of the year in that event for the Vikings. In the 800 relay the team of Graffagna, freshman Matt Dickey (Benet Academy, Downers Grove, Ill.), sophomore Floyd Mays (Mooseheart HS, Justice, Ill.) and sophomore Ryan Brummet (Riverdale HS, Port Byron, Ill.) placed sixth in its heat and 22nd overall with a time of 1:31.85.
Only two Augustana relay teams were in competition on Saturday, April 30. The distance medley of sophomore Justin Smith (Fenton HS, Bensenville, Ill.), freshman Steve Zahrobsky (Downers Grove South HS, Woodridge, Ill.), Weigand and sophomore Brian Pollastrini (York HS, Elmhurst, Ill.) took 15th with a time of 10:19.64. The sprint medley squad of Wood, Rindone, senior Matt Somers (Naperville Central HS, Naperville, Ill.) and Langslet placed 10th in 3:31.90. Senior Patrick Zeunik (Bloomington Central Catholic HS, Bloomington, Ill.) placed eighth in the triple jump with a leap of 49' 2 ¼" and junior Phil Christensen (Kaneland HS, Maple Park, Ill.) was 14th in the discus with a toss of 160' 3".