April 23, 2011
2010-11 Season - Vikings finish ninth at Scot-Fire Invite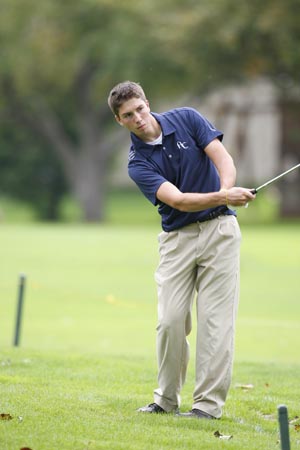 Curtis Lubic tied for 42nd place with a score of 118 at the Scot-Fire Invite. He shot a 38 on the first nine holes and then completed the second day with a score of 80 for 18 holes.
MONMOUTH, Ill. - The Augustana men's golf team competed at the Scot-Fire Invitational at Gibson Woods Golf Course this past weekend and came away with a ninth place finish out of 17 teams. The Vikings also brought a second that that took 13th in the field.
Augustana's first squad finished with a score of 468. They shot a 158 on the first day of competition and followed with a 310. The first round was cut short to just nine holes due to weather. The second team for the Blue & Gold finished with a score of 478 after rounds of 167 and 311.
Central won the event with a score of 431 and was followed by Millikin, who finished just one stroke back at 432. Monmouth took third with a total of 438 while Knox (448) and Black Hawk Community College (456) rounded out the top five. Carl Sandburg Community College (457), Monmouth White (459), and Central White (459) also finished ahead of the Vikings.
Illinois Central Community College placed in a tie for 10th with North Central at 469, one stroke behind Augustana's top group. Grinnell was 12th at 471. Augustana saw its second team finished in front of Illinois Valley Community College (486), Springfield Community College (487), Illinois College (518), and Grinnell Black (522).
Junior Jordan Henry (Erie HS, Erie, Ill.) led the charge for Augustana's top group with a score of 112, tying for 17th place out of 89 golfers. Henry fired a 39 on the first day where the team's only played nine holes and then shot a 73 on the second day when the teams completed the entire 18 hole course.
Sophomore Jeff Paustian (Geneva HS, Geneva, Ill.) opened with a 40 and then shot a 78 to finish at 118, tying for 42nd place. He was joined by sophomore Curtis Lubic (Kaneland HS, Sugar Grove, Ill.), who also tied for 42nd with a 118. Lubic shot a 38 in the first round and followed that up with an 80 on the final day of competition.
Senior Kyle Weigand (Leyden HS, Franklin Park, Ill.) was fourth for the Blue & Gold and tied for 53rd overall with a score of 121. He shot rounds of 41 and 80 at the event. Senior Ted Keopple (Geneseo HS, Geneseo, Ill.) was right behind with a score of 122. He completed the first day with a total of 43 strokes and then shot a 79 in the second round, tying for 57th overall.
Senior Phil Litchfield (Benet Academy, Darien, Ill.) performed well and led the second squad by tying for 29th place. He wrapped up the first nine holes with a score of 39 and scored a 76 on the second day, finishing at 115 and compiling the second best total for any Viking behind Henry.
Senior T. Cole Wells (Tri-Valley HS, Downs, Ill.) and freshman John Stone (Rockridge HS, Reynolds, Ill.) were five shots back, each tallying a 120. Wells opened with a 46, but rebounded with a 74 on the final day, the second lowest 18 hole round on the squad. Stone fired a 39 before finishing with an 81. Both players tied for 48th place.
Juniors Marko Loncar (Marist HS, Chicago, Ill.) and Greg Karesh (Downers Grove South HS, Downers Grove, Ill.) rounded out the scoring for the Blue & Gold. Loncar tied for 67th with a 124, shooting a 44 and an 80.
Millikin's Wes Hillen won medalist honors with a score of 103. He totaled 33 strokes on the first day and then fired a 70 to close out the tournament.
The Vikings will return to action for the final two rounds of the College Conference of Illinois & Wisconsin tournament this weekend at Harborside, Portside Course in Chicago, Illinois.
Story written by Assistant Sports Information Director Adam Strand