April 16, 2011
2010-11 Season - Henry tied for 25th at CCIW Tournament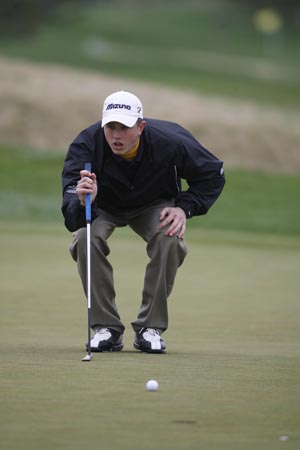 Jordan Henry is tied for 25th place and leads the Vikings with a score of 170 after two rounds at the CCIW Championship.
NAPERVILLE, Ill. - Junior Jordan Henry (Erie HS, Erie, Ill.) came through with an 84 to lead the Augustana men's golf team at the second day of the College Conference of Illinois & Wisconsin championship. The first two rounds of the tournament were held at Cress Creek Golf Course in Naperville, Illinois.
The Vikings currently sit in eighth place with a total of 696 strokes. Augustana shot a 349 in the first round and came back with a 347 on the second day of play. The final two rounds of the tournament will be played on April 29-30.
Millikin is the leader after two rounds with a score of 642, followed by Carthage (646), Wheaton (648), Illinois Wesleyan (660), North Park (671), North Central (674), and Elmhurst (677).
Henry is currently tied for 25th place with a score of 170. Sophomore Jeff Paustian (Geneva HS, Geneva, Ill.) is second for the Blue & Gold with a two day total of 173. He shot an 88 in the second round after carding an 85 to lead the Vikings in the opening round of play. Paustian is tied for 30th place. Senior Ted Keopple (Geneseo HS, Geneseo, Ill.) has compiled a couple 87's and is tied for 32nd place with a score of 174. Senior Phil Litchfield (Benet Academy, Darien, Ill.) lowered his score to an 88 after beginning the competition with a 91. He has a total of 179 and is tied for 36th overall. Senior T. Cole Wells (Tri-Valley HS, Downs, Ill.) is in 40th place with a score of 194 after rounds of 96 and 98.
Story written by Assistant Sports Information Director Adam Strand