April 27, 2011
2011 Season - Vikings defeat Grinnell for 20th win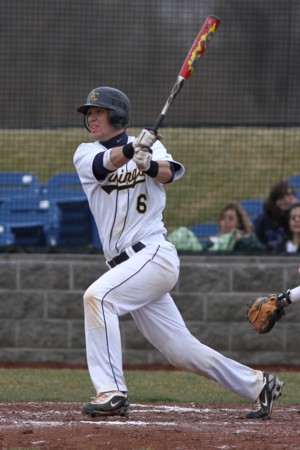 Senior catcher T.J. O'Donnell had a pair of doubles in Augustana's 7-6 win over Grinnell Wednesday at Swanson Stadium/Brunner Field.
ROCK ISLAND, Ill.- Augustana got six strong innings of relief from freshman Matt Pisani (York HS, Elmhurst, Ill.) Wednesday and good production from the middle of its order, including a pair of T.J. O'Donnell (New Trier HS, Northbrook, Ill.) doubles, to get a 7-6 win over Grinnell at Swanson Stadium/Brunner Field. The Vikings improve to 20-9 with the win, while Grinnell falls to 11-12.
The Pioneers strung together five singles against Augustana starter Ben Heaton (Bloomington Central Catholic HS, Heyworth, Ill.) to take a 4-0 lead in the top of the second inning. Michael Goldfien's two-out, two-run single to center was the big hit.
O'Donnell's two-out double to right in the bottom of the second got the Vikings started and he came around to score when Mike Barker (Centennial, Colo. Grandview HS, Marina del Rey, Cal.) followed with a single to right. Anthony Concialdi (Fremd HS, Barrington, Ill.) then dropped a bunt down the third base line. Grinnell pitcher Mike Bogard got to the ball, but his throw to first was off line, resulting in a collision between Concialdi and Pioneer first baseman Ryan Fletcher. When the dust settled, Concialdi was at first with a bunt single and Barker was at third on Bogard's throwing error. Barker scored on a passed ball to make it 4-2 Grinnell after two innings.
After Pisani came on to start the third and held the visitors scoreless in the top of the third and fourth innings, the Vikings grabbed the lead with three runs in the bottom of the fourth. Jared McIntosh (Assumption HS, Davenport, Iowa) got a leadoff single against Max Jacobson, the third of seven Grinnell pitchers in the contest. O'Donnell lined a double down the left field line with McIntosh moving to third and they both came home on Barker's single to right field to tie the game at 4-4. Barker later scored the go-ahead run on Jeremy Juhl's (Glenbard East HS, Lombard, Ill.) groundout to second.
Meanwhile, Pisani continued to cruise. Through his first five innings, he allowed just three singles and no Pioneer got farther than first base against him.
Augustana added a pair of insurance runs in the bottom of the seventh. Juhl led off against Dugan Knoll, the sixth Grinnell pitcher, and lined a ball that got over the head of center fielder Drew Davis for a triple. Kurt Schmidt (Grayslake Central HS, Grayslake, Ill.) brought Juhl in with a single to left center and came around to score himself on McIntosh's double to center.
The Pioneers finally got to Pisani for two runs in the eighth. Greg Suryn tripled in Mike Nodzenksi to make it 7-5 and scored himself to cut the lead to 7-6 on a Matt Blumenreich ground out.
Viking coach Greg Wallace went to his closer, Josiah Martin (Canton HS, Canton, Ill.), in the ninth and he retired Grinnell in order to get his fifth save of the season. Pisani got his first collegiate win to even his record at 1-1. He went six innings, allowing two runs on five hits with six strikeouts and no walks. McIntosh, O'Donnell and Barker, hitting in the fifth through seventh slots in the Augustana order, each went 2-for-4. Barker scored twice and drove in three.
The Vikings are back in action Saturday, April 30, when they open a three-game series with North Central with a 1:00 p.m. doubleheader in Naperville, Ill. The teams finish the series with a single game on Sunday, May 1 at 1:00 p.m. at Swanson Stadium/Brunner Field.