April 27, 2011
2010-11 Season - Reece named CCIW "Player of the Week"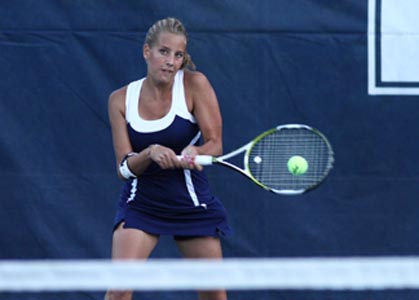 Brittany Reece was named CCIW "Player of the Week" after winning both of her matches last week against Dubuque. She has 72 wins for her career.
ROCK ISLAND, Ill. - Junior Brittany Reece (Naperville Neuqua Valley HS, Naperville, Ill.) was named the College Conference of Illinois and Wisconsin "Player of the Week" for women's tennis, it was announced today.
Reece was 2-0 this past week, notching victories against Dubuque in singles and doubles. She teamed up with freshman Shannen McNamara (Battle Mountain HS, Avon, Colo.) for an (8-2) victory against Lindsay Bonnell and Lauren Clausen at No. 1 doubles. Reece also defeated Clausen (6-1, 6-4) at No. 3 singles.
She is 10-6 in singles and 14-8 in doubles this season, combining for an overall mark of 24-14. Reece has played No. 3, No. 4, No. 5, and No. 6 singles for the Vikings. She has competed at all three doubles positions and is 8-2 with sophomore Krista Panko (Geneva HS, Geneva, Ill.), second on the squad for most victories by a doubles tandem. They recently earned a key victory at No. 3 doubles against No. 12 Grinnell, helping the Vikings upset the Pioneers and move into the Central Region rankings at No. 17.
For her career, Reece has 35 singles wins and 37 victories in doubles. She is 72-57 overall with a 35-33 mark in singles and a 37-24 record on the doubles court.
She is the daughter of John & Cathy Reece of Naperville, Illinois.
2010-11 CCIW "Players of the Week"
Brittany Reece - Augustana (04/26/11)
Tricia Sapio - Augustana (04/20/11)
Kirsten Boyer - Wheaton (04/13/11)
Shannen McNamara - Augustana (04/05/11)
Andrea Kerwin - Illinois Wesleyan (03/29/11)
Bari Reynolds - Carthage (10/06/10)
Kim Sawyer - Augustana (09/29/10)
Abby Conover - North Central (09/22/10)
Sara Federschmidt - Wheaton (09/15/10)
Elizabeth Worsowicz - Wheaton (09/08/10)