April 27, 2011
2011-12 Season - Women's Lacrosse gets conference home in 2013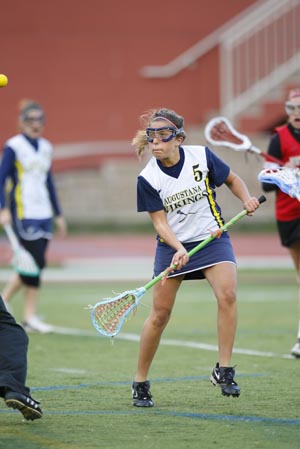 Augustana will begin play in the Midwest Women's Lacrosse Conference during the 2013 season.
The fledgling Augustana women's lacrosse program will only have to endure one year as an NCAA Division III independent before joining the Midwest Women's Lacrosse Conference, it was announced today. The Vikings will begin varsity play during the 2012 season and head coach Sara Tisdale's team will play as an independent in that first year. Beginning in 2013, however, Augustana will become a member of the MWLC.
"Being accepted into the MWLC is exciting and a great boost for our program, said Tisdale, who was named as the head coach in April of 2010 and has spent this entire school year recruiting players and getting ready for the inaugural 2012 campaign. "The MWLC is a strong conference and will help propel Midwest lacrosse into the national spotlight. The MWLC will give Augustana the opportunity to play a competitive schedule and compete for a conference title and bid to the NCAA tournament."
Currently the MWLC has eight members (Carthage, North Central, Fontbonne, Trine, Adrian, Albion, Concordia of Wisconsin and Mount St. Joseph). Augustana will join in time for the 2013 season as will Aurora and Benedictine, making the MWLC an 11-team conference.
"This is a great step forward for our women's lacrosse program," said Mike Zapolski, director of athletics at Augustana. "We are looking forward to our affiliation with the MWLC beginning in 2013."