April 23, 2011
2011 Season - Ries wins 3000 steeplechase at NIU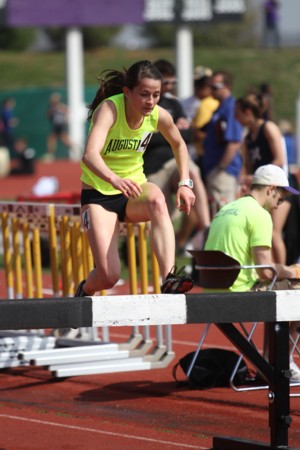 Senior Katie Ries ran an 11:58.61 to win the 3000 meter steeplechase Saturday at the NIU open in DeKalb, Illinois.
DEKALB, Ill. - Senior Katie Ries (Iowa City Regina HS, Iowa City, Iowa) won the 3000 meter steeplechase to spearhead Augustana's effort at the Northern Illinois Open on Saturday, April 23 in DeKalb, Illinois. There were no team scores kept in the event but the Vikings had a strong showing, earning places in 13 events.
Ries won the steeplechase with a time of 11:58.61 and she was chased to the finish line by her senior teammate Brittany Prazak (Naperville North HS, Naperville, Ill.). Prazak placed second with a time of 12:16.52. Senior Sarah Johnson (Grayslake North HS, Lake Villa, Ill.) was fifth in 13:15.66.
Sophomore Theresa Coverick (Stagg HS, Palos Park, Ill.) took second in the 5000 with a 19:04.03 clocking. In the 800 sophomore Sarahbeth Jones (Warren Township HS, Wadsworth, Ill.) was second in 2:22.00 and senior Meaghan Reaney (Lincoln-way Central HS, New Lenox, Ill.) placed third in 2:22.91.
Senior Amy Walsh (Cary-Grove HS, Cary, Ill.) finished second in the 400 hurdles with a clocking of 1:06.70. Freshman Kierra Smith (Creston HS, Creston, Iowa) placed third (1:07.81) and sophomore Emily Margosian (Neuqua Valley HS, Naperville, Ill.) was seventh (1:12.87). Smith was third in the 100 hurdles (:15.74) while Walsh took seventh (:15.87).
Senior Brittney Bennett (Annawan HS, Annawan, Ill.) ran :58.31 to take third in the 400 and came back with a seventh place finish in the 200 in :26.38.
The 400 relay team of Bennett, Reaney, Jones and junior Angela Pisani (York HS, Elmhurst, Ill.) was third in :51.42. The 1600 relay of Bennett, sophomore Kirstillyn Pohlman (Zion-Benton HS, Winthrop Harbor, Ill.), Jones and Reaney grabbed fourth in 4:20.38.
Junior Catherine Foreman (St. Joseph-Ogden HS, St. Joseph, Ill.) took fourth in the javelin with a throw of 100' 6". Sophomore Jordan Mauerman (Albany HS, Albany, Wis.) was fifth (98' 4") and sophomore Devon White (Indian Creek HS, DeKalb, Ill.) finished sixth (93' 8").
In the pole vault junior Morgan Gale (Oregon HS, Oregon, Ill.) cleared 8' 11 ¾" to take fifth and sophomore Taylor Tjardes (Gibson City/Melvin/Sibley HS, Gibson City, Ill.) was seventh at 8' 6". Junior Amanda Gruber (Rolling Meadows HS, Arlington Heights, Ill.) was eighth in the hammer (125' 4") and freshman Liana Beauchamp (Genoa-Kingston HS, Kingston, Ill.) placed eighth in the shot (32' 8 ½").