April 23, 2011
2011 Season - Augustana swept at North Park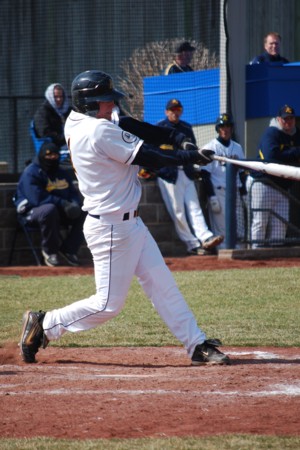 Sophomore infielder Jeremy Juhl had a double and scored twice in game one and led off the second game with a home run, but Augustana dropped both ends of a doubleheader Saturday at North Park.
CHICAGO, Ill.-Augustana suffered a doubleheader sweep at the hands of North Park Saturday afternoon at the Holmgren Sports Complex. The visitors battled back from a 3-0 deficit in the opener, scoring five runs in the last three innings, but couldn't hang on as North Park scored three in the ninth for a 6-5 win. Sophomore shortstop Jeremy Juhl (Glenbard East HS, Lombard, Ill.) led off game two with a homer, but that would be all the offense Augustana would get as the hosts scored five runs in the seventh and eighth innings to complete the sweep 6-1. Augustana falls to 19-9 overall and 8-6 in the CCIW, two games back of North Park, which is 10-4 in the league.
Game One: North Park 6, Augustana 5
Trailing 3-0 after six innings, the Vikings' Kevin Serna (Rolling Meadows HS, Arlington Heights, Ill.) got the visitors on the board with a solo homer off Steve Kuligowski with two outs in the seventh.
After reliever John Peters (Alleman HS, Milan, Ill.) retired North Park without incident in the bottom of the frame, the Augustana offense went back to work in the top of the eighth, getting two runs off reliever Mike Coduto to tie it 3-3. Juhl started the inning with a double to center and after a Kurt Schmidt (Grayslake Central HS, Grayslake, Ill.) single, scored on a Dave Hoffman (Cary-Grove HS, Cary, Ill.) ground out. Pat Wilson's (Stevenson HS, Vernon Hills, Ill.) two-out double to center brought Schmidt home with the tying run.
Augustana took advantage of a North Park error, a walk and a pair of wild pitches to take a 5-3 lead in the ninth. Schmidt drove in the go-ahead run with a single to center and Juhl came home on the second wild pitch.
Things looked promising with Peters on the mound in the ninth. The junior had not allowed a run in his last 17 innings, but North Park Wade Yunker started the inning with his fourth hit of the game, a double to left. Angel Carrasco followed with a homer to tie it at 5-5. After striking out pinch-hitter Luis Diaz, Peters gave up a single to center to Trevor Popp. Popp was forced on a fielder's choice by Eric Sousanes, who came around to score the game winner on a wild pitch and a Mike Domenick single to center.
Kuligowski improved to 6-2 with the win. Peters took the loss, his first of the year after three wins. Viking starter Jared McIntosh (Assumption HS, Davenport, Iowa) went 5 1/3 innings. He allowed three runs on five hits, but issued five base-on-balls while fanning three. Schmidt had three hits and Anthony Concialdi (Fremd HS, Barrington, Ill.) a pair to lead the offense. Juhl scored twice.
Game Two: North Park 4, Augustana 1
North Park broke open a pitchers' duel in game two with two runs in the seventh and three more in the eighth.
Mike Trotta (Notre Dame HS, Chicago, Ill.) battled North Park ace Pete Sparacino to a 1-1 tie through six innings, but after Sparacino left a pair of Vikings stranded in the top of the seventh, Popp reached with one out in the bottom of the frame when he was hit by a Trotta pitch. Sousanes followed with a single to left and he and Popp moved to second and third on a double steal. Trotta fanned Domenick for the second out, but Andy Athans came up with a big two-run single to right to make it 3-1.
Freshman Brian Konecke (Lakes Community HS, Itasca, Ill.) replaced Trotta to start the eighth. Again, a one-out hit batsman started things and Athans came through with another two-out, two-run single as North Park put three runs on the board for a 6-1 lead.
Sparacino closed the Vikings out in the ninth for the complete game, improving to 6-0 on the year. He allowed seven hits, walked one and fanned nine. Trotta gave up 10 hits and three runs in seven innings. He walked one and fanned six and suffered his first loss of the season after five wins.
Juhl got the visitors off to a good start, leading off the game with a homer. North Park tied it in the second, getting a run on a double play grounder. Wilson had two hits, including a double, and was the only Augustana player with multiple hits.