April 23, 2011
2011 Season - Softball loses twice at Elmhurst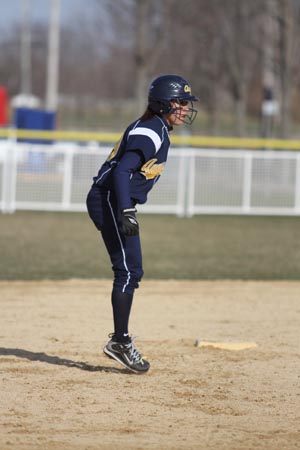 Abbi Staples scored a run in each game of the Vikings double header against Elmhurst on Saturday afternoon.
Augustana's attempt to continue its streak of qualifying for the College Conference of Illinois & Wisconsin softball tournament hit a major road block on Saturday, April 23 with a double header loss at Elmhurst. The Vikings fell to the Bluejays by scores of 3-1 and 5-3 and their streak of qualifying for every CCIW tournament since 2000 is in jeopardy.
Augustana is now 17-17 overall and 5-7 in league play and must sweep a double header at North Central on Saturday, May 30 in order to have any chance of finishing in the top four in the league standings. The top four teams qualify for the CCIW tournament.
GAME 1 – ELMHURST 3, AUGUSTANA 1
In the first game of a crucial CCIW double header, the Vikings managed just four hits off Elmhurst starter Stephanie Iori and fell 3-1. Augustana scored first with a single run in the top of the second inning when senior Stephanie Sarb (Lisle HS, Lisle, Ill.) led off with a walk. Abbi Staples (Sterling HS, Sterling, Ill.) pinch ran for her and was moved to second on an illegal pitch. She went to third on a ground out and scored on a single by Kelsey Winter (United Township HS, East Moline, Ill.).
That was the extent of the scoring for the Vikings. The Bluejays tied the game with a single run in the bottom of the second and put two on the board in the fifth.
Sarah Hintz (Leroy HS, Leroy, Ill.) worked five innings and was tagged with the loss, dropping her record to 7-7 on the year. She struck out one and walked one while giving up seven hits.
GAME 2 – ELMHURST 5, AUGUSTANA 3
The Bluejays scored four runs in the top of the first inning and went on to post a 5-3 victory and complete a double header sweep of Augustana on Saturday, April 23 at Salt Creek Park in Elmhurst. The Vikings battled back and scored two runs in the bottom of the first inning to cut the lead in half. Melissa Nelson (West Aurora HS, Aurora, Ill.) hit a triple to drive in Krista Watson (Coal City HS, Coal City, Ill.) with the first run. Nelson came home when Stephanie Sarb (Lisle HS, Lisle, Ill.) walked and intentionally got caught in a rundown, allowing Nelson to score. The third and final run for the Vikings came when pinch hitter Dege Abate (Downers Grove South HS, Downers Grove, Ill.) singled in pinch-runner Abbi Staples (Sterling HS, Sterling, Ill.).