April 21, 2011
2010-11 Season - Carr places sixth at Augustana Invitational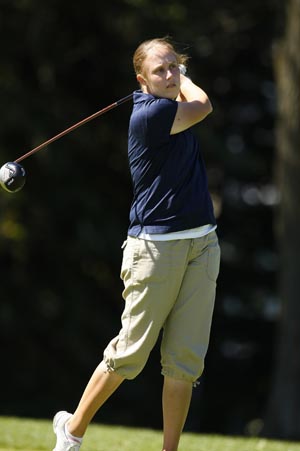 Junior Brittany Carr shot 91 and placed sixth in the Augustana Invitational on Thursday, April 22 at Emeis Golf Course in Davenport, Iowa. It was the final meet of the 2010-11 season for the Vikings of head coach Ron Standley.
DAVENPORT, Iowa - Junior Brittany Carr (Lincoln-Way East HS, Frankfort, Ill.) finished in sixth place to lead Augustana in the final match of the 2010-11 women's golf season. Carr shot 91 at Emeis Golf Course in Davenport, Iowa at the Augustana Invitational and helped the Vikings to a fourth place finish in the team standings.
Robert Morris won the event with a score of 360, three strokes better than the 363 put up by Mount Mercy in second place. Wisconsin-Platteville was third with 370 and Augustana was fourth at 374. The Augustana "C" team placed fifth (408) with Elmhurst (416) and Augustana JV (492) rounding out the field.
Carr had a 45 on the front nine and a 46 on the back nine for her final total of 91. Anna Kallqvist of Mount Mercy won the tournament by shooting 84. Andrea Mastro of Robert Morris was right behind her in second place with an 85. Laura Wilberg of Mt. Mercy and Brooke Melvin of Robert Morris tied for third as each fired 87. Tricia Pawelski of Wisconsin-Platteville was fifth with an 89.
Freshman Kelly Farina (Normal West HS, Bloomington, Ill.) tied for seventh place after shooting 93 and sophomore Morgan Wilkinson (Westmont HS, Westmont, Ill.) was 11th with a 94. Senior Jessica Berens (Schaumburg HS, Schaumburg, Ill.) and sophomore Megan Vandersee (Sterling HS, Sterling, Ill.) tied for 15th place as each recorded a round of 96.