April 21, 2011
2010-11 Season - Vikings ranked No. 17 in Central Region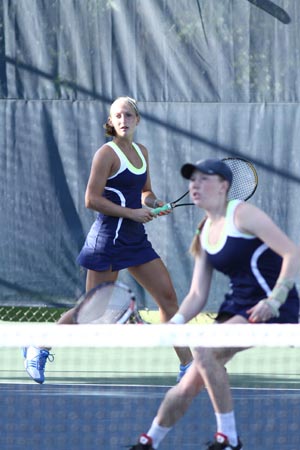 The Augustana women's tennis team is ranked No. 17 in the Central Region with an overall record of 17-8 this season. Freshmen Shannen McNamara & Kim Sawyer are a combined 49-14 in singles and also sport an 18-8 mark together in doubles, leading the way for the Vikings at the top of the lineup.
ROCK ISLAND, Ill. – The Intercollegiate Tennis Association (ITA) released its first set of April rankings for the 2010-11 season and the Augustana women's tennis team was ranked No. 17 in the poll for the Central Region. The Vikings, under fifth year head coach Adam Strand, currently have a record of 17-8 overall.
Augustana's biggest win of the year came on April 10 when the Vikings defeated Grinnell by a score of 5-4. The Blue & Gold also finished tied for second in the College Conference of Illinois & Wisconsin at the league's individual tournament last fall, the top finish for Augustana since 1997.
The Vikings close out the regular season with matches against Loras and Edgewood before facing Carthage in the CCIW Automatic Qualifier tournament.
2010-11 DIII Central Region Rankings
| | |
| --- | --- |
| Ranking | School |
| 1. | University of Chicago |
| 2. | Denison University |
| 3. | Washington University (MO) |
| 4. | Gustavus Adolphus College |
| 5. | DePauw University |
| 6. | Carleton College |
| 7. | Wheaton College |
| 8. | University of Wisconsin-Whitewater |
| 9. | University of Wisconsin-La Crosse |
| 10. | Luther College |
| 11. | Coe College |
| 12. | Kenyon College |
| 13. | Grinnell College |
| 14. | Wartburg College |
| 15. | St. Olaf College |
| 16. | Calvin College |
| 17. | AUGUSTANA COLLEGE (IL) |
| 18. | University of St. Thomas |
| 19. | Kalamazoo College |
| 20. | Wittenberg University |