April 20, 2011
2010-11 Season - Vikings sweep third straight opponent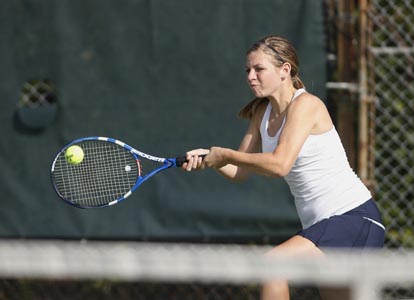 Meghan Wethington was a winner at No. 4 singles and No. 2 doubles against Dubuque. She is 8-4 in singles and 7-4 in doubles this season.
DUBUQUE, Iowa – The Augustana women's tennis team swept its third straight opponent with a 9-0 victory over Dubuque on Wednesday, April 20 in Dubuque, Iowa. The Vikings improved to 17-8 overall with the win and have now won five straight matches.
Freshman Shannen McNamara (Battle Mountain HS, Avon, Colo.) and junior Brittany Reece (Naperville Neuqua Valley HS, Naperville, Ill.) teamed up for the first time and won by an (8-2) score over Lindsay Bonnell and Lauren Clausen at No. 1 doubles. Freshmen Katie Scharnagle (St. Francis College Prep, Lisle, Ill.) and Mariah Bardo (Sterling HS, Sterling, Ill.) notched an (8-4) victory at No. 3 doubles, beating Spenser Smith and Janine Wegner. Sophomore Meghan Wethington (Geneseo HS, Geneseo, Ill.) and freshman Caitee Margenthaler (Moline HS, Moline, Ill.) held on for a (9-8 (3)) win at No. 2 doubles over Nicole Schmaltz and Kristina McWethy to complete the doubles sweep.
Reece won (6-1, 6-4) against Clausen at No. 3 singles and Sapio clinched the match by edging Bonnell (6-2, 3-6, (10-8)) at No. 2, recording her 99th career victory in the process. Wethington was a straight set winner, defeating McWethy (6-2, 6-2) at No. 4. Scharnagle cruised to a (6-0, 6-1) win against Smith at No. 5. McNamara won her 23rd singles match of the year, beating Schmaltz (6-1, 6-1) at No. 1. Margenthaler rallied to win (4-6, 6-0, (10-5)) against Wegner at No. 6 to finish out the match.
The Vikings return to action on Sunday, May 1 with another trip to Dubuque, Iowa. Augustana will face Loras and Edgewood in the final two regular season matches of the year.
04/20/11 – Augustana 9, Dubuque 0
| | |
| --- | --- |
| | RESULT |
| Singles | |
| 1. | Shannen McNamara (AUGIE) def. Nicole Schmaltz (UD) 6-1, 6-1 |
| 2. | Tricia Sapio (AUGIE) def. Lindsay Bonnell (UD) 6-2, 3-6, (10-8) |
| 3. | Brittany Reece (AUGIE) def. Lauren Clausen (UD) 6-1, 6-4 |
| 4. | Meghan Wethington (AUGIE) def. Kristina McWethy (UD) 6-2, 6-2 |
| 5. | Katie Scharnagle (AUGIE) def. Spenser Smith (UD) 6-0, 6-1 |
| 6. | Caitee Margenthaler (AUGIE) def. Janine Wegner (UD) 4-6, 6-0, (10-5) |
| Doubles | |
| 1. | Shannen McNamara/Brittany Reece (AUGIE) def. Lindsay Bonnell/Lauren Clausen (UD) 8-2 |
| 2. | Meghan Wethington/Caitee Margenthaler (AUGIE) def. Nicole Schmaltz/Kristina McWethy (UD) 9-8 (3) |
| 3. | Katie Scharnagle/Mariah Bardo (AUGIE) def. Spenser Smith/Janine Wegner (UD) 8-4 |