April 21, 2011
2010-11 Season - Sapio named "Player of the Week" in CCIW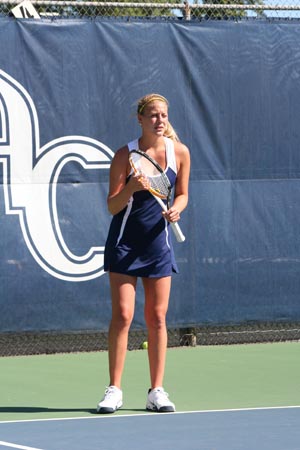 Augustana senior Tricia Sapio has been named the "Player of the Week" in the CCIW after posting a 4-0 record over the weekend.
Senior Tricia Sapio (Barrington HS, Hoffman Estates, Ill.) was named the College Conference of Illinois and Wisconsin "Player of the Week" for women's tennis, it was announced today.
Sapio was 4-0 this past weekend, earning wins in singles and doubles against Monmouth and Simpson. She paired with senior Sheri Hendricks (Wheaton Warrenville South HS, Warrenville, Ill.) for an (8-3) victory against Monmouth's Kimi Wegner and Joi Henry at No. 1 doubles in the morning match. Sapio also defeated Henry by a (6-2, 6-2) margin at No. 3 singles.
Against Simpson, she teamed with freshman Emily Kaczmarek (Glenbard South HS, Lombard, Ill.) for the first time all season and won (8-3) over Maggie McDevitt and Whitney Thompson. Sapio also led Allison Anderson (6-1, 4-3) before Anderson had to retire due to an injury, giving the Viking her fourth victory on the day.
Sapio currently has 98 wins for her career and is aiming to be the 17th member of the 100 Win Club for the Augustana women's tennis program. She has 54 victories in singles and 44 more in doubles. After just winning 14 matches as a freshman, she won 27 as a sophomore and 25 as a senior. This season, Sapio already has 32 victories with a few matches still remaining on the schedule.
She is 19-13 this year in singles, surpassing her single season record of 17 wins that she had as a sophomore. Sapio is also 13-14 in doubles, including a 4-3 mark with Hendricks. She finished 3rd at No. 4 singles in the CCIW Tournament last fall and has stepped into the No. 3 singles position this spring.
She is the daughter of Bob & Gail Sapio of Hoffman Estates, Illinois.
2010-11 CCIW "Players of the Week"
Tricia Sapio – Augustana (04/20/11)
Kirsten Boyer – Wheaton (04/13/11)
Shannen McNamara – Augustana (04/05/11)
Andrea Kerwin – Illinois Wesleyan (03/29/11)
Bari Reynolds – Carthage (10/06/10)
Kim Sawyer – Augustana (09/29/10)
Abby Conover – North Central (09/22/10)
Sara Federschmidt – Wheaton (09/15/10)
Elizabeth Worsowicz – Wheaton (09/08/10)