April 21, 2011
2011 Season - Women's Track ranked 17th in NCAA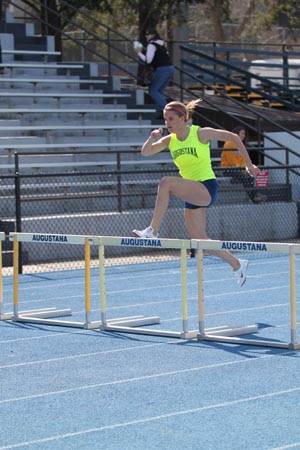 Amy Walsh and the Augustana women's track & field team is currently ranked 17th in the latest NCAA Division III dual meet power rankings.
The Augustana Vikings stayed in the 17th position in the NCAA Division III Women's Track & Field team dual meet rankings. The Vikings increased their point total from 149.50 to 156.04 after putting together an impressive outing under less-than-ideal weather conditions at the Augustana Invitational on Friday, April 15. The ranking is sponsored by the US Track & Field and Cross Country Association and it encompasses the top two performances by each team in every event.
This week the University of Wisconsin-Oshkosh took over the top spot from the Massachusetts Institute of Technology, which fell to fourth, with 181.80 points. North Central is second with 178.53 while Ithaca is third with 175.09. M.I.T. is fourth with 170.01 and College of St. Benedict is fifth with 168.12.
So far this season the Vikings have competed in a total of five meets, including last week's Augustana Invitational where they were second in the 10-team field despite the fact that the meet was cancelled after 16 events. The season started with the Vikings hosting St. Ambrose in a dual meet on March 19 which the Vikings won by a score of 127-77. Augustana finished second in the Viking Olympics on March 26 in Rock Island, Illinois and placed ninth in the Wartburg Select meet on April 2 in Waverly, Iowa last week. Head Coach Fred Whiteside's squad competed in the Lee Calhoun Memorial Relays on April 9, finishing fifth in a field of 12 teams.
The Vikings will travel to DeKalb, Illinois this weekend for the N.I.U. open on Friday, April 22.
2011 NCAA DIVISION III WOMEN'S TRACK & FIELD DUAL MEET POWER RANKINGS
US Track & Field/Cross Country Coaches Association
April 20, 2011 – Ranking #3
1 – Wisconsin-Oshkosh, Midwest, 181.80
2 – North Central, Midwest, 178.53
3 – Ithaca, Atlantic, 175.09
4 – Massachusetts Institute of Technology, New England, 170.01
5 – St. Benedict, Central, 168.12
6 – Claremont-McKenna-Harvey-Mudd-Scripps, West, 167.86
7 – Williams, New England, 167.30
8 – Nebraska Wesleyan, Central, 166.85
9 - Baldwin-Wallace, Great Lakes, 166.74
10 – Colby, New England, 165.74
11 – Monmouth Midwest, 165.69
12 – Ohio Wesleyan, Great Lakes, 165.02
13 – Whitworth, West, 163.43
14 – Tufts, New England, 162.03
15 – Texas Lutheran, South, 161.34
16 – Washington, Midwest, 158.32
17 – AUGUSTANA, Midwest, 156.04
18 – Redlands, West, 155.58
19 – Emory, South, 154.65
20 – Occidental, West, 153.79
21 – College of New Jersey, Atlantic, 152.09
22 – DePauw, Great Lakes, 150.95
23 – Concordia-Moorhead, Central, 150.54
24 – Wisconsin-Stevens Point, Midwest, 148.53
25 – Rochester, Atlantic, 148.21