April 20, 2011
2011 Season - Duhawks hand Vikings a 7-1 defeat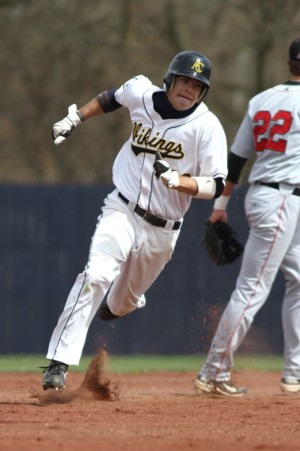 Freshman outfielder Jacob VanDuyne had two of Augustana's six hits in a 7-1 loss to Loras Wednesday.
MOLINE, Ill.-Visiting Loras went ahead with three runs in the fifth inning, added two more in the sixth and coasted to a 7-1 win over Augustana at Swanson Stadium/Brunner Field Wednesday night. The loss drops the Vikings to 19-7 on the year.
Tied at 1-1 going to the top of the fifth, the Duhawks got to Augustana starter Ray Homolka (Glenbard West HS, Wheaton, Ill.) for three runs on four hits, including B.J. Juergens' two-run single, to take a 4-1 lead. Loras knocked Homolka out with two more runs in the sixth, using a walk and three more singles to extend the lead to 6-1.
Juergens also drove in the Dukawks' final run, delivering Austin Brown with a single to center in the ninth.
Defensive miscues led to each team's first run. With one out in the top of the first, Homolka hit Mike Canevello with a pitch and then uncorked a wild pickoff throw which allowed Canevello to go to third. Brown lofted a fly ball to Kevin Serna (Rolling Meadows HS, Arlington Heights, Ill.) in center and Canevello tagged and was able to beat Serna's throw to the plate with the game's first run.
Augustana took advantage of three Duhawk errors in the fourth to tie it. With one out, Jared McIntosh (Assumption HS, Davenport, Iowa) hit a grounder between first and second. Loras second baseman Joe Walker came up with the ball but his throw was behind pitcher Kevin Moriarty, allowing McIntosh to reach. McIntosh then stole second and moved to third when the throw got away. Niko Capodice (Minooka HS, Minooka, Ill.) scored McIntosh with a sacrifice fly to center that popped out of Brown's glove.
That would be all the Vikings would get off of Moriarty (4-2), who was outstanding. He allowed just six singles and no earned runs in eight innings of work. He walked none and struck out five before yielding to reliever Spencer Radabaugh, who set Augustana down in order in the ninth. Homolka took the loss, falling to 1-3 on the year.
Freshman right fielder Jacob VanDuyne (Wilmington HS, Wilmington, Ill.) had two of the Vikings' six hits.
Augustana travels to Chicago, Illinois on Friday, April 22 to face North Park in a doubleheader beginning at 1:00 p.m. The two teams complete the series with a single game Saturday at noon, also in Chicago.